jordlinghome.com – Things related to Korea are really booming right now. Starting from music, drama, fashion, to interior design. And for you, have you thought about making your bedroom like in Korean dramas? A girly and cute look is the hallmark of the Korean bedroom. If you are interested in having a Korean bedroom, reading this article is the right choice. Because here, we have provided 10 Korean Bedroom Decor Ideas. So, let's check it out!
1. Look Soft with Pastel Colors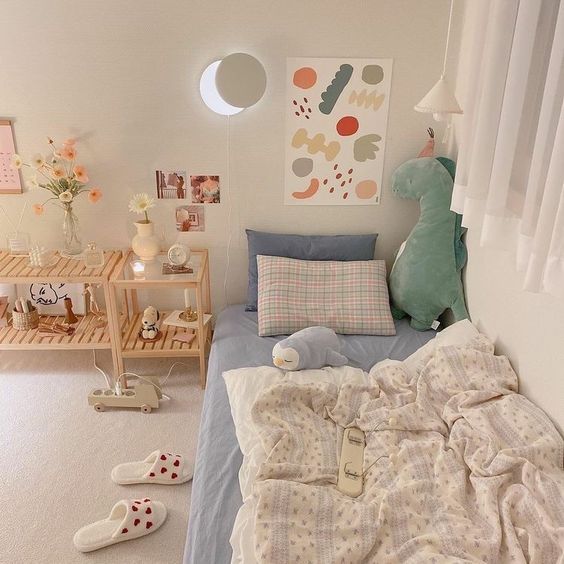 Have you ever dreamed of having Kim Mi-so's bedroom in What's Wrong with Secretary Kim? Kim Mi-so's bedroom is filled with soft pastel colors. So that the appearance of the room is very pleasing to the eye.
The soft appearance also makes us feel calm in the room. With this, the room will be much more comfortable to relax and rest.
Pastel colors are usually applied to areas that are the focal point, such as walls and beds. Therefore, Korean people will usually prefer bedding with beautiful pastel colors.
2. Cozy Floor Bed Style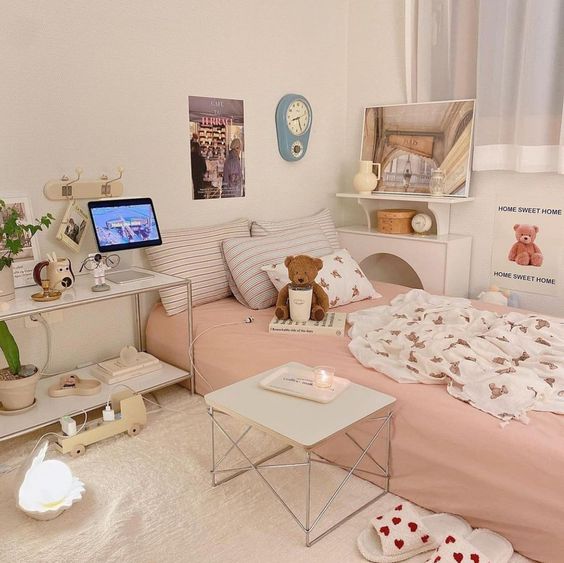 Korean-style bedrooms rarely use bed frames. This is because the use of a bed frame can make the bedroom feel cramped, especially in the small bedroom. In addition, it can also eliminate the comfort of the bedroom.
If you want to have a Korean bedroom that is cute and cozy, try applying a floor bed style. In order to make the bed warm, you can roll out a rug or carpet underneath. You can also use this rug or carpet as an area to relax. Just place a folding table there for you to put the laptop. Then, you can watch Korean dramas comfortably.
3. Bed Next to The Window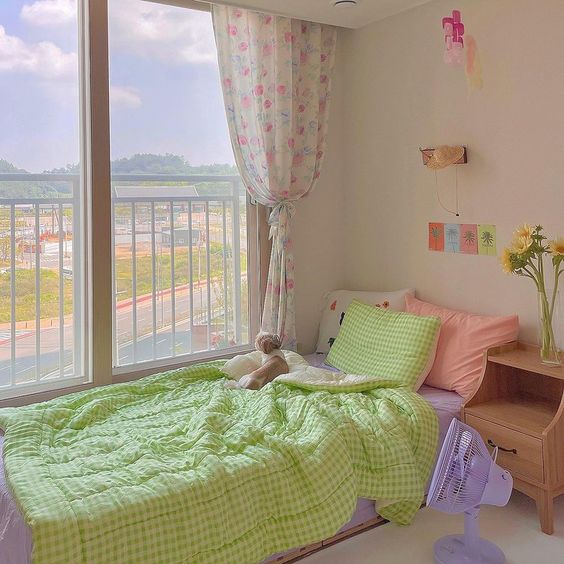 The window is the most comfortable area. Here, you can enjoy the outside atmosphere from inside the room. And to make this area more comfortable, you can place the bed next to the window. This is also a way for Korean people in making their rooms feel comfortable.
When in the morning, the sun will directly hit you in bed. So you can wake up refreshed. Therefore, in order to make natural lighting can enter optimally into the bedroom, avoid decorations that cover the windows.
If you want to make the window area look beautiful, you can still use curtains with beautiful motifs. However, try to open it halfway so that sunlight can enter the room.
4. Look Alive with Bright Colors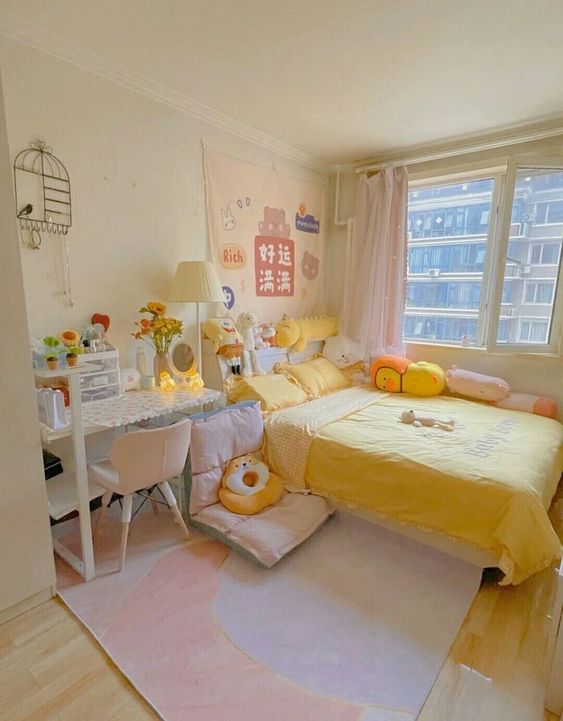 One of the interesting things about the Korean bedroom is that it looks alive. This is because, apart from pastel colors, Koreans prefer to choose light colors. One of them is yellow as in the picture above.
These bright colors can evoke a cheerful atmosphere in the bedroom. So you can wake up with a happy feeling.
Korean bedrooms make more use of natural lighting as the main lighting. So that when natural light hits bright colors, the effect will make the room feel more alive and cloudless. This is one of the factors that makes the Korean bedroom feel so comfortable with its cute appearance.
5. Beautiful Wall Displays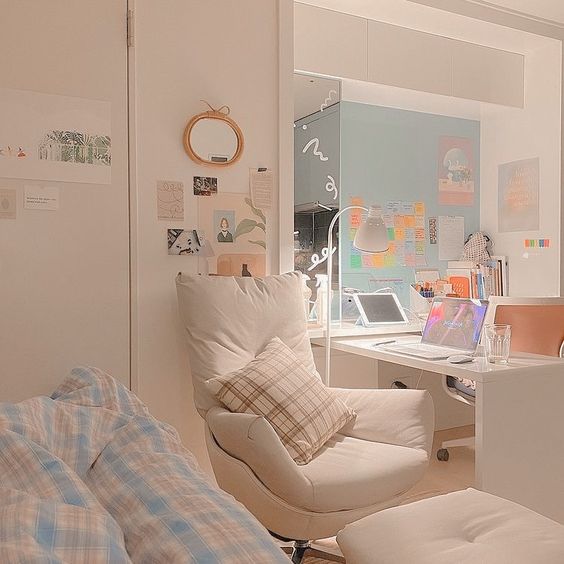 Displays that are often used to decorate walls are usually pictures or images that are framed and hung on the wall. In decorating the Korean bedroom, this kind of display is not used. In the Korean bedroom, usually, a picture or image that is given a frame is placed on the table.
The display used to decorate the Korean bedroom wall is a sticker or paper with a simple image. These stickers and papers are randomly affixed to one spot. Thus, the appearance of the bedroom does not look too full but is still attractive.
6. Wood Element Makes It Warm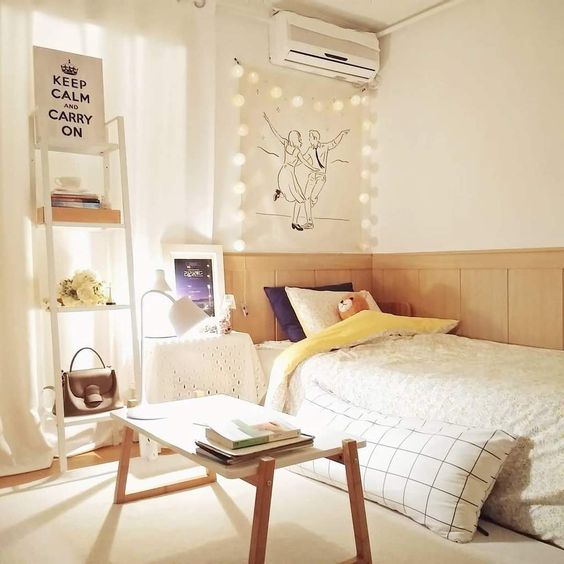 In the Korean bedroom, there is rarely furniture made of iron or aluminum. Korean people prefer to use furniture made of wood to fill the bedroom. This is because wood is an element that is able to deliver warm nuances into the room.
Wood color is usually left exposed freely in the bedroom. So, warm nuances can be felt clearly. However, there is also wooden furniture that is painted white. That way, the bedroom will still look bright.
The combination of wood elements with pastel and bright colors will make the bedroom look so soft. In addition, the atmosphere of the bedroom will feel much calmer and warmer. This is what makes the Korean bedroom in the dramas feel so cozy.
7. Cozy Area in The Corner of The Room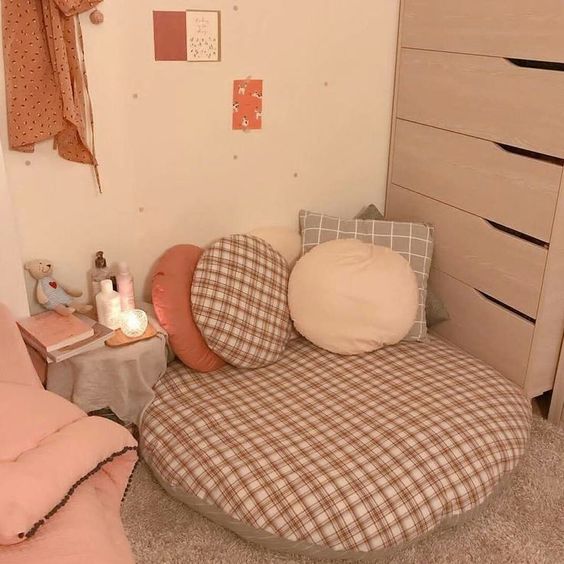 There will be one comfortable area in the Korean bedroom. And usually, this area is often used for various activities. Starting from reading, working, writing, and also watching. This one comfortable area will really help to make the bed look neat for the whole day.
The corner of the room is often chosen as a spot to create a cozy area in the bedroom. And the decoration is also quite simple. Here, we only need a soft cushion as a base and also some pillows or dolls to make it feel comfortable. And, done. A comfortable corner area is ready for you to use.
8. Cute Bedding Motifs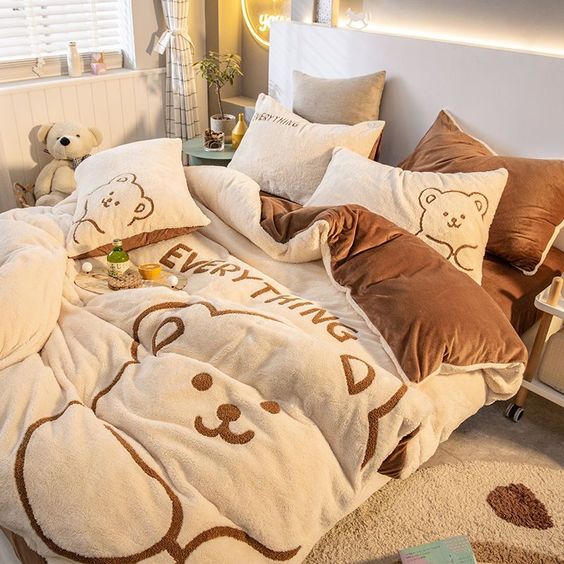 The next of 10 Korean Bedroom Decor Ideas is a cute bedding motif. It may seem trivial, but this is one of the most important things. The Korean bedroom looks girly and cute because the motif on the main item looks cute.
As in the picture above, the Korean bedroom is so eye-catching with the bear motif on the bed cover and also some pillows. For the color, it looks so simple. This bedding only has two colors, that is white and brown. However, this is what makes the Korean bedroom look so simple but very attract our eyes.
9. Not Only Cute but also Fresh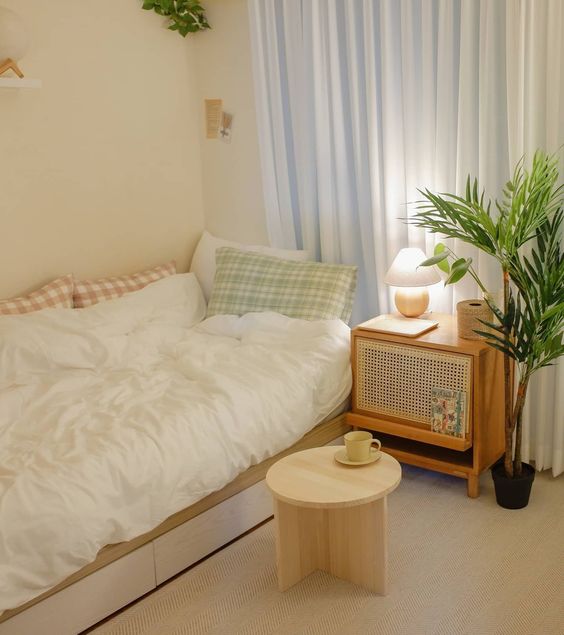 Plants are a decoration that never gets left behind in a Korean bedroom. Be it artificial plants or real plants, both of them give a fresh feel to the bedroom. This is also one of the factors why the Korean bedroom looks alive.
Light colors and pastels will make the green color of the plant look more vivid. So that you can feel the fresh feeling in your bedroom clearly. Besides fresh shades, plants also provide peace for your mind. With this, the bedroom will become a suitable room for relaxing and eliminating your dizzying daily activities.
10. Beautiful Warm Lighting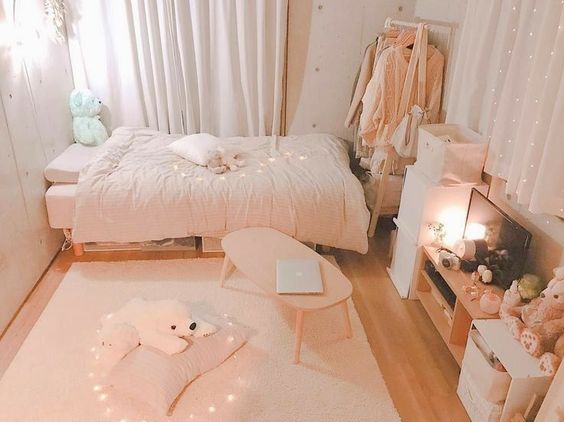 The last of 10 Korean Bedroom Decor Ideas is beautiful warm lighting. In a Korean bedroom, it is rare to turn on the main light. This is because it is considered too bright and dazzling. Instead of using the main light as lighting at night, Korean bedrooms prefer additional lighting.
There are several types of lamps used in Korean bedrooms:
String light,
Table lamp, and
Stand lamp.
The string light is usually used to decorate walls, curtains, and also stand mirrors. And a table lamp to help with lighting for reading and working. And finally, there is a lampstand which is often used to fill the corner of the room.
The light that is often chosen for additional lights is warm or yellow lighting. Besides making the room look bright at night, it can evoke a warm atmosphere. With this, the bedroom will feel more comfortable and quiet at night.
Final Words
Have you seen how interesting Do Bong Soon's bedroom in Strong Woman Do Bong Soon drama or Kim Mi-so's bedroom in What's Wrong with Secretary Kim is? Even, sometimes it makes us daydream to have that bedroom. The simple and cute appearance makes us feel comfortable in the Korean bedroom. Therefore, we created this article to help those of you who want to have a cute and cozy bedroom like in Korean dramas. And the points above are 10 Korean Bedroom Decor Ideas you can follow. So, happy trying all!