Jordlinghome.com – Decorating the exterior could be quite challenging remembering the style and choosing the perfect furniture to set on. We have to pay attention to creating a cozy atmosphere when designing our home both internally and externally. The beautiful and cozy home always puts on a comfortable accent that will make the homeowner feels good while being at home. Figuring out what type of style you like, make sure to choose a design that is affordable and functional to support the living space.
For interior decoration, choosing the perfect color tone and furniture ideas are an integral part of creating a comfortable home living. For the exterior the rule is the same as the interior, choosing the right furniture that could fit your home design and creating a comfortable accent is the key point! In this writing, we are going to talk about front porch decorating ideas. Here we will share some of the best furniture sets that could place on your front porch! However, decorating the front porch ideas brings takes lots of advantages to the homeowner.
A beautiful front porch decoration enhances the curb appeal of our house. Secondly, we have a comfortable outdoor space to relax. More than that, our guests will love to have small talk or chit chat sitting in the cozy front porch idea. Anyway, let's infuse our front porch with beautiful and comfortable furniture ideas, don't miss any project down below!
Simple patio chairs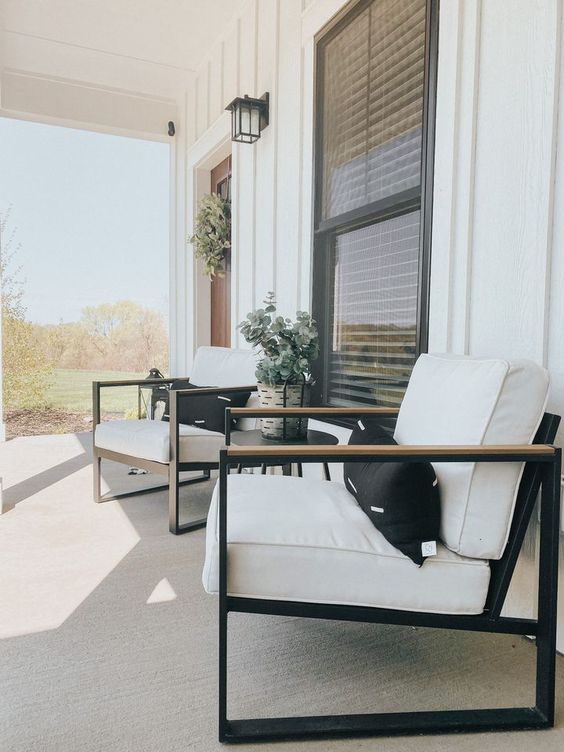 If you have a minimalist home design, infuse the outdoor space with simple and minimalist furniture ideas. Here we show you the white minimalist patio furniture set complete with a coffee table in the middle. The simple chairs with interchangeable cushions are a great way to beautify your front home look. The neutral cushion will create a timeless front porch decoration. If you want to infuse the outdoor atmosphere, you can change the pillows with colorful accent cushions. The vibrant color will elevate your home look especially if your house is painted with neutral soothing colors like white! We are pretty sure, this patio chair is perfect to set up in the small or large patio size and with any style, this furniture will look perfect combined together!
Rattan and bamboo sofa set for summer front porch decor!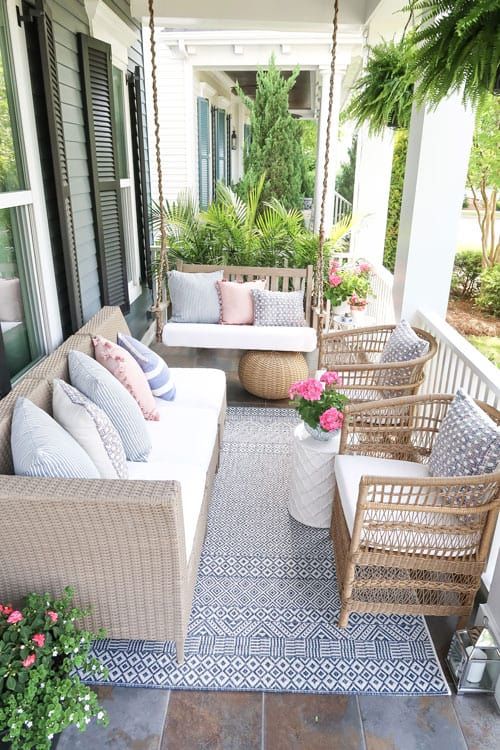 Are you looking for the lovely summer front porch decor idea? Well, we've got a solution for your needs! Here we have a set of rattan sofa and bamboo chair sets to infuse your front porch space. First of all, we can simply put the patterned rug on the terrace, then start to put the sofa and chairs on it. After that, put some cushions and pillows in the comfy seating area. Rattan and bamboo furniture are just perfect to be installed in any house in the warm summer season. Finally, give a lovely touch by putting a vase of flowers and plants. This eco-friendly furniture meets natural decoration will successfully alluring summer outdoor decoration. So, do you want to have these sofa sets for your front porch?
Farmhouse outdoor furniture set idea
Imagine living in the countryside where offers a garden and large fields all around. Then we have a beautiful farmhouse style, which is so lovely and so calming! Even though you live far away from the countryside and actually you live in the metropolis city, that does not mean you cannot transform the style to your home living! We can have a lovely farmhouse design with beautiful garden landscaping. Anyway, we talk about how to decorate the front porch ideas? What is the perfect furniture to be set at the front? The idea comes from eco-friendly furniture, rattan, bamboo, or wooden furniture that will suit the lovely farmhouse style! In this picture, we can see two rattan chairs with a classic round coffee table in the middle. Moreover, the vintage wall lamps enhance the beauty of this house! We're pretty sure everyone who sees it will fall in love with the furniture set and feel comfortable hanging on this front porch!
Installing a swing chair in your front porch space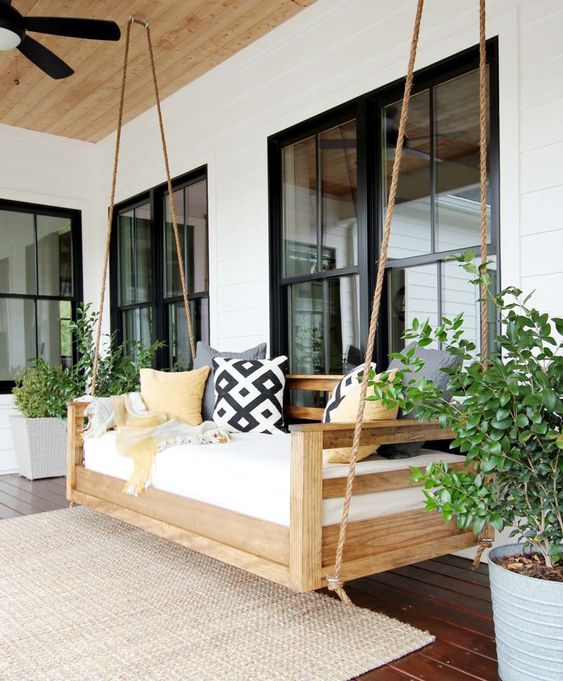 Another way on decorating the front porch is by installing the swing chair. This wooden swing with a cozy cushion looks so comfortable and chic to decorate the outdoor space. At the bottom, here we have the mat rug which looks so friendly and natural to the eye! Putting the pots of plants on every corner of the front porch you have will increase the fresh and cozy atmosphere in front of your house! Who does not like to chill out sitting on this comfortable swing chair by seeing a beautiful lush garden! Do you love this fresh and natural front porch decor idea?
Foldable outdoor furniture chairs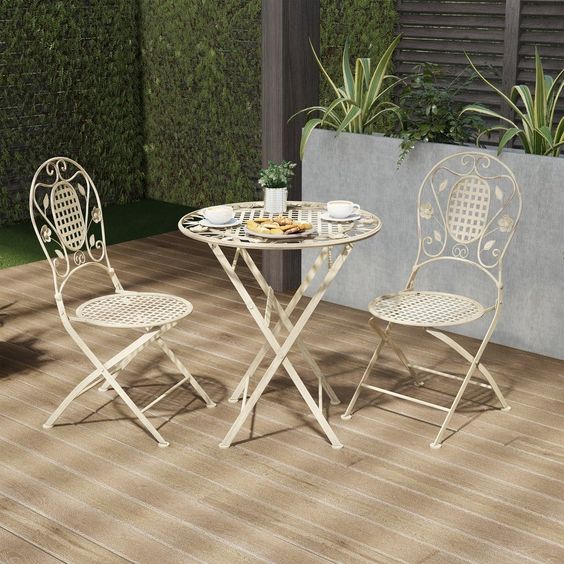 If you are looking for affordable furniture that works well together for all seasons of the year. Then, a set of foldable chairs are suits you the most. There are lots of designs, color tones, and materials of foldable chairs available. We can choose base on what we need to. From metal, bamboo, wood, or plastics they are so affordable and easy to catch. They provide seating well and we can set them in any place we want. It's pretty lightweight and easy to set up anytime and anywhere we want. Providing some seating with foldable chairs also bring a cozy atmosphere to our front porch space. So, if you want something affordable, and not drain your wallet most, the foldable outdoor furniture sets are perfect to be set in your outdoor space!
Conclusion
There are many ways to make the outdoor space look prettier. Each one of them is by adding furniture and provide some seating at front of our house. Adding furniture is not only provides some seating but also helps to improve the curb appeal of our house. Figuring out what type of outdoor furniture style you need, we have to go with our budget and be clever to choose one. Make sure to choose timeless and durable furniture that could withstand the weather outside! We have shared with you some of the best and affordable outdoor furniture ideas that could make your front porch look even more beautiful! We hope you enjoy our discussion today, and let's start the project immediately!