Jordlinghome.com – With the warm weather summer season essence, it is such a perfect time to have a laidback and leisure time in an outdoor space. With the proper furniture and theme style, even the small patio area could be an inviting, and relaxing retreat! Figuring out what furniture set that could transform the small space into calming and entertaining spot. Here we recommend you the tropical outdoor furniture set that you could follow the style!
Tropical furniture sets are varied and so tempting. There are made from wood, rattan, or the comfortable cushion. Most of them are weatherproof furniture. That is such good news for us! So, we don't eliminate the worry feel about complicated maintenance outdoor furniture. Here we will invite you to see the tropical furniture ideas. It is such a pretty way to decorate our patio. So, don't miss any of them!
Rattan dining set

As we alluded to earlier, summer is a perfect time to do some outdoor activities. It's very enjoyable having a big feast with our family in the backyard garden. If you have a patio space in the garden. We can take advantage of it to be a welcoming outdoor dining area. Personalize the tropical look by spreading the jute rug to add comfort. After that, a large rectangle wooden table was set in the middle followed by unique rattan chairs. In addition, there are two rattan pendant lampshade are enough to give an aesthetic tropic vibe patio design. Don't forget to put some plants and flowers around that enhance the beauty tropic design. When the sun blushing the dining area, it gives a warm and serene dining ambiance!
Chaise lounge and coffee table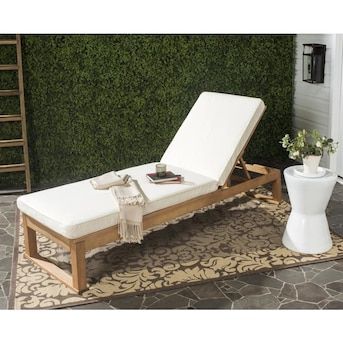 Do you need a private and comfortable place to relax? Well, we don't need such a large space to have a cool spot to chill! Taking the advantage of a small patio to enjoy the morning sun or watching a gorgeous sunset by drinking a cup of tea. We just need to set up the chaise lounge and the coffee table. This tropical furniture style is affordable and easy to personalize on your own. Enjoying the warmth of the sun anywhere you want in the garden! The wooden structure lounge is complete with a white cushion looking stylish to set in the small patio area. Besides enjoying the morning warm sun, this spot could be a perfect reading nook idea. The fresh air, beautiful garden landscape, and enough natural lighting will boost your reading mood!
Cozy bench to lean on your head on a sweltering day!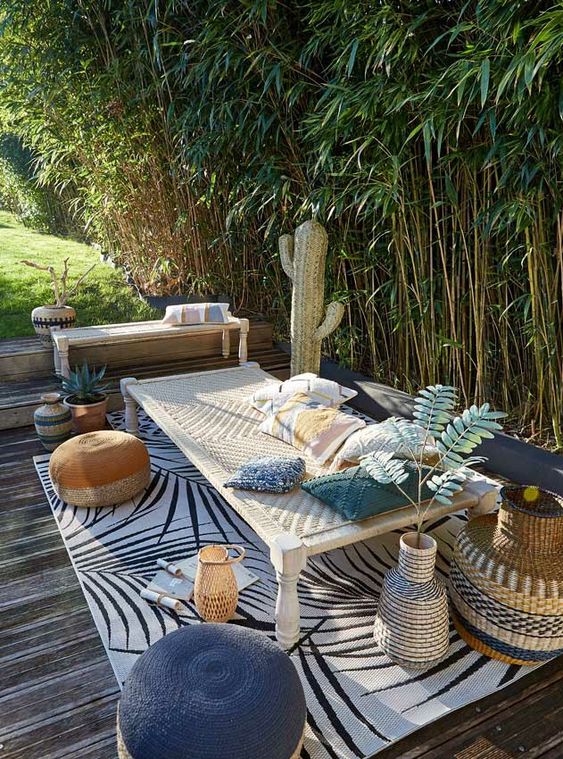 There is another pretty way to furnish your patio with tropical outdoor furniture. The wooden bench complete with rattan gives a seriously comfortable and statement tropical patio decor idea. Joining an inviting warm sweltering day in the garden. First of all, spread tropical theme rug, then add the wooden bench, follow with some floor cushions to provide more seating. Laying down on the bench to enjoy the afternoon sun and having a perfect shade from bamboo trees beside. Having a laidback Sunday by enjoying the sun on the bench is a perfect idea to relax. Enjoy the ambiance summer day in the backyard garden is a simple and easy way to do it! Getting closer to nature and admire it will recharge our energy and boost our mood!
Rattan Loveseat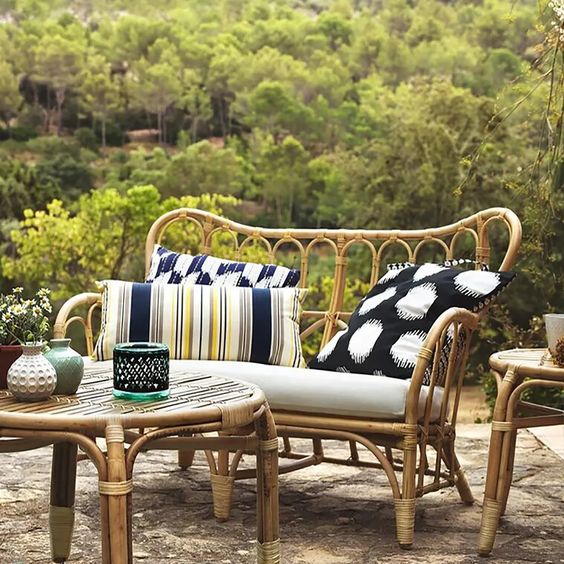 When we choose tropical furniture decoration, choosing rattan for the main material is the ideal thing. The natural look coming from rattan furniture makes the tropical vibrant feel so alive. In addition, this material is also lightweight rather than wood. From the aesthetic view, rattan also looks appealing and quirky. In the picture above, we have the rattan loveseat complete with a coffee table is the simple furniture we can add to the patio space! Hanging out for the afternoon tea with our lovely one will be so beautiful!
Nesting with grace under the patio umbrella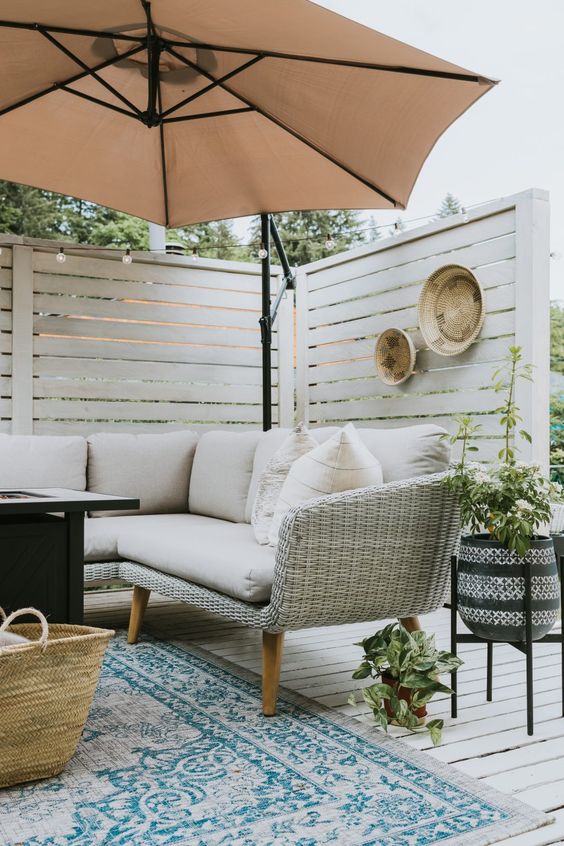 Another patio decor idea that will make you nesting in grace is by setting the patio umbrella. Spreading the rug and then set a rattan sofa complete with cushion to comfy your seating! Provide the shade with a patio umbrella that will protect you from the extremely hot summer sun! Giving the aesthetic touch by adding some tropical ornament decoration. Here we can see the rattan basket, rattan wall decoration aesthetic. Do you fall in love with this tropical patio setting idea?
Nesting in the Swing Chair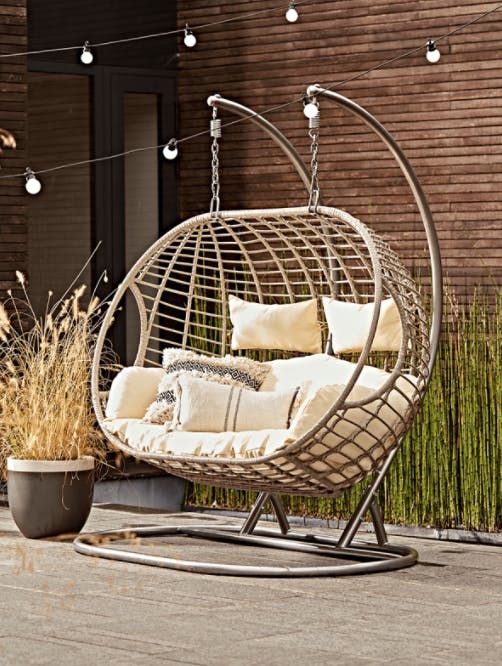 Figuring out what kind of patio decoration to enjoy a summer day. We have a pretty patio design idea that you will love to hang out on. First of all, we only need to put the swing chair in the perfect spot. Then we can DIY an aesthetic lamp garden around. When the sun goes does, let the string lamps take the cozy summer night ambiance and just nesting in a comfortable swing chair!
Aesthetic leave rattan chairs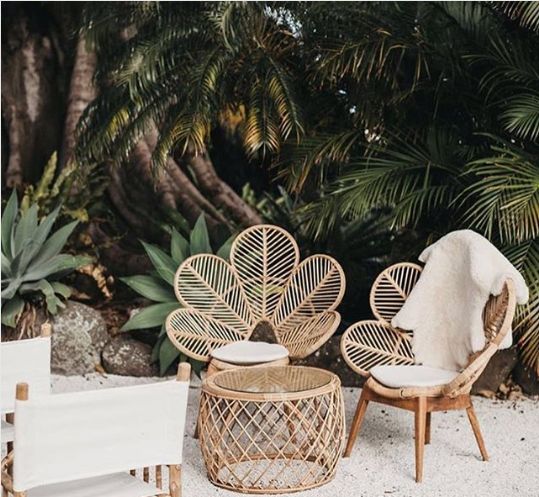 Embracing summer season by adding a set of rattan furniture then you've had enough! There are lots of leaves shape outdoor rattan chairs you can get from online shopping and local furniture store. The material and the appearance of these chairs are so attempting! Put them on the patio complete with the coffee table already give an aesthetic decoration.
Tips on choosing tropical outdoor furniture sets
Choosing the natural material furniture
The natural material gives a welcoming ambiance that will affect to create a cozy ambiance. The wood, rattan, or bamboo material resembles the natural environment. To get the essence of relaxing tropical ambiance, we can choose the furniture that friendly-environmentally.
Lightweight and easy to maintain
Another tip on choosing outdoor furniture for summer patio decor is choosing lightweight feature furniture. In this case, we are able to move from one to another spot in our garden. We can easily personalize the furniture to a cozy spot anytime we want. For such enjoying the warm morning sun on the patio, then moving on the shade place in the afternoon to avoid the heat summer days.
Another thing we have to consider when choosing outdoor furniture is easy to maintain. For example, the rattan chair or wooden table that is well-finished makes it easier to clean up. Especially, if want to set a dining table outdoor. We have to make it clear that the furniture is easy to clean up and has less maintenance. So, that we could enjoy the outdoor ambiance without hesitation and disturbance!
Conclusion
Summer season, love is on the air! Why do we say it? Simply because in summer we get a beautiful blue clear sky, lovely blooming bright flowers, and the warm weather that touches our skin is so pleasing! Enjoying a summer day in our backyard garden is not a bad plan. Actually, we can have some fun activities in our garden in the lovely warm weather. Personalize the outdoor furniture on the patio, suddenly we have an amazing place to relax and lean our heads after doing a busy day! Besides that, we can have a big feast with our family or friends surrounding the beautiful garden. The key point in creating coziness in our garden is setting the right outdoor furniture. In this writing, we have compiled some of the best tropical outdoor furniture ideas that are so tempting to the eye! There is rattan, wooden furniture that is ready to accompany your leisure time in the private garden!