Jordlinghome.com – Water is the essential and integral energy for life! It has a powerful cycle movement that regulates the balance of our Earth. Here are the definite examples that we could not leave without it. We need clean water for drinking, washing, cooking, running industry, and creating a healthy ecosystem. Now we do understand that water is a powerful source for creating a good life cycle on Earth! Now, we will bring you to learn the essence of water features in the Japanese garden.
When we take a look into Japanese landscaping structures, water is one of the most important elements joining the rock, sand, and native shade plants into landscaping. Water promotes a serene and natural ambiance that is why it's so important to create a relaxing Japanese garden.
In order to add interest in the garden decoration, there are many Japanese garden water feature designs ideas we could follow. From the simple and affordable pond to a thrilling fountain design. It is such an absolute element in the oriental garden structure. Here down below, we will guide you to see how the water promotes the relaxing retreat ambiance and aesthetics in the garden. Let's follow some outstanding water feature down below!
Bamboo water feature design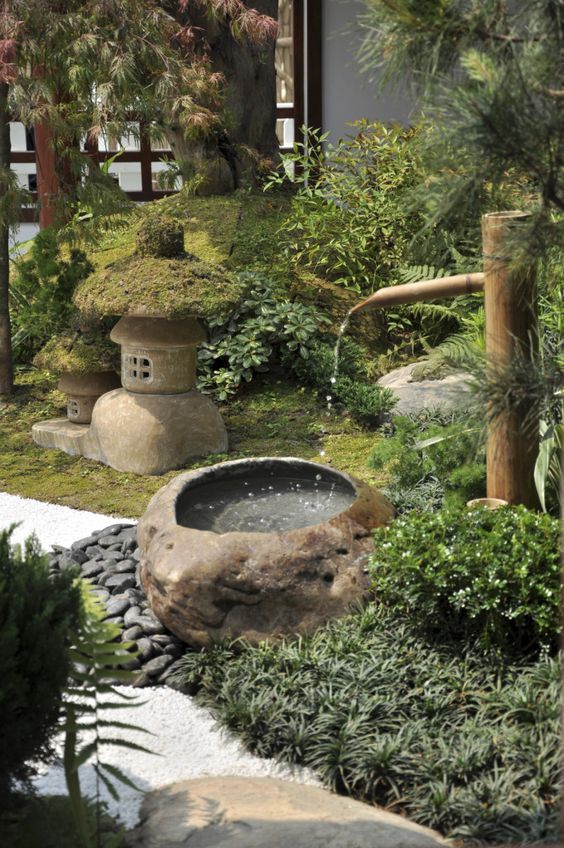 The Japanese garden is popular for its powerful natural landscaping style that promotes a relaxing retreat for the homeowner. Here, there is a bamboo fountain design set in the garden creating organic look decor. The segmented bamboo tube design where water flows over it and rest in the rock basin style. In addition, the Japanese lantern is usually set close to it. The splash water sound and aesthetic natural design successfully giving a relaxing retreat around the green landscaping! So, would you like to have this aesthetic Japanese water feature style in your garden? Let's make it beautiful and impactful serene garden style!
Japanese Koi pond garden design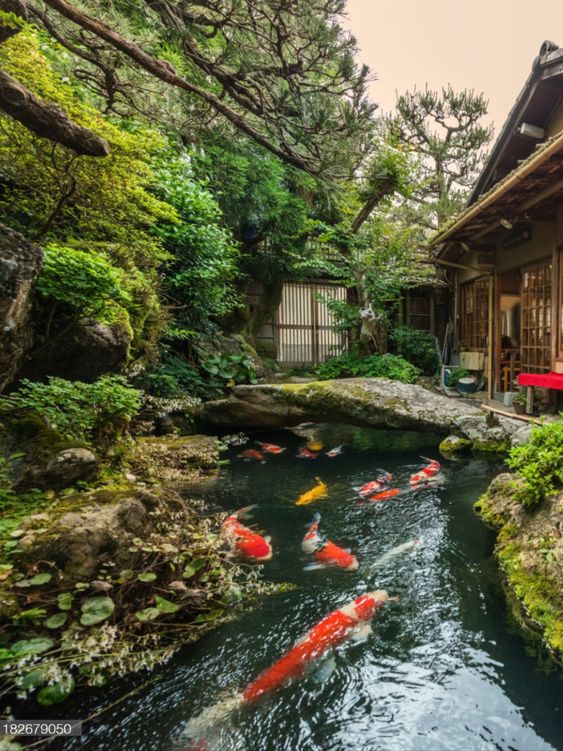 Another beautiful water feature in the Japanese garden is a Koi pond. Before you dig into the project, make sure to determine the pond size we want. Then, start to install a water pump to jet up the water so the fish can breathe well. In a traditional Japanese myth, Koi fish symbolize luck or fortune. So, it's not rare that we can spot the koi pond in their garden. Alright, then let's continue to the pond project. After we determinate the size we want, start to drill the ground around  1 meter deep. Then set some rocks around the edges and shaded plants around it. When we complete the decoration such as include water, rocks, and plants that means we already have the relaxing garden style! Sitting on the bench close to a beautiful water feature and just hear the sound of nature. It's such a perfect place for meditation and recharge our energy with a positive vibe!
Cascading Stream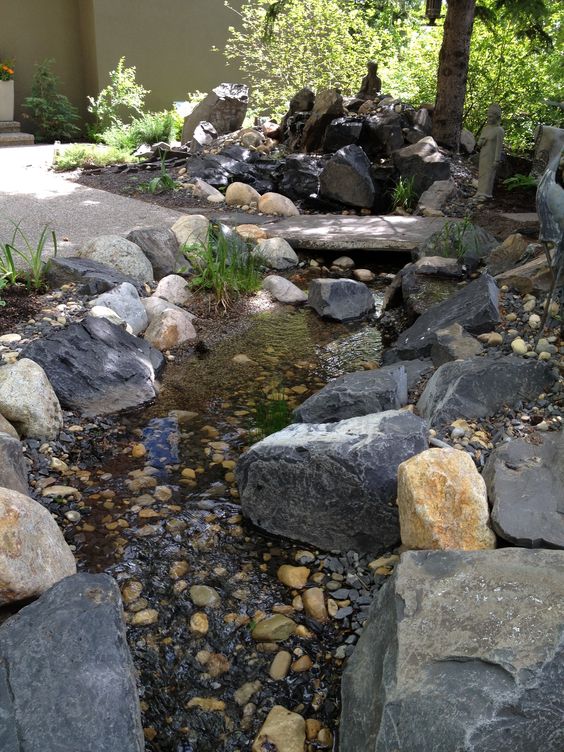 Now, we introduce you to a very beautiful natural water feature project in a Japanese garden. The stream overlay in our backyard area, where the gentle water cascading through the rocks and stone. It gives an impactful aesthetic natural landscaping style! The water flows from the higher banks into the lower place. DIY a stream in our garden presence natural scenery that promotes serene ambiance! There are some important materials we need to own before doing the project. There are gravels, stones, and decorative boulders. Set the boulders around the stream edges and then spread gravels to the center and around the edge.
Mini lotus pond idea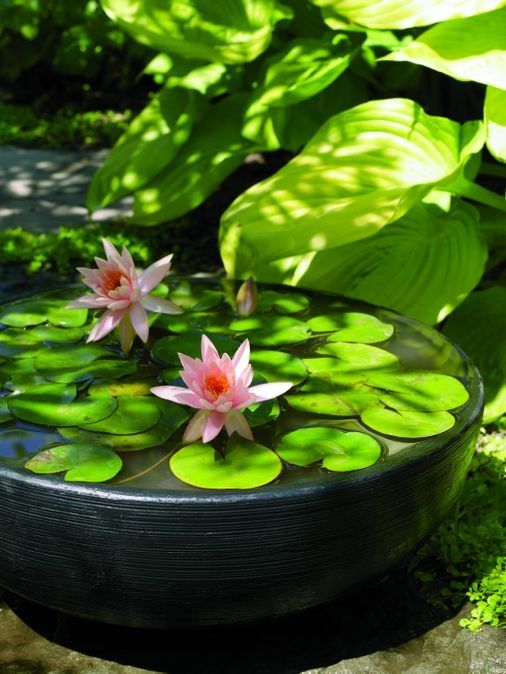 Do you want to create a water feature but stuck with a small space in your garden? Don't worry so, we still have a chance to make it real. There is a mini lotus pond idea that could answer your desire. We only need a basin, large bowls, or any container that can be filled with water. For the base of the bowl, we can put river sand and then fill it up with water. Finally, we can put some lotus on the water surface. This mini pond idea is a solution for a small garden. Another plus point we get from having a mini pond idea, it's easier to maintain but still defining aesthetic Japanese garden essential decor!
Aesthetic Japanese garden craftmanship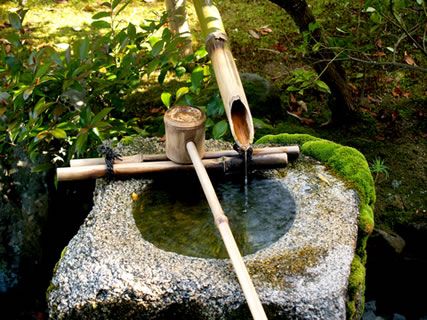 As we alluded to earlier, the water feature in a Japanese garden is so essential that can promote a serene ambiance. Here we introduce you to the aesthetic garden craftmanship. This water basin complete with a scooper looks so friendly joining the natural landscaping style. Water flows from the bamboo tube to the rock basin, we can wash our hands by scooping water with the wooden scooper. This water basin is usually near the tea house. It's such a custom to wash our hands and feet before entering the tea room. Especially if we are going to have the tea ceremony, we have to wash down our hands and foot. So, when we step on the tatami (Japanese traditional mat), we already have cleaned our hands and foot. So, now we know that we often see a water basin near the tea house!
Rock water fountain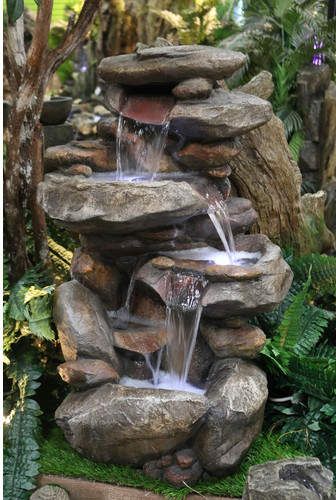 Featuring eco-friendly material and natural look decoration is the highlight of Japanese garden retreat. Creating a calming outdoor ambiance by featuring the rock water fountain idea showcasing nurturing environment. First of all, we need to find the perfect spot to set this beautiful DIY garden fountain. After that, piled up the rocks aesthetically so then we can see water cascading through the rock gaps. Using the cycle and recycle water system, so we don't have to be worried about wasting it. Installing a water pump in the main water source, then it will flow through the rocks. The water is cascading from the higher to the lower place and underneath that, water is pumped up again. This rock fountain is literally beautiful that absolutely gives the charm and the essence of a Japanese garden.
Conclusion
There are a few important elements we cannot deny in creating an aesthetic Japanese garden. There are rock, sand, shaded plants, and of course water features. We have learned that water is so essential in our life. As we all know that Japanese landscaping style is remarkably good, promotes relaxing ambiance and meaningful decoration.
The essence of water feature in Japanese garden gives a real calming ambiance and aesthetic outdoor decoration. One thing we have to remember on showcasing aesthetic water garden projects, we have to choose eco-friendly materials for such as bamboo, rocks, sand, and some plants. Based on the Japanese water feature design ideas above, which one is your favorite? We hope this could help you all out in creating a wonderfully serene garden landscaping project!