Jordlinghome.com – Japanese garden-themed is popular for its calming atmosphere and restrained color palette from the shade plants and trees. Showcasing the beauty of natural landscaping style, with a few collections of natural decoration. That what makes the Japanese garden is the perfect place to relax!
Do you want to decorate your backyard garden with a Japanese garden structure decor? Representing the Zen philosophy to the decoration. Makes us have a beautiful simple curated natural look design that makes us want to stay more in our backyard garden. There are some essentials in creating a simple but harmonious Japanese garden. There is a water feature, bring the essence of water to liven up the garden space, so it will feel more alive! Then, gather the lush plant's decor to illuminate the green and relaxing sanctuary space. In addition, their unique simple craftsmanship installed in the garden creates a statement Japanese garden style!
In this writing, we will be focusing on creating a peaceful paradise look in our Japanese garden essentials! We know that adding some lush origin plants to the landscape will create an impactful calming garden decor! So, don't miss any Japanese garden shade plants we want to share all with you down below. Happy gardening!
Beautiful Azalea to infuse your garden with color!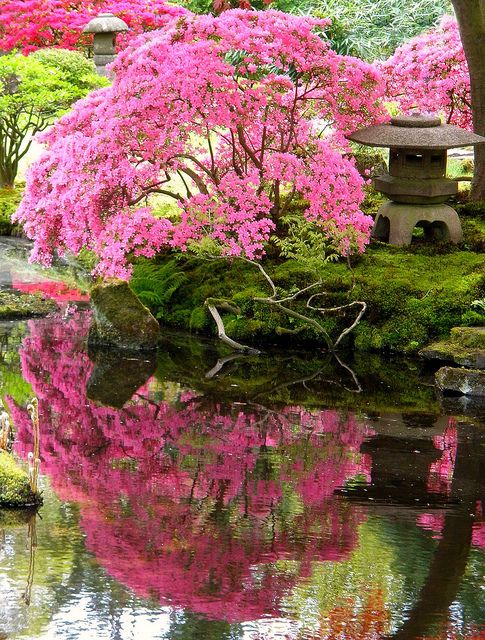 Azalea is one of the most beautiful perennial shrubs' families. They are collected in pink, yellow, salmon, white color tone, which is so beautiful to infuse your garden with pop color perennials! It's been a long time that Japanese gardens use Azalea plants to create a lush and lovely Japanese garden look. They are blooming in spring, but don't worry so. Because we can choose Azalea that has modern hybridizes. So, that they can thrive and rebloom after spring! There is no doubt to create a lush and perfect colorful Japanese garden by adding Azalea to your rock garden landscaping!
Adding Japanese native plant Hakonechloa to create a green lush refreshing garden view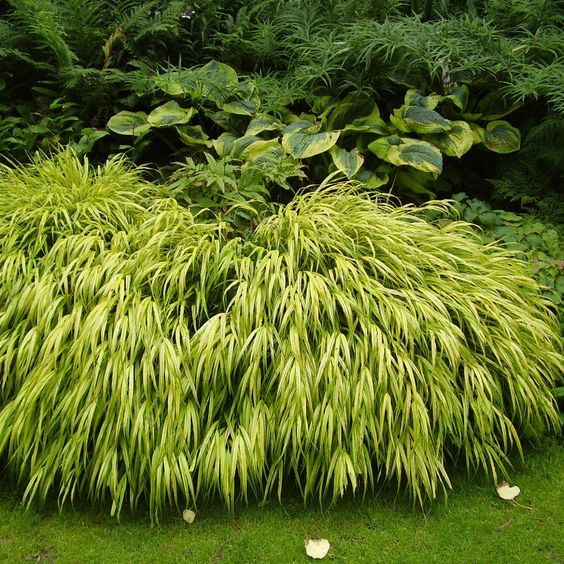 Bringing some native plants to the theme garden-style always brings actual excitement! We can plant the Japanese shrubs Hakonechloa, it is the native plant coming from the Hakone mount area. It has shaps light green foliage and grows in the group of lush foliage make it looks perfect to set in our Japanese garden. From the origin home, these plants grow well in slightly acidic soil and partial shade sun. So, make sure to not keep these plants directly in the full-sun area. They will burn and showing their lush green foliages. When the breeze touches its foliage, they look like dancing over the wind. It creates a beautiful natural look in our garden, and feels more alive!
Bamboo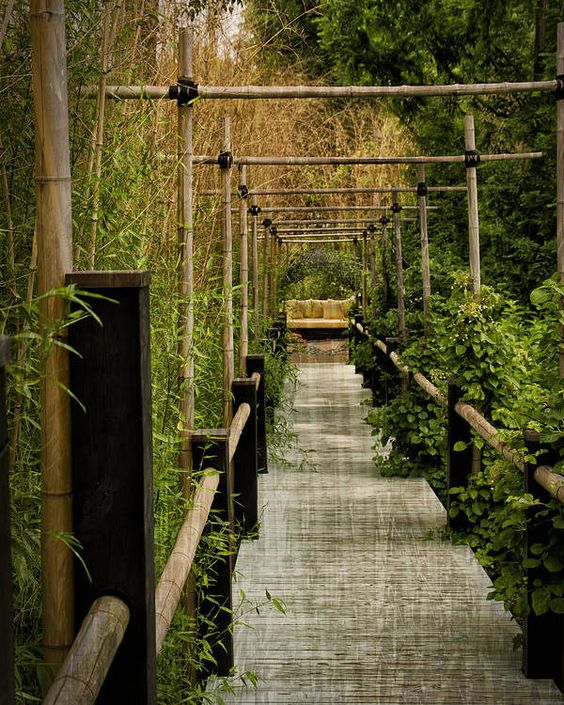 Bamboo is one of the fastest-growing trees on earth! In a few months, the tiny baby bamboo plants will transform into tall bamboo trees. They can grow into 3 meters tall. Appearing bamboo trees in our Japanese garden will create a lush natural forest look. We can also make Japanese bamboo trees for our natural fencing idea! Or we can grow them in a horizontal way to create a lush pathway in our Japanese garden essential. We are pretty sure, it will give bold natural landscaping into our garden. So, we could enjoy the natural panoramic view over the backyard garden.
Cherry tree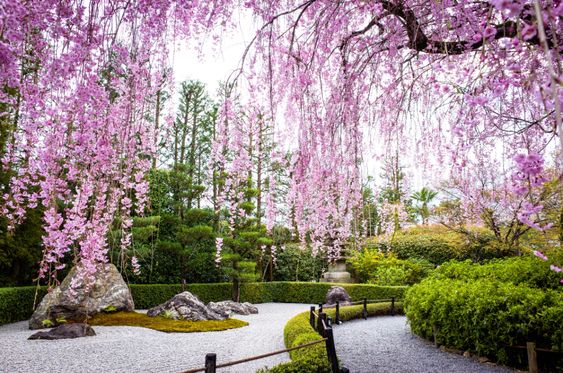 The Japanese signature tree is called sakura. It is the cherry tree that blooms every spring. The white with pink shade flowers create a beautiful blooming season in this country. Many people come across to Japan to see the wonderful Cherry blossom festival. So, there is no doubt to include this tree into our list of Japanese garden shade plants. The cherry tree will grow in the well-dark soil texture. And plants this cherry tree will make you award with a spectacular view over four seasons every year.
Hosta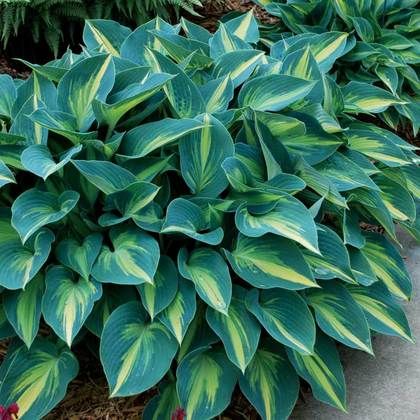 Hosta is a native North American plant but it is well-known as the naturalized plant in Japan. The beautiful green foliage with different shades of green tone. It is such a perfect plant to be added to create a Japanese garden aesthetic. Set hostas in the partial shade of the sun and water it gently every day. Keep the soil moist, and give the natural fertilizer to make them grow happily!
Lotus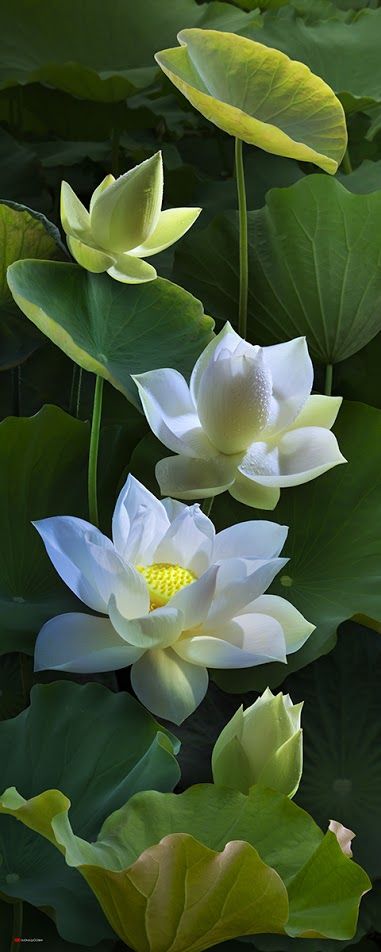 Lotus is essential to plant in Japanese garden decoration. We can find the calming water feature Japanese pond filled with koi fish and topped with water plants, lotus! There are some large foliages lotus variety and also there some dwarf lotus species that they grow in short flower and small foliage. We can choose a proper lotus size for our pond. The bigger pond we need is the blogger lotus. And we have the smaller lotus size for the tiny ponds. Adding the green plants to the Japanese pond will give the calming sensory!
Japanese maple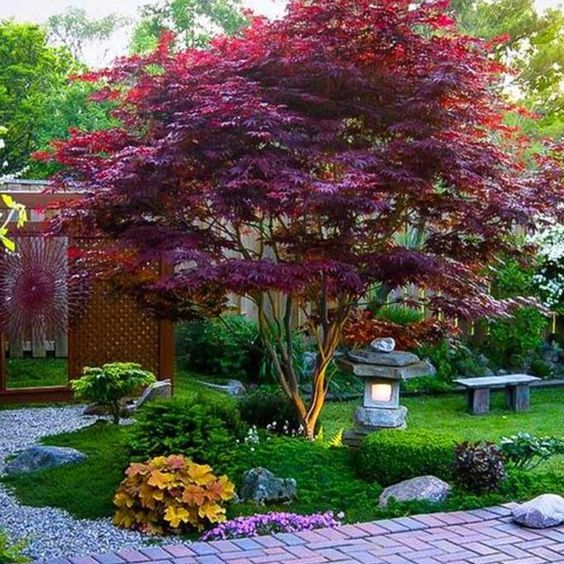 Showcasing the elegant Japanese garden by adding a Japanese maple tree is a great idea! There is some variety of Japanese maple ranging from the medium size to the large tree size. Then the various shades of color from the yellow to red maple foliage. The trunk grows to the side but somehow straight too. Completed with the small arches filled with dark color leaves foliages. It gives a statement look to your garden based on its stand-out color. So, we do not wanna miss the maple tree for the Japanese garden aesthetic! There is a special type of dry maple leaves use for making crispy snacks from Japan. The starry shape dip into the light batter and then deep-fried it creates unique crispy maple leaves snacks!
Japanese pine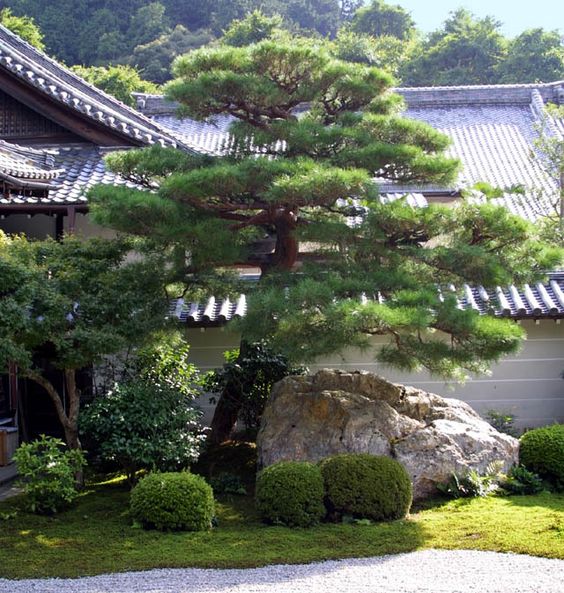 Another beautiful green shade in Japanese garden essential is a Japanese garden. They are cloud-like needle foliage decorated every branch of the tree. It looks so beautiful and the depth of the green foliage infuses the evergreen color tone foliage. This Japanese pine lives in the partial sunshade or some of them can survive in the full sunshade. There is the art of Japanese small pine trees, they called bonsai. The artist stems the bend to create the perfect arches using the wire. After they got the perfect shape of a beautiful replicate Japanese pine tree. They will take off the wire from the branches on their bonsai. So, if you have a small backyard garden, you can decorate with the Japanese garden style. And the beautiful bonsai tree can be added to the decoration!
Conclusion
Creating a peaceful paradise in Japanese garden's essential by adding decorative lush Japanese plants aesthetic. We have compiled some native Japanese plants and trees that could join the calming Japanese landscaping ideas.
We can plant the green shrubs around the rock zen garden. It gives the beautiful natural combination of garden landscaping. Then add water plants to the pond to give the clear division of eco-friendly decoration. In addition, adding some colorful lush plants and trees makes the Japanese garden looks more attractive and welcoming. Infuse the green landscaping with curated pop color plants, what a beautiful Japanese landscaping garden style!