Jordlinghome.com – What you could expect around the garden at night? The subtle look is made from the perfect lighting shadow in a peaceful night! With the proper lighting concept, we will not only able to adore the beauty of our garden in the daytime only, but we still have joy after the sunset.
Imagining the peaceful curated Japanese garden essentials that never ends to show us its beauty. With a curated lighting concept, we can create a perfect shadow in our Japanese garden. So, we can have a look at the scenic view over the night! Lighting is one of the most important aspects of creating a cozy home living. Both indoor and outdoor of our property. In Japanese home decoration essential, nature does not necessarily need lighting. But we are as a human, need the light to see the beauty of nature itself as much as possible we can! Highlighting our garden with a little lighting, we can enjoy our natural Japanese garden after the sun goes down! So, here we are to show you some of the tricks and styles of Japanese garden lighting ideas. Lighting up your outdoor space at night and create the aesthetic look by installing Japanese garden lamps! So, don't miss any of them!
Japanese style garden lamps solar-powered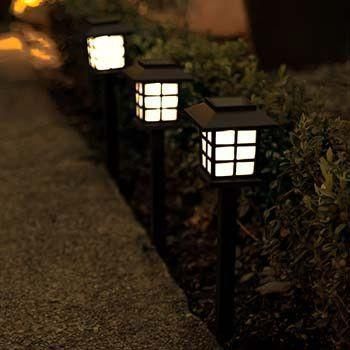 Dating back to the sixteenth century, when the Japanese garden has the lighting concept in their garden. They did not use the light to highlight their garden space. But as the world of architecture design improves a lot, the term of lighting concept in Japanese gardens now is needed. We agree that we can feel the beauty and joy of our garden that never end after the sun goes down. As technology has developed increasingly in Japan. Now, they are much using the eco-friendly outdoor light powered by solar energy. This light converts sunlight into electrical energy that could help us to turn on the lights. This pretty safe and eco-friendly product for our garden!
Now, we are quite common to see solar-powered lights in a Japanese garden. We can install these lights pretty easily in every spot we want to highlight our garden. The Japanese home lampshade style and powered with solar energy is giving us the best choice to lighting up our garden in the dark night, and it's free and environmentally too!
Japanese pagoda lantern style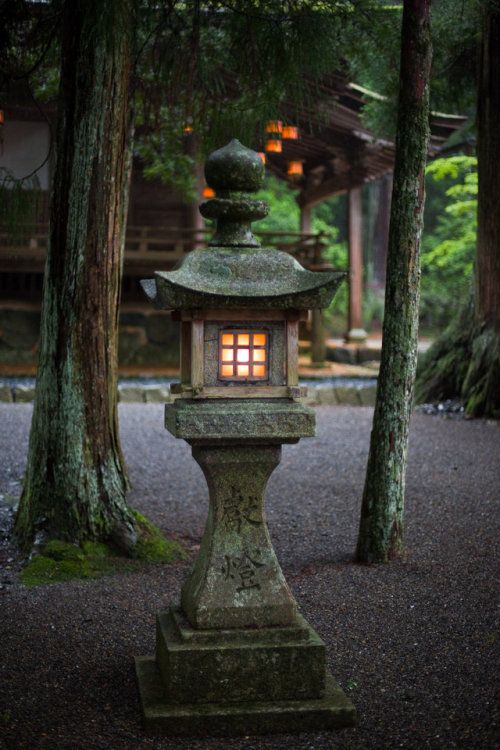 Moving on from the modern solar energy lights above, now we can have a look at the Japanese stone lantern style. It has different shapes and sizes, from the simple stone lantern style that follows zen philosophy in simplicity to this beautiful traditional pagoda stone lantern style! We can put the cancel sticks inside this lantern. And it will transmit the subtle light from inside. We can settle this stone lantern around our garden to bold the Japanese garden structure design and also help us to create a subtle look at the dark night! We guarantee this will create such a beautiful decoration into our Japanese garden style!
Outdoor lantern lamps!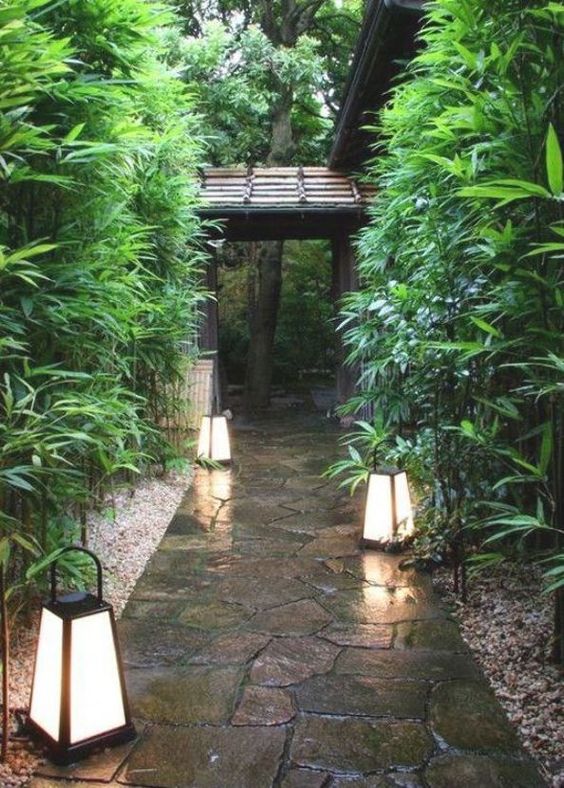 The light is a source of our life! We need it in our life, installing the lighting concept not only inside the interior space but also with the outdoor space. Good lighting will create a warm and cozy environment at night. Like this Japanese garden that has a few lanterns after you enter the gate. The minimalist outdoor lantern lamp with complete handling makes it easier to move around the space we want to spot! We can place some lanterns right after the entrance gate of our garden. It will welcome us with a warm ambiance! This could be a great idea to create a wow factor in your backyard to welcome someone steps into your cozy backyard garden!
Hikari solar-powered lantern style!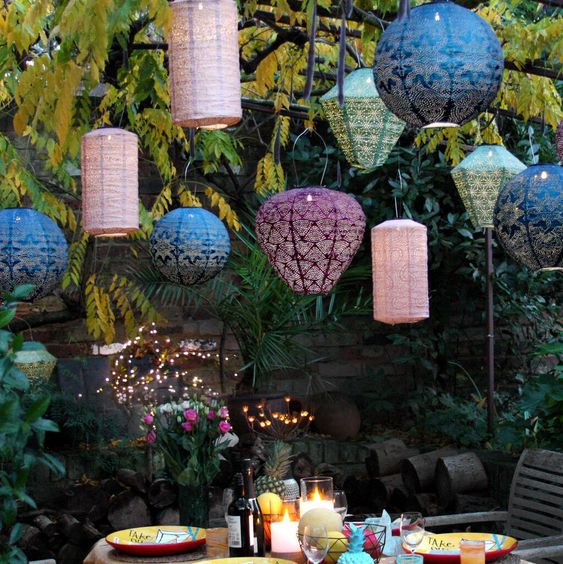 Do you want to have such a romantic dinner in your backyard? You couldn't make it happen without a lighting source! No one will sit and having dinner in the total dark environment! Alright, here we introduce you to the beautiful Hikari solar-powered lantern style. The lampshade is decorated with Japanese art which makes it more beautiful in appearance! In addition, these lights also running by solar energy which is more friendly and safer to use in the outdoor space. We can install some Hikari hanging lanterns above the table, at the daytime, this lantern will absorb sunlight and transmit it to be light at night! This lantern is so beautiful and saves energy too, it is such a good choice for modern home living that is safe to the environment!
Aesthetic bamboo light Japanese style for your garden!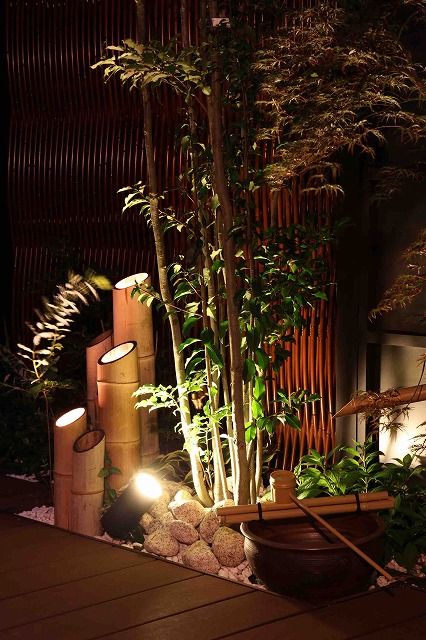 It is not surprising that Japanese homes designs will always remain natural. It connects the human and we need to be close with nature to live and feel safe living on earth! To create a friendly look at home design, Japanese homes tend to choose lots of wood and decoration to construct their home! It's so pretty when this essential is applied in our outdoor space! We can install the friendly look lighting concept by using bamboo. The LED lights inside this bamboo lampshade and when we turn on the lights. It will transform the beauty of the natural surroundings at night. Plus, we can see that the decoration blend with nature. The bamboo lampshade will give a natural friendly look to our eye. So, do you fall in love with this bamboo Japanese light style to light up the outdoor space!
Conclusion
Lighting is one of the most important elements in creating a cozy home living. Now, installing the cozy light not only for the interior but also to highlight our outdoor space! Imagine the beautiful garden without lighting at night? That might be gloomy and scary tho. The Japanese garden is well-known for its simplicity and respect nature so much! We can enjoy the beauty of our Japanese garden at night by installing the aesthetic Japanese garden lighting styles! There are plenty of beautiful garden light designs. We have shown you some of the best Japanese garden lighting ideas above! There are made from stone, bamboo, and some showcasing the simple Japanese lantern styles!
We hope you enjoy the Japanese garden lighting ideas and styles we have shared with you. So, you can decorate and give an aesthetic look at the gloomy night in your garden! Get a cozy and warm environment with beautiful and eco-friendly Japanese garden lighting styles, happy decorating!