Jordlinghome.com – Imagining there is a perfect sanctuary place in your backyard. Where we can sit and relax feel the fresh natural environment. That's an absolute joy being at home! There are lots of garden themes we can choose from available. We can find some sort of information through surfing the net, magazines, or tv shows. If you want to decorate the backyard landscape. Make sure you already have the main idea what the major theme you want to create in your garden. For example, if you want to have a clean garden landscape, you can choose the minimalist garden style. On the other side, if you want to feature the lush and natural garden landscape style with high artistic value, you can definitely choose the English garden.
As we alluded to above, there are lots of garden landscaping styles we can see from many platforms. In this writing, we will offer you a great deal of garden landscaping. It will make you feel like the perfect sanctuary place and aesthetic garden. Well, we will introduce you to a beautiful Japanese garden style.
The Japanese garden landscaping is well-known for its simplicity and embraces nature a lot. Well, get to know more about the Japanese garden style with some informative Japanese garden essentials we will share with you down below!
Creating the friendly-look entrance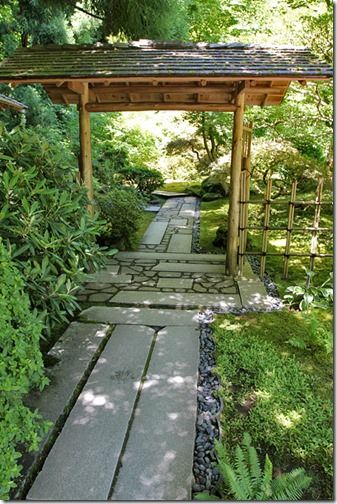 To begin with the aesthetic Japanese garden, there is nothing wrong to create an entrance to welcome anyone to join the tranquil retreat! The gate is one of the Japanese garden essentials we can't deny the point! Before we enjoy the beautiful landscape, the gate design will give you the first impression and perspective about the garden itself.
To create the beautiful Japanese grade, the small area in your backyard is still possible to create a wow factor outside of your property! We can install the gate made from wood, bamboo. Choosing the natural material to create the friendly-look impression is a must to achieve the beautiful Zen garden!
Integrate moss into your landscaping project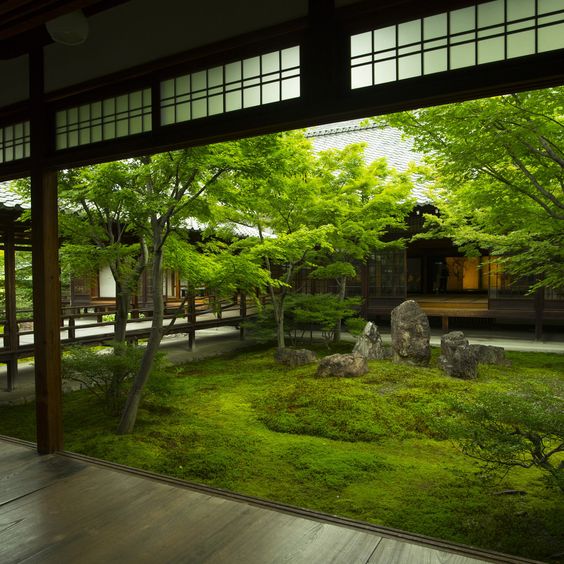 Have you adored by the serene view Japanese garden has? Well, it is absolutely relaxing, home gardener, we can ingrate moss into the garden landscape project. The soft moist and so green spread on the ground like a carpet. This look automatically gives a serene view. We can put some rocks on the moss. Let the moss and rocks blend all together to create a natural process look. If you want to involve being in this garden, you can create a garden path. So, you won't break the most moss!
This is an example of an affordable Japanese garden look. It's possible to create this aesthetic garden in a small backyard area. You only need to cover the ground with moss, adding a garden path, and some stone. In addition, create some share by growing medium trees. So, you've got the Japanese Zen garden in an easier way, would you like to try it?
Create a pavilion for your tranquil retreat!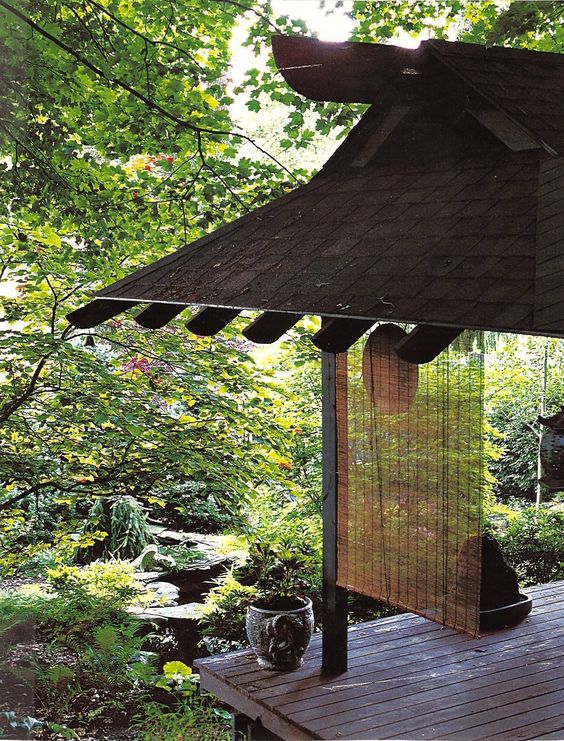 One of the most highlights of visiting the Japanese garden is staying on the relaxing pavilion. We can create the pavilion from bamboo or wood that's look perfect with natural surroundings! After back from work, it's time to enjoy nature. Feel it and let nature recharge our entry and mind! We can have a perfect laidback spot by creating a private pavilion. Where no people know to access, and it's all about us reconnect with nature! Growing some trees around the pavilion will create the perfect shade! In addition, include a water feature will relax our soul, it's such a perfect place to relax!
Featuring pagoda lantern as the Japanese garden style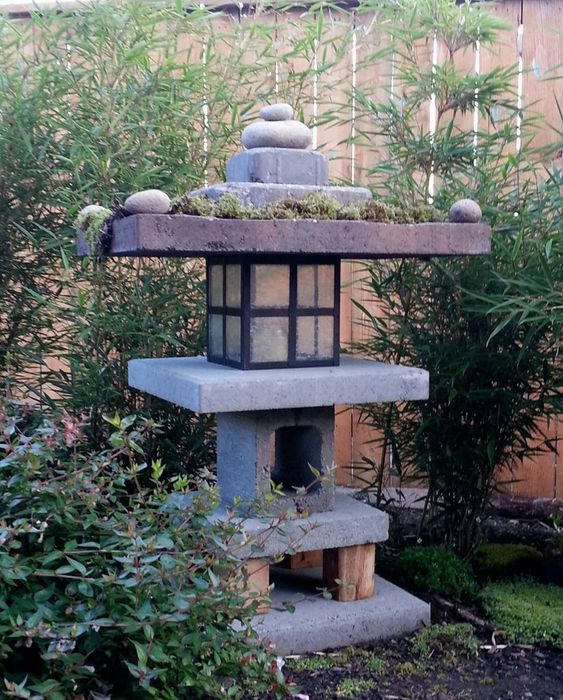 Every garden landscape style has its own unique decoration. In Japanese garden essential, we can find the pagoda and lantern as the decorative landscaping style. There are lots of beautiful and historical pagodas throughout Japan. So, create a mini pagoda in our Japanese garden will improve the style and bold the theme garden we have! We can DIY a lantern pagoda by stacking concrete stuff and wood to create a miniature pagoda in a simple way. In addition, we can put the garden lamp inside the pagodas. So, when the sun goes down, the cozy light will radiate from this lantern. That will transform the cold night into a beautiful cozy and peaceful ambiance. And we can achieve the sanctuary ideal space by having a great relaxing garden style!
Include water element in Japanese garden essential!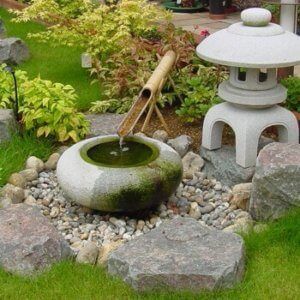 We can separate the Japanese home design and garden landscaping style with Zen philosophy! The thought that teaches simplicity, nature, and aesthetics combine all together to create an unexpected natural beauty! In the Japanese grade, water is an important element in the Japanese garden landscape. Water gives life to all living things, so to make the garden feel alive, we have to create water features in the design. We can create an affordable water feature. Such as this little pond made from the concrete bowl. And the water flows from the bamboo. It will successfully create a friendly and welcoming environment garden!
Koi fish in Japanese Garden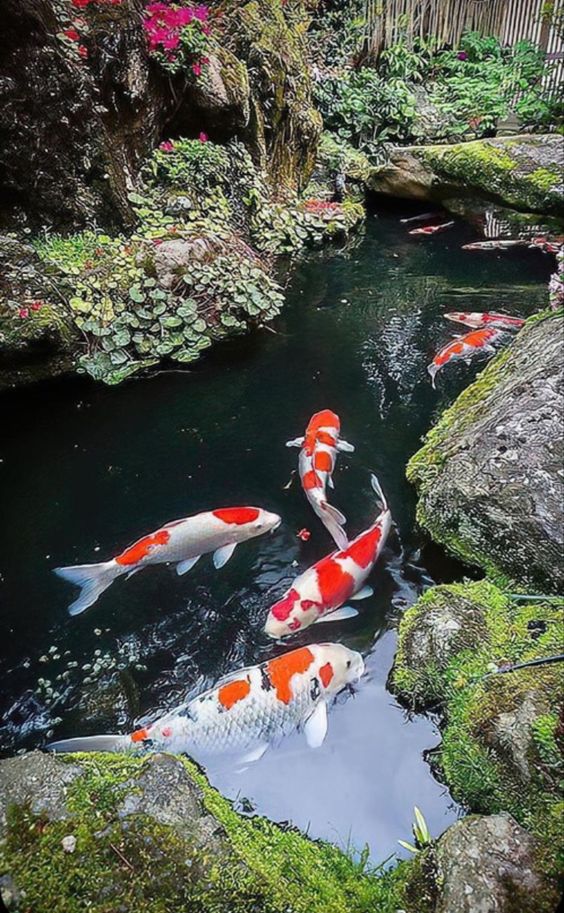 In Japanese mythology, Koi fish also symbolizes luck. So, they believe to take care of them in their home will bring good luck to the homeowner. Anyway, it is not all about the luck thoughts. But the presence of Koi fish in your garden will make an absolute aesthetic point. You can feed them, and see how beautiful they are swimming in the clear pond water. That is so relaxing and helps you to achieve the sanctuary ideal space you want to create in your backyard!
Creating a beautiful bamboo fence!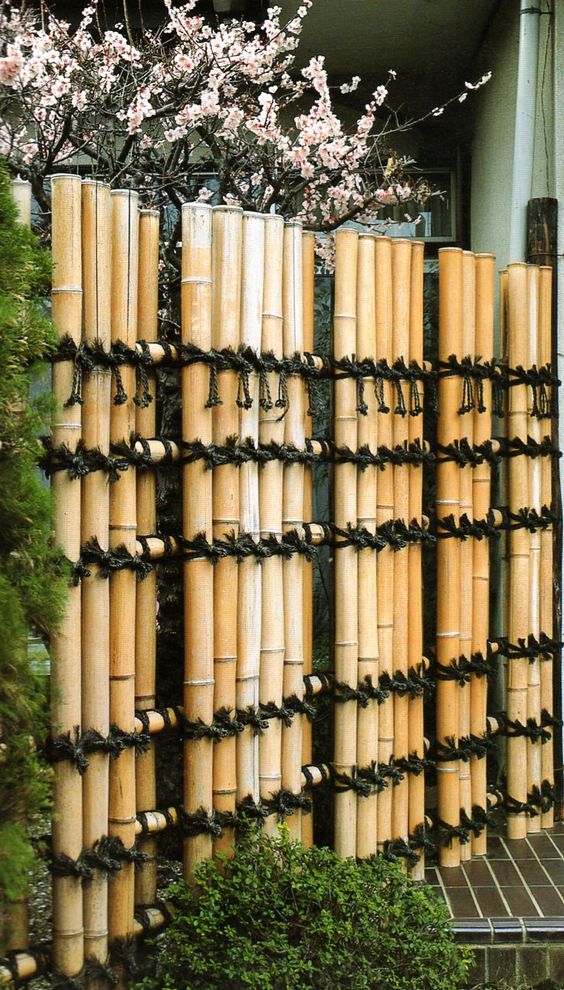 Installing the privacy wall to coverage our private backyard area is needed. Regardless of the natural decoration Japanese gardens have, we can create a beautiful privacy wall with bamboo. The tall bamboo set up neatly creating the friendly-look backyard fencing idea! Besides giving you privacy space, this bamboo fence also will give an aesthetic to your backyard garden decor idea!
Decorative gravel landscape idea!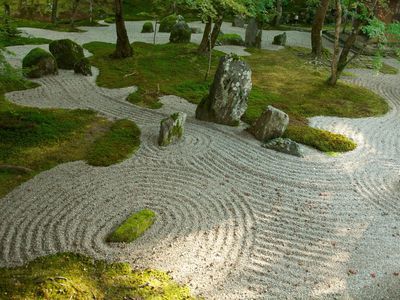 Another beautiful Japanese zen garden landscape idea uses gravel as media. The spread of gravels formed in a geometrical circular shape. There is a meaning behind it. This represents the ripples of waves that we can see around the island. As we can see the thought process transforms into a meaningful and beautiful design. It is literally dope! Home gardener, you can choose sand or gravel to create this geometrical Zen landscape idea. We are pretty sure, it will improve the look of your garden, happy decorating!
Conclusion
We have compiled the most important element to create a Japanese garden is being generous with natural materials. Gathering stones, rock, gravel, plants, water altogether in one perfect ideal sanctuary space design. We enjoy the thoughts process Japanese have and transform into a beautiful garden that could be their pride in the landscaping styles. It's not surprising that Japanese garden landscaping is one of the greatest landscapes many people love and embrace too!
When natural landscape styles meet the brilliant thoughts. It creates a real masterpiece. We think that the Japanese garden is one of the greatest masterpieces in the world of landscape design. We hope you enjoy some sort of information to opens up our thought about the beauty of Japanese garden design. And we would love you to apply these essentials to create your dream Japanese garden style!