Jordlinghome.com – In order to look for a relaxing spot in our house. We can decorate our home exterior no matter the size. Still, we deserve to breathe the fresh air outside of the door. There are lots of the design available to decorate the exterior space. But if we are looking for a relaxing ambiance, then our decision must come to the tropical design. Why it should be a tropical style? Simply, it has a green accent and natural decoration which help to create a relaxing atmosphere.
In this writing, we will guide you to see some captivating tropical terrace designs. Featuring natural furniture and decoration that will make us fall into a relaxing atmosphere! Don't miss any of them!
Warm tropical terrace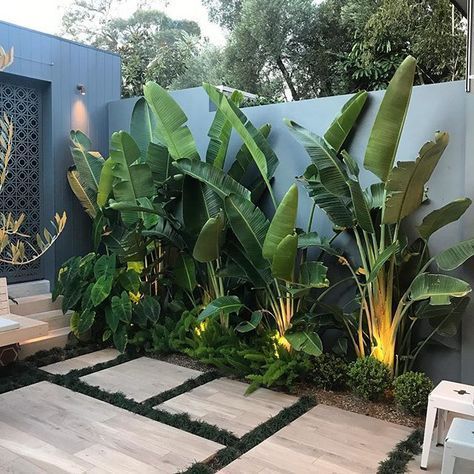 Due to the covid-19 pandemic, we are having lots of pressure and tension. But, we have to be grateful because now we spend time more at home, gather with our lovely family. To make us comfortable being at home. Let's take advantage of our exterior space into a deep relaxing spot to hang out. First of all, we can grab tropical plants such as banana trees to decorate the garden space. Then, installing a paving slab in the garden to create an organized garden path. Creating a warm night ambiance by installing garden lamps under the banana tree. We can enjoy the garden ambiance by adding chairs and a table in the garden.
Tropical terrace design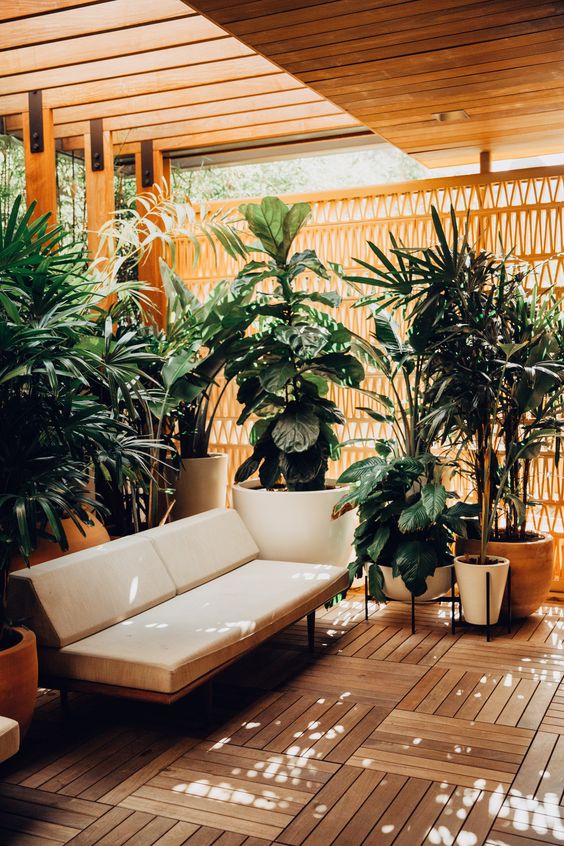 As we alluded to earlier, tropical designs tend to choose natural materials for decoration. To begin with this relaxing terrace project, we can install wooden decking and a wooden pergola. When the sun is shining, there will be sunlight that hits through the gaps. That gives the natural ambiance inside. To add more relaxing touch, add some tropical green plants inside. Finally, adding a cushion to provide a seating area.
This terrace design idea absolutely adapts to the tropical decor. The highlights of the tropical house design are creating good ventilation, natural light, and add green plants to the decoration. These essentials gather altogether creating a sustainable design that functionally correlates with the weather surround.
Natural stone for tropical terrace design idea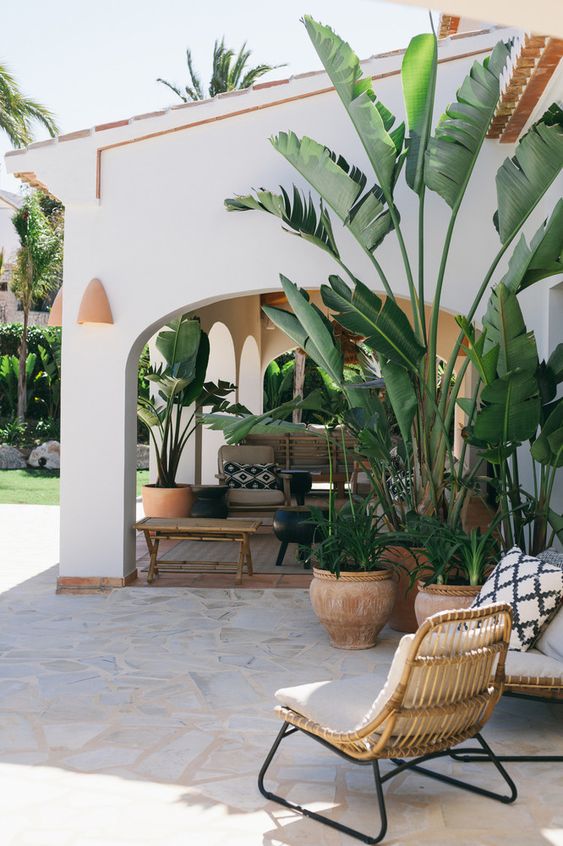 If you love tropical house concept and design but suddenly you are not live in the tropics country. Well, don't be sad if you not live there because we still have a chance to have a tropical environment. Remodeling our home with a relaxing tropical design is the best way we can do.
Let's decorate our exterior space with relaxing tropical landscaping. Using natural stone for paving is a great way to create a natural ambiance. Don't forget to include lush tropical trees to strengthen the green space. Bamboo chairs can be added to the patio space. When the neutral white structure building meets the natural vibe decor from wooden furniture and green plants, there we will find a deeply relaxing space outside of our home!
Concrete wall and greeneries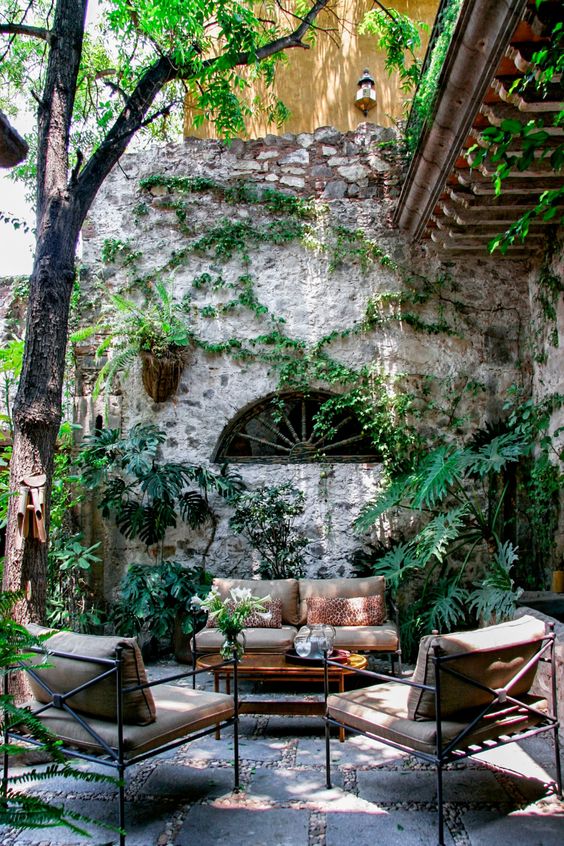 If you have a small space in your backyard, you can take advantage of it. Creating a relaxing space to reinforce green living space is a great idea! Imagining living in a tropical country that offers green shades from the natural surrounding. We can create a hidden gem, where we can relax and enjoy the fresh natural environment. First of all, we can install some paving areas on the gravel. Creating a natural view by adding some greeneries. Display the greeneries such as in actual nature life. So, we can get the amazing soothing ambiance just like being in actual nature.
Small courtyard decor idea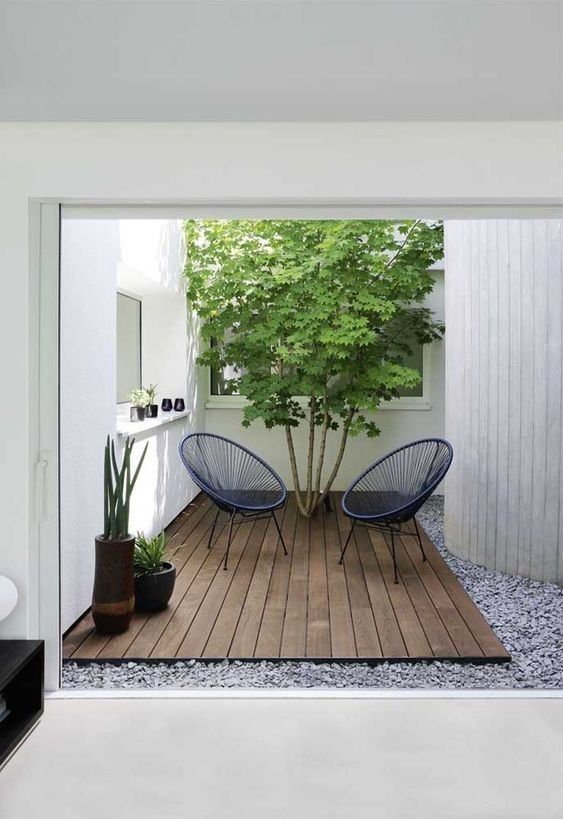 As we alluded to earlier, no matter the size we have, there is a chance to take advantage of it. If you have a small courtyard in your living space that aiming to give natural ventilation throughout the rooms in your home. Actually, we can make a big deal in the small courtyard area.
We can have an open sky courtyard style, so we can get the fresh air and sunlight to come in. Then, installing wooden decking on the gravel area. In this term, we are trying to come up small interior space with a scenic outdoor ambiance. Don't forget to incorporate greenery into the fresh courtyard decor idea.
Imagining a home that has different shades based on natural lighting. In the morning, the sun might reflect differently to the interior. That is the extension and advantage of have natural lighting through the interior! In addition, the natural ambiance surround will make us comfortable in a relaxing environment!
Soothing courtyard design – a cool place to hang out!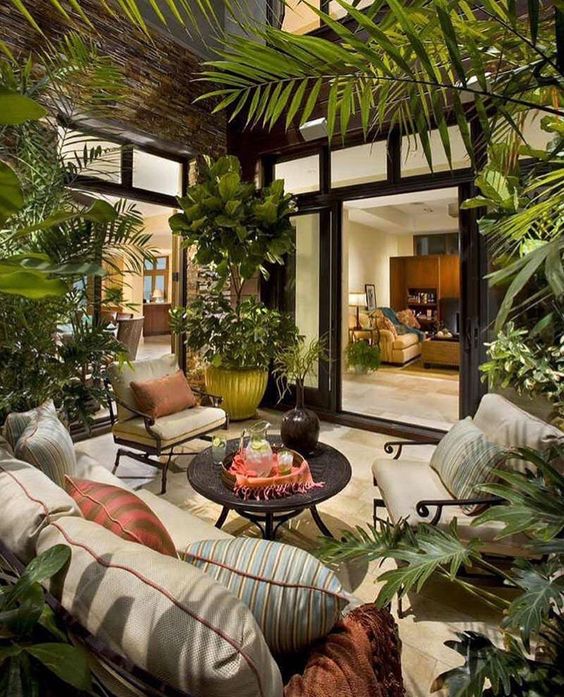 If you are dreaming of having a soothing place to hang out inside your home. Then, we can do a tropical theme in our courtyard. Installing large windows all around the area to share the relaxing ambiance into another room. Green plants can be added to join the fresh atmosphere.
Imagining having an attractive space inside our home based on natural light. In the morning, the morning sunlight will reflect its warmth to the interior. When the sun start goes down, the dimmed lighting from the living room will reflect into this tropical courtyard area. In addition, we can add some comfortable cushions and a coffee table to enjoy an invigorating environment! We're ready to have a cool place to hang out with our family or friends.
Tropical terrace design with swing chair
The sun is shining and the warm weather welcomes us on summer days. It's so much fun to enjoy the sunny days outside of the door. But then, due to the covid 19 pandemic that warns us to stay at home to be safe. Suddenly, it derives our mind to think about tropical design. Well, we can make a small hidden gem in our backyard aiming to relax. First of all, we can put some gravel on the terraces and then installing the garden path. For the tropical idea, we can install the garden path made from wood to show the nature concept idea. The privacy wall creates a comfortable spot to relax. Installing a swing chair in the corner to get all the view. The green plants add a relaxing accent to this small outdoor space.
Conclusion
The aftermark of covid-19 requires us to stay at home to decrease the rate of coronavirus cases. Due to the pandemic issue and difficult situation, it's better for us to make a little bit fresh touch of relaxing decoration to our home. So we can take the advantage of the outdoor space to get some fresh air to breathe!
Thus are some captivating tropical terrace designs we already shared with you. We also include some of the patio and courtyard decor ideas. We hope you enjoy our writing and try to begin the green project in your outdoor space!