Jordlinghome.com – There are many things that could support a comfortable living space. From the building structure to the well-decoration project. Specifically, in this time, we pointed up the home's building structure, we will see how the flooring style incorporates with the wall and decoration. Besides that, choosing the proper materials to construct the building will give an impact on the coziness.
In this writing, we will be focusing on the tropical flooring style that commonly gets less attention than others. But if we are looking for a comfortable living space, all points should be fulfilled with a coziness accent. In the tropical home design, it's very important to choose the right flooring style. Natural material such as wood is much used to create a welcoming home style. Moreover, the green, blue shade, and neutral floor also correlate with a relaxing tropical line decor. Here, we will be sharing with you how to apply proper flooring style for tropical sustainable home design. Don't miss any of them!
The subtle look from oak flooring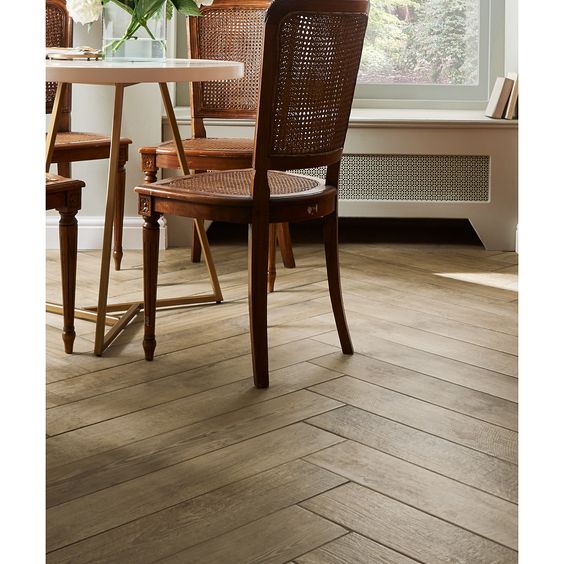 As we alluded to earlier, flooring style gives an impactful point to the home's coziness. Especially when it comes to the tropical style. It should beyond natural material to give a fresh natural look. To achieve the look of welcoming home design, wood is one of the best material can be used to. As we can see the subtle look made from oak flooring style is so relieving! The lightwood type will successfully make a soothing environment to the interior.
In addition, wooden rattan chairs make the bold accent of relaxing tropical decoration. Moreover, adding greeneries elevate the soothing interior. Imagining having a clean line interior that offers a natural look and then the shadow of natural light reflects the interior. This home absolutely offers serenity, what a superb design!
Display natural stone flooring style!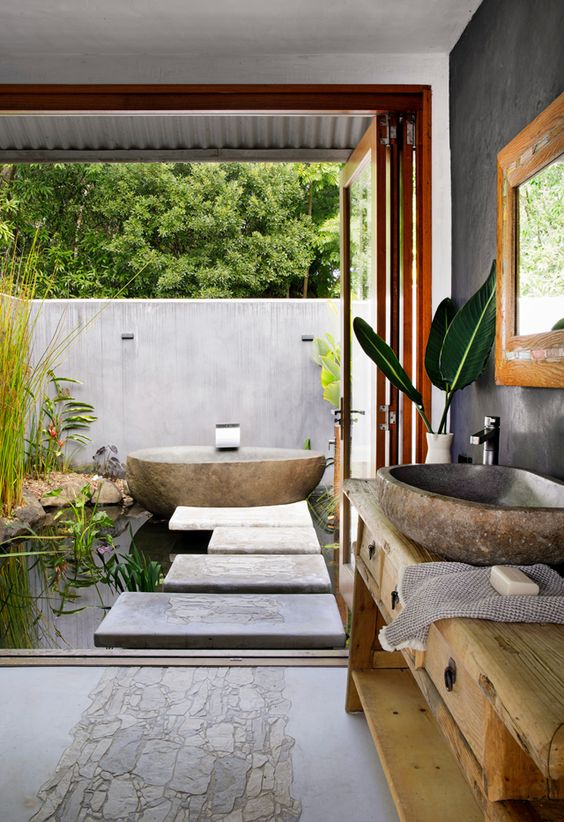 We are not getting enough to remind you about the essence of tropical design that belongs to natural materials. This tropical bathroom flooring project displays natural stone that enhances the beauty of the design. Limestone can be used for the bathroom flooring project. It does not only give the aesthetic but also gives comfort when you step into the wet area. The natural stone will avoid you from slipping in the wet bathroom.
This tropical bathroom design has a great relaxing view, when you open the window, suddenly you get the lush tropical serene ambiance. We will get so much relaxation by having a bath in this bathroom style. This bathroom style also potentially crafted to be a relieving spa spot in our home!
The luxurious teak flooring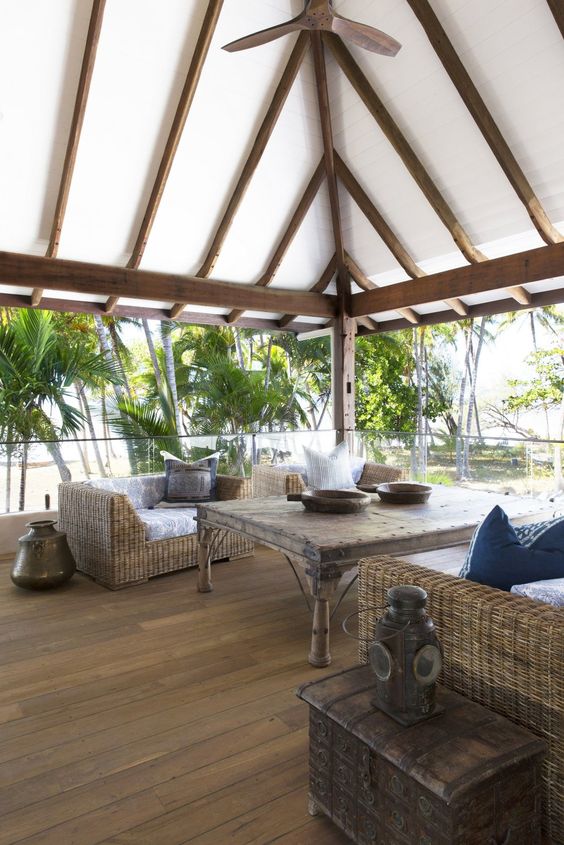 Another wood type that bold in tropical design is teak. This wood is well-known as the durable, sustainable, and beautiful wood ever. Originally from the tropics country such as Indonesia, teak is so popular for durable furniture and flooring of course. The sturdy accent and unique natural wood fiber from teak will absolutely make our home look luxurious in the natural theme. This wood type is worth choosing to remodel your home with a tropical accent! Beyond the natural decoration, we can add some natural furniture. Such as rattan chairs, and distressed wooden table, absolutely beautiful!
Neutral tropical flooring ideas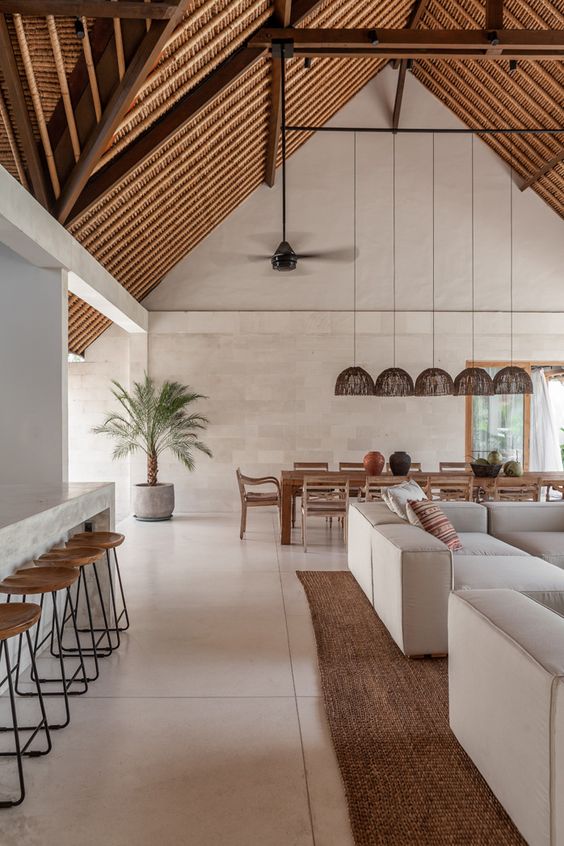 As we already discussed above, there are many ways to achieve a clean and refreshing accent from tropical design. Each one of them is displaying the neutral flooring type. We can choose white granite for the flooring. They will make our interior space look spacious and give a soothing impact.
When the neutral flooring meets the natural texture mat. It's easy to be spotted as tropical home decor. Simply, spreading the woven rug on the neutral flooring will lead our mind to the relaxing tropical ambiance all of the sudden! Tips on creating an airy space interior, the neutral flooring style can be applied to create spacious and bright living spaces. In addition, to support the natural concept, we can install some rattan pendant lamps and tropical plants inside!
Green ceramic tiles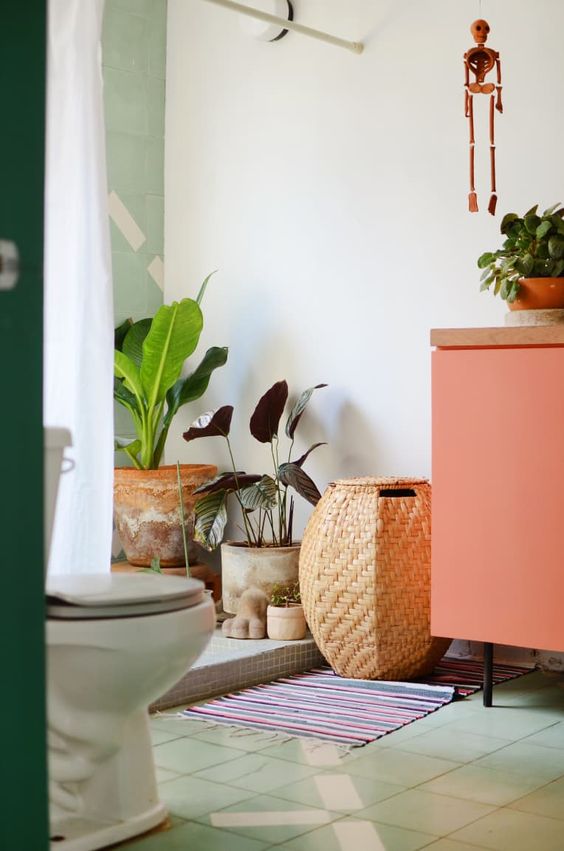 Green is the color of nature, so we can use green ceramic tiles for tropical flooring style. This is a type of Mexican tropical bathroom style. The light green ceramic tiles go down perfectly with natural decoration. When the natural light creates a shadow to the interior, it creates a comfortable environment. Refreshen tropical bathroom design by incorporating the green plants inside. A woven bamboo laundry basket adds the welcoming tropical line decor. We can install a sheer curtain on the door, so it gives access to the natural light to join the interior space.
Geometrical tropical flooring style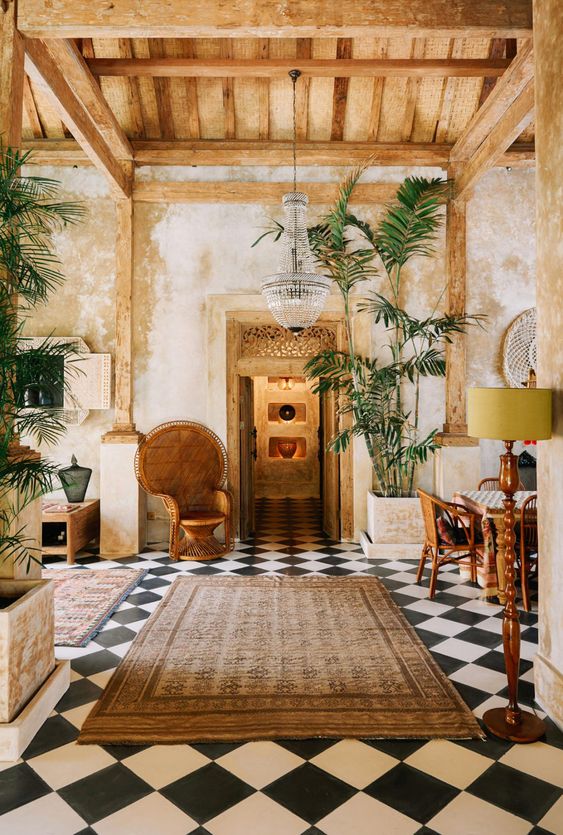 Creating a quirky and attractive tropical interior, we can install a geometrical vinyl flooring style. This will give the pattern and stylish tropical decorating idea. Sometimes, we feel bored having a clean line decoration. To give the interior space more attractive, we can add a pattern such as applying geometrical flooring style. As a result, we will get a vibrant tropical decoration!
Gray marble flooring style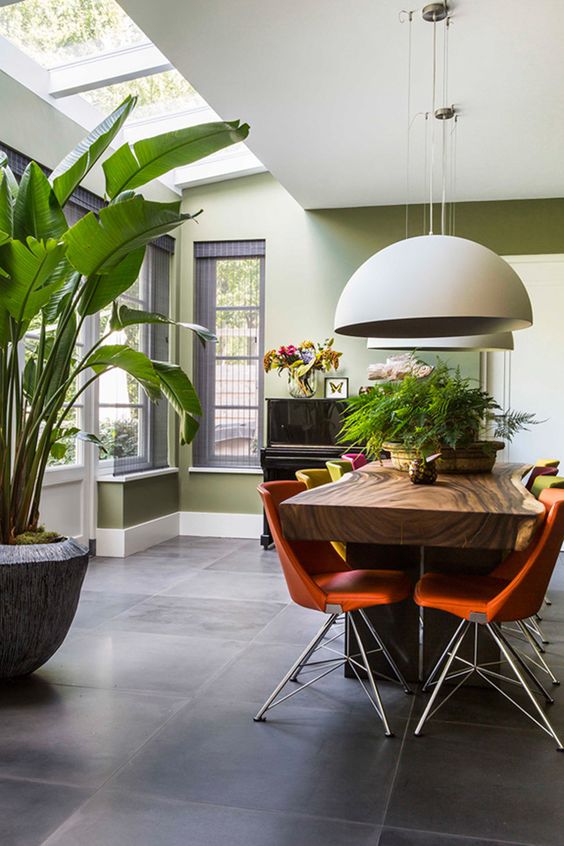 This tropical dining room using gray marble for flooring. Marble is a natural stone and made of calcite crystals that turn into many colors. Each one of them is a gray marble that we display now. This flooring style will correlate well with the fresh tropical decoration. The neutral color tone flooring makes it easier to be matched with any theme of decoration. To create a lush tropical dining room design, we can brush the wall with a light green paint color one. In addition, adding greeneries and wooden dining tables will bold the tropical decor!
Blue ceramic tropical flooring tiles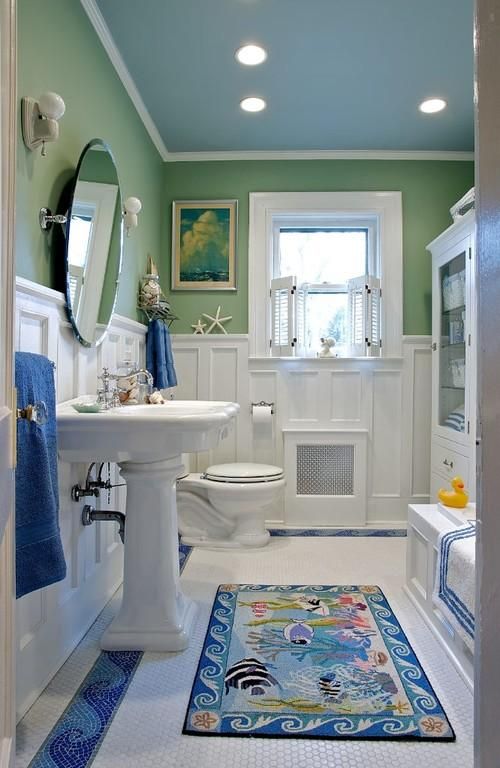 We have come to the last tropical flooring style in this writing. There is a display of blue ceramic tiles in this bathroom. The blue color tone has a soothing impact which is good to be paired with a relaxing tropical decor. These ceramic tiles also give a pattern and attractive feel in the bathroom!
Conclusion
Flooring occasionally gets less attention in home design. But if we are looking for a comfortable living space. We have to work from the base, yeah we can start with the flooring. Figuring out what types of flooring could express the laidback and welcoming environment inside the building. We have compiled an inviting tropical design based on natural materials. To achieve that dream, we can choose wood, natural stone for flooring type. In addition, we also can trick the refreshing tropical atmosphere with neutral flooring types. Thus are some examples of applying tropical flooring style for a welcoming home design we already shared with you. We hope you enjoy it and begin the project immediately!