Jordlinghome.com – The living room is one of the most important parts of our home. It takes part as the main gathering space and welcoming guests. The living room also is the first space that could be noticed by people and could represent the homeowner. Considering the living room being a reachable space by people. It's important to decorate this space with our own style. Decorating the living space is not as simple as we imagine. We have to find the perfect array of the style we want to liven up. Some people might be found it difficult to choose the right decor. We'll help you all out and find the proper solution for you.
In this writing, we will be sharing tropical living room decor. It has a stunning natural array of decoration that will help anybody to live in the sanctuary feel like it! Moreover, we will be sharing tips on choosing tropical furniture sets, so that we will be free from clutter and find the right decoration for a relaxing room kind of type!
Tips on choosing the proper furniture for tropical theme living room decor!
Knowing exactly the theme style
The first thing before you dig into the decoration project, You have to know what theme you want to create in your living space. Don't invest something for what you really see and what you like from the commercial site. Knowing exactly the theme you want to be applied that will guide you to choose the proper furniture for your interior decor.
For the tropical living room decoration, we have selected the furniture that could liven up the stunning natural array. As a result, we will get the relaxing living room decor!
Invest in durable furniture
There are many irresistible pieces of furniture that catch our eyes. If we are not careful enough, we will fail to spend our money on seasonal furniture. You don't want to end up seeing your money as trash, right. So, another tip on choosing the proper furniture for the tropical themes is on durable furniture ideas. Invest our money in quality and natural furniture ideas. For instance, table teak not only durable but also give a lot of aesthetic to the interior space. This what natural array decoration really needs to!
Value your money by investing in the comfortable furniture
Whatsoever the commercial advertising offers you abundant irresistible furniture options. You have to decide the budget you will spend on furniture. Don't sacrifice this factor by buying overpriced furniture. The function of the furniture not only gives the aesthetic to the interior space. But also gives us comfort fully. Besides choosing a durable furniture set we also have to consider the comfortability of the furniture itself. So, we will get the functional items to be installed in our living space!
To give you a full guide on choosing tropical furniture, let's have a look at the decoration down below. That might be suited for your decoration project!
Teak furniture sets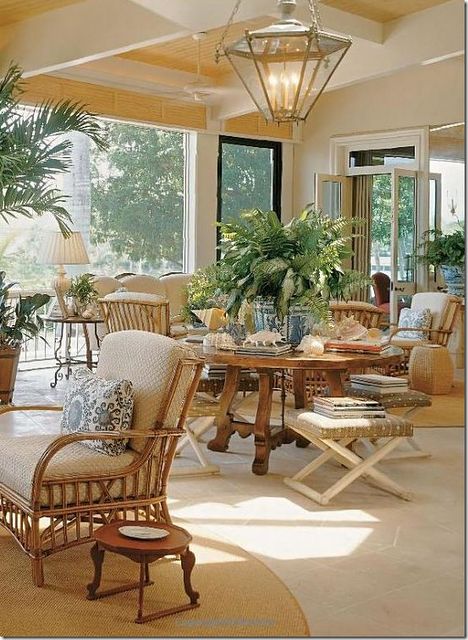 Teak is one of the most durable wood types that exist in this world. It is also well-known for its tropical decoration. We can found it a lot in the tropic country. The advantage of choosing teak furniture is that they have a quirky natural fiber and rustic wood type. So, we will get a quirky relaxing tropical decor in our house. The wood color tone from teak furniture gives a laidback natural environment to the living space. Setting up the teak table in the middle and some chairs or sofa around. This will be a focal point in our living space! The teak wood furniture will give a classy and rustic tropical theme decor!
Bamboo sofa sets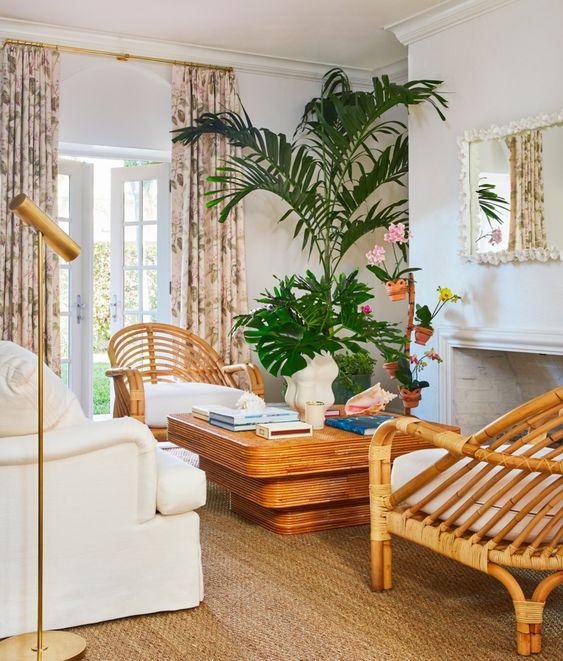 We can not go wrong with natural materials to decorate our tropical living room project. If you are looking for an eco-friendly furniture idea that has a lightweight feature then bamboo set furniture can be your option! They are typically lighter than wooden furniture but they have an interesting accent to decorate the natural tropical array! Simply, a bamboo coffee table in the middle, followed by chairs around. To comfort the seating area, we can add the cotton mattress on the bamboo chair. If you have a small space living room and wanna save your budget, then the bamboo set is the proper furniture you can take into the living space! They are usually low price other than teak furniture!
Simple rattan chair decoration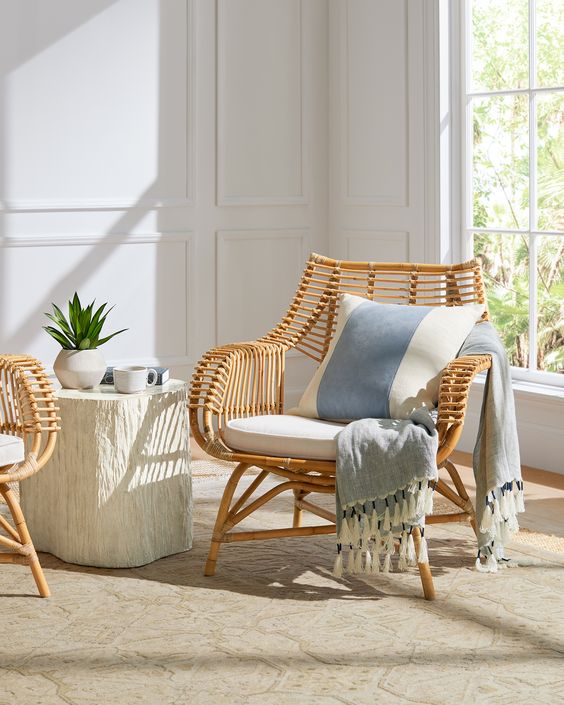 If you have a low budget to buy furniture sets for your living room decoration. We can choose the rattan chairs to be installed in our living space. They are much friendly-cost other than teak. But, they also can give a laidback tropical visual into the interior. Setting up the rattan chairs into the room, in addition, we can include greeneries to join the refreshing decoration. This kind of simple and practical tropical design to follow. We only need to brush the wall with a neutral paint color tone. In addition, the natural furniture and greeneries will correlate with a neutral wall creating a welcoming interior look! Moreover, the natural light that comes to the interior will give a pleasing soothing tropical decoration!
Floor pillow woven cushion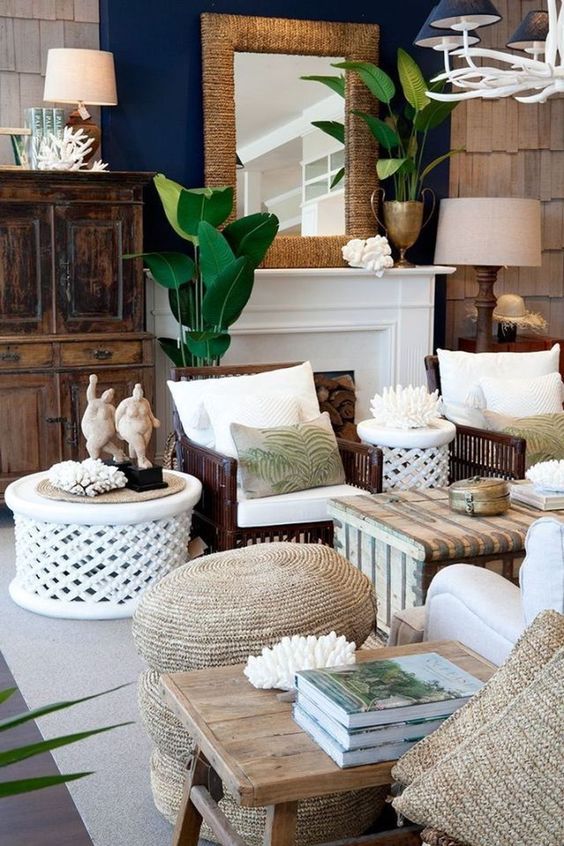 Another quirky natural tropical furniture set we can add to our soothing living room is a floor pillow woven cushion. The natural texture from this pillow will add the serene and lead our mind into the ideal sanctuary space! This is an easy thing we can do to have a tropical design all of the sudden. Simply, bring some of the woven pillows on the floor, they will add the tropical aesthetic. Moreover, their presence will provide more seating in our living space. It could be an option if we don't have a big sofa to provide some seating for our guests!
Display organic mirror to give the spacious look in tropical decor!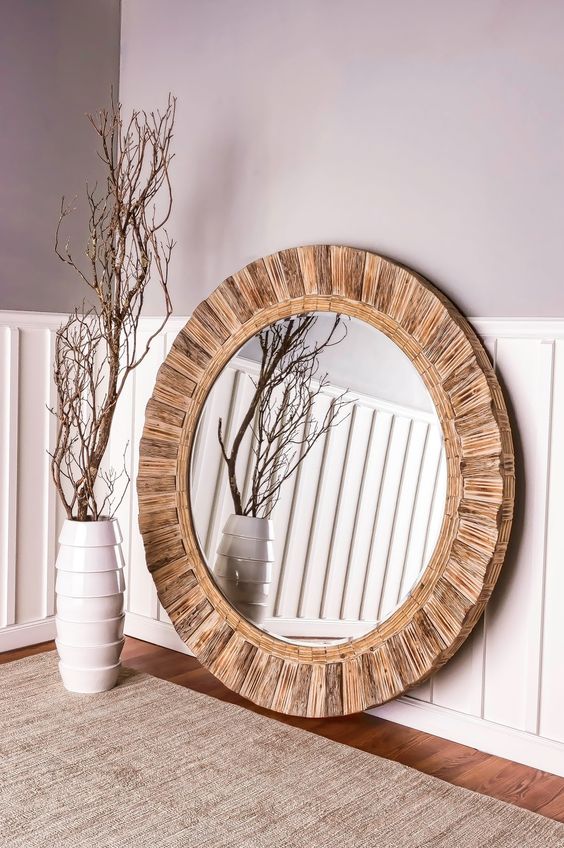 To complete the relaxing tropical design, we can add an organic mirror to the living space. An organic mirror usually has a round shape and natural frame. This will give charm to natural decoration. Moreover, when the natural light comes to the interior then hits the organic mirror inside. It will reflect the sunlight to the interior space. As a result, our room will have enough natural light that makes a subtle and spacious environment!
Natural jute rug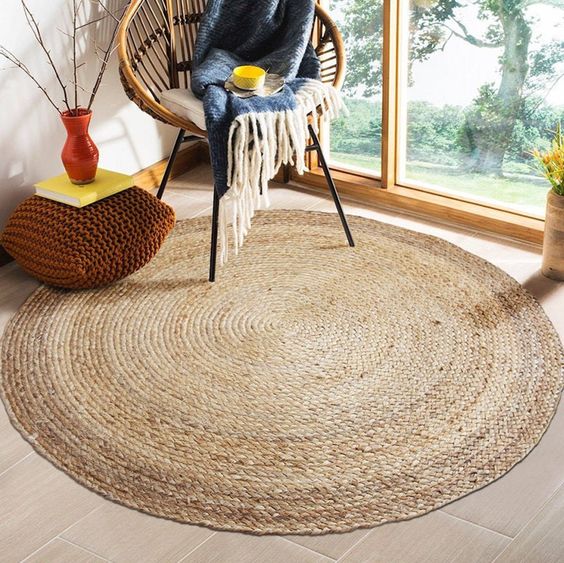 Our last furniture and accessories of tropical decoration are fall to natural jute rug. The natural fiber and natural color tone from a jute rug gives a relaxing tropical decoration. So, there is no doubt to invest our money in the jute rug to give a laidback tropical environment in our living space! Eco-friendly furniture will go in harmony to create thermal comfort in tropical home design!
Conclusion
Thus are tips on choosing tropical furniture ideas. Overall, the tropical furniture design belongs with natural materials such as wooden, rattan, and bamboo chairs and table. The natural material will work in harmony with the tropical array decoration. We hope you enjoy the tips and hope this helps you all out in the relaxing tropical living room project!