Jordlinghome.com – Due to the Covid 19 pandemic, several major things in our life has changed, and we are facing the new normal life. Staying at home is the safest way to reduce the rate of increasing coronavirus cases. In this way, we have to make our home as much as comfortable we can live. Figuring out what types of decoration that fit with this difficult situation. We found out that tropical home decor is what we need. It has relaxing line decoration that reminiscent of the sanctuary ideal space inside our home.
In this writing, we will be sharing with you some relaxing tropical wall decor ideas to refreshen the interior space! We will be displaying inviting tropical print, painting, wood carving, tapestry, and many more ideas to come! Furthermore, it made with various materials such as metal, canvas, natural fiber that will add pattern and texture to beautify the home interior. Don't forget to check them out down below!
Dry natural palm leaf decor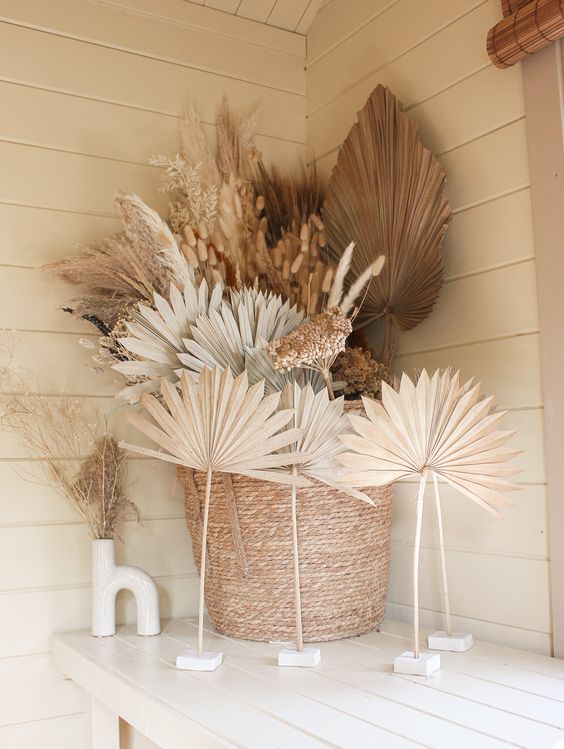 The tropical decoration belongs to natural materials that could feature the laidback style on the beach. When we can into tropical wall decoration, we can collect some dry palm leaves and crafted them into beautiful goods. For instance, we can DIY dry palm leaf into a beautiful natural fan. We can tuck them on the wall or put them in the seagrass basket around the corner. That will absolutely give the tropical design into the whole space.
Lushly banana leaf wall art print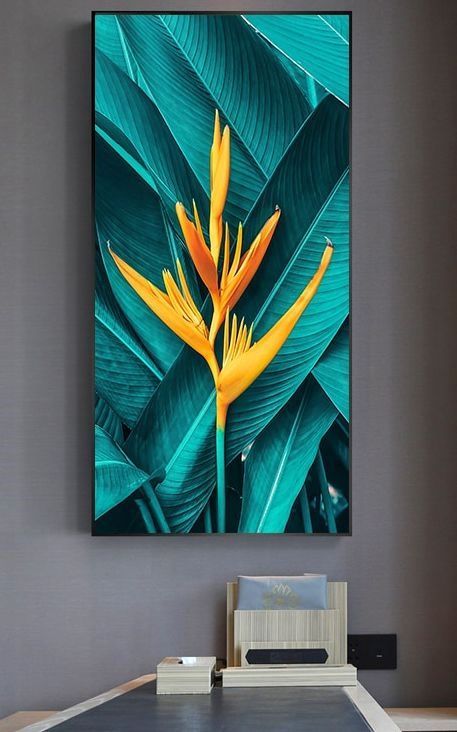 The simple way to evoke tropical design is using the green lush printed wall art. A high-quality lush green banana leaves set on the wall. Set these gorgeous banana leaves motif in the tropical bedroom that will evoke our mind into the jungle-like environment.
Tropical mural wall art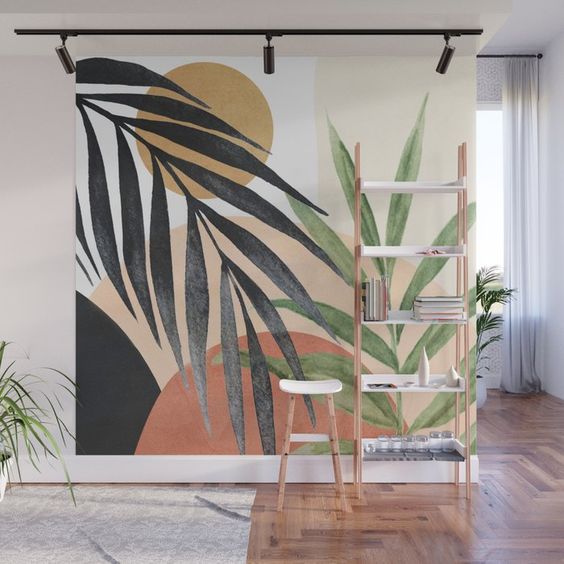 Creating a focal point in our living space by featuring outstanding palm leaves wall mural art. This mural art features vivid colors such as green, yellow, and pink color shade symbolizes the vibrant tropical design. Creating a large mural in the living space will be a focal point in our room. When the natural light comes to the interior and that will highlight the beauty of fresh decoration mural wall art. When the sun goes down, the dimmed lighting made from LED lights installation creating a wow factor at night time!
Subtle look from palm leaves decals

If you're not really interested in bold and colorful decoration. You can choose the decoration that correlates with a simple minimalist design, such as these golden palm leaves wall decals. Sticking them on the neutral wall and will make the elegant look to living space. The golden palm leaves decals are perfect to decorate simple interior design.
Rattan mirror wall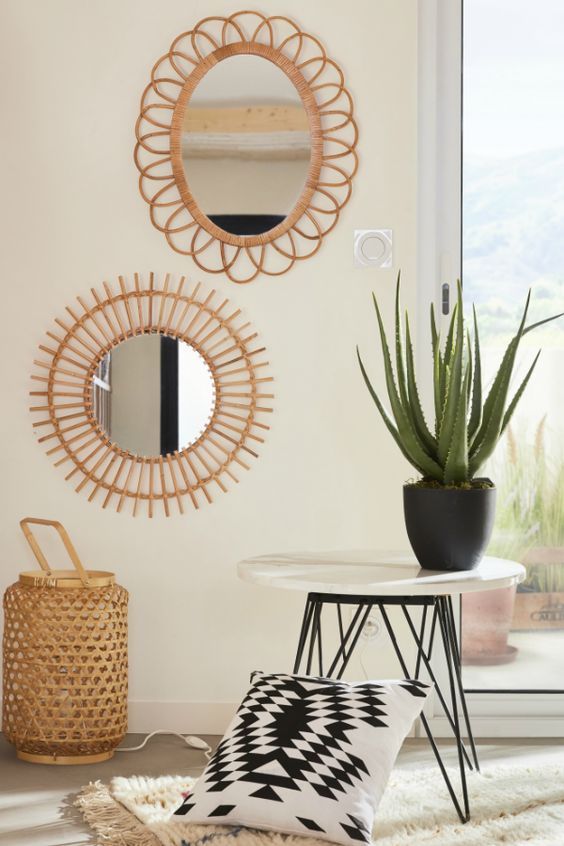 Natural decoration brings liveliness and excitement to the interior. We can Stick rattan mirrors on the neutral wall to unwind the laidback environment inside our home. Imagine the cozy interior that has enough natural lighting and subtle tropical scenery that will make us fall into great relaxation. In addition, a green plant can be added to join the natural ambiance.
Metal candle stand
Another natural decor to improve your home interior is made with a metal material. These gorgeous candlelight stands made from iron metal which is safe to hang on the wall. Get a cozy night by turning off the lights and let this luminous candlelight shine. We can set this candle in our bedroom, so we will get better sleep!
Green foliage tropical painting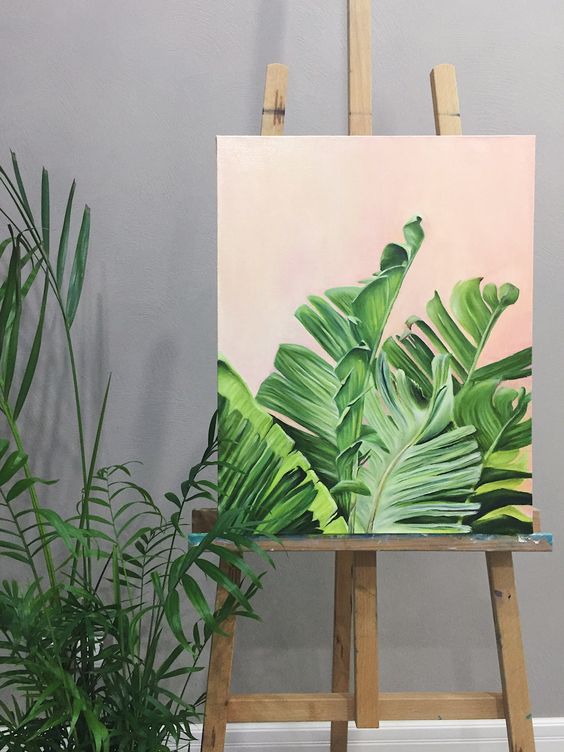 When we talk about the wall decoration, we couldn't leave behind the painting. Since a very long time ago, painting is an essential item to decorate the wall. Their existence will make the empty wall feel alive. For the tropical wall design, we can add the green foliage painting to extend an inviting natural design!
Blooming flower tropical mural wall art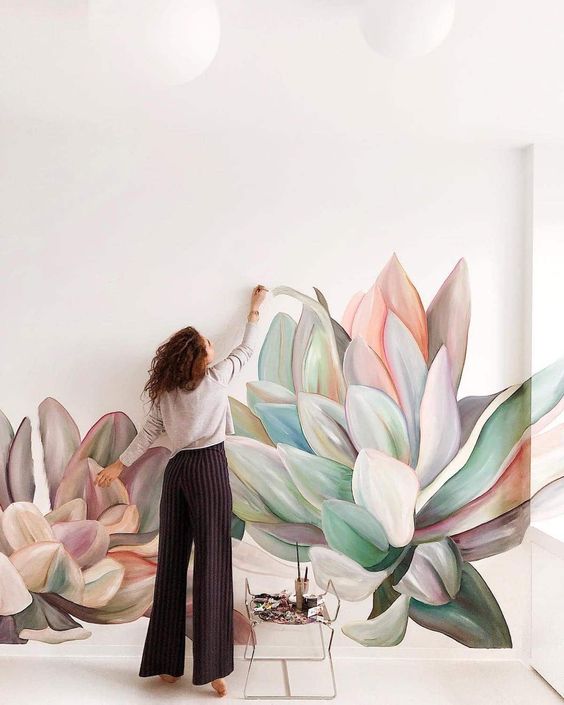 Do you love an outstanding piece of artwork that attaches to the wall? Then, mural wall art is what you need to refreshen the interior look. With the sun upon us, and soon we will celebrate the summer days. Get the summer vibrant to boost our mood that gives the energy of life. Let's fulfill the pale and empty wall with gorgeous blooming plants mural wall art! Creating a large flower and foliage feature on the large permanent wall canvas will create a focal point in the living space!
Natural palm fiber wall mirror idea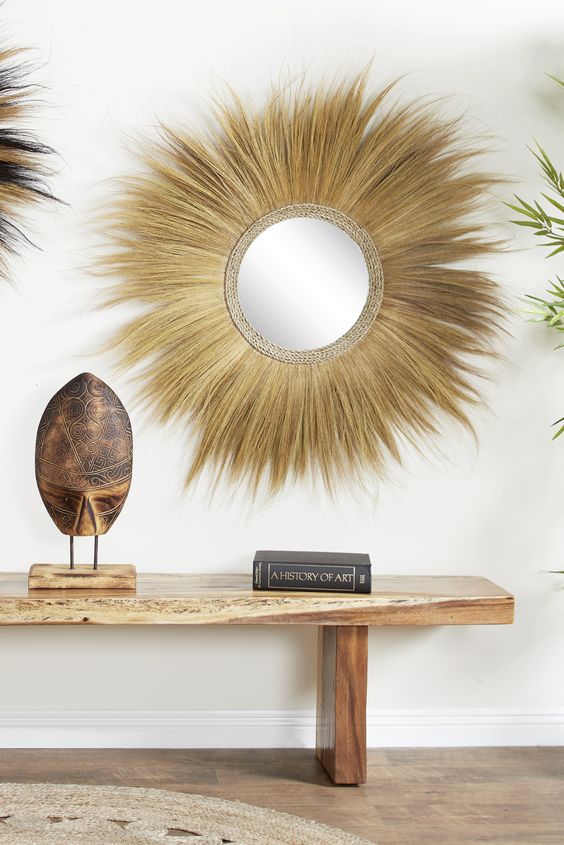 There are many advantages of having a tropical interior design. Each one of them is reminiscent of the sanctuary ideal space such as being in the holiday summer vacation that full of excitement. Creating the laidback lifestyle in our home with some quirky decoration. For instance, this natural palm fiber is made to beautify the wall mirror. Sticking the palm fiber all around the mirror edge, that will absolutely elevate the nautical look to the design.
Tropical tapestry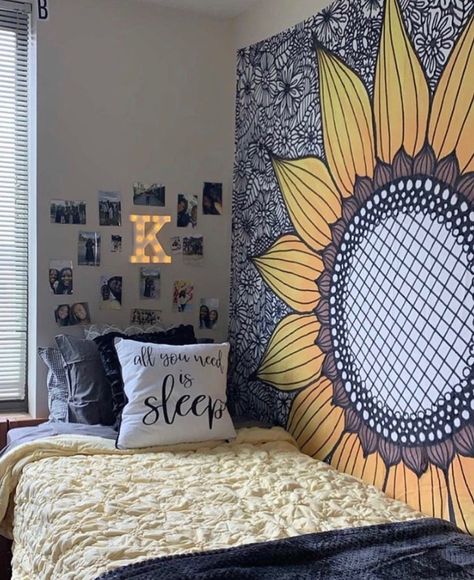 There are many ways to achieve a tropical interior look. Here we bring you to have quick magic that turns your bedroom into the mesmerizing tropic ambiance. This sunflower tapestry could define the tropical project in your room. This sun-loving flower is well-known as part of tropical group ideas, so you can grab them for a summer decoration project! Sticking it onto the wall and immediately you've got the tropical vibe decor ideas! The tapestry is so easy to be install and also easy to remove, that what makes it so practical to be applied. Especially, for you who live in the dorm, you can get this idea to decor a summer vibe room style!
Wood carved panel tropical wall decor idea!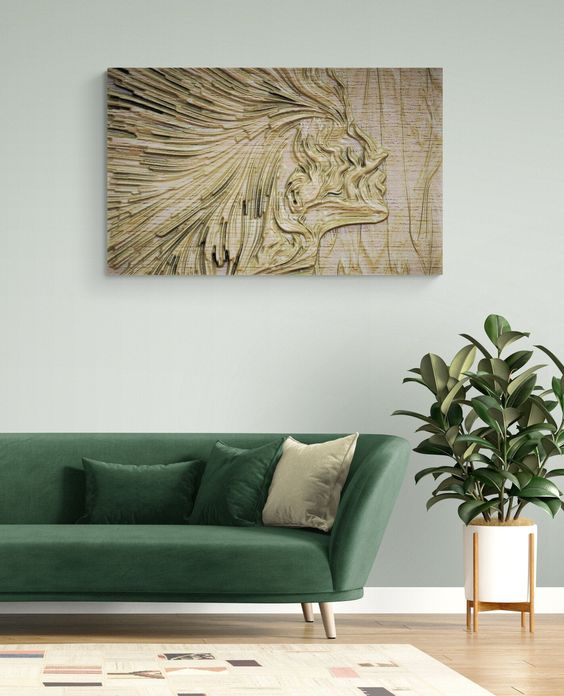 Another creative wall decor idea is appearing wood carving. For the tropical design, we can choose the ocean wood carving that reminiscent of us the holiday beach vacation. We can see that this wood carving is beautifully made with full of attention and care. The 3D feature and the quirky wood accent successfully allure the laidback ambiance to the interior! When this sea wood carving meets the neutral wall and simple line decoration, there we will find the sanctuary ideal space is! Do you fall in love with this wood carving idea?
Woven tropical wall ideas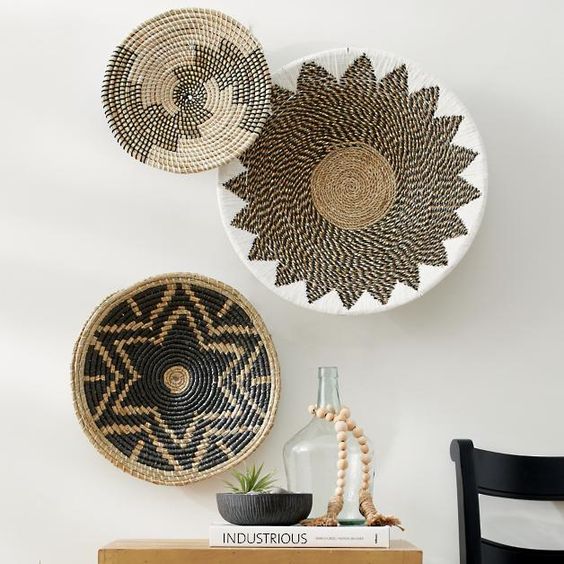 Liven up the natural concept and bring them to the interior to give a relaxed lifestyle. These quirky seagrass woven ideas can elevate the tropical beach atmosphere. It does not only give beauty to the interior space but also help achieve various pattern and texture to it. What an impactful quirky decoration!
Conclusion
The aftermark of Covid-19, people have been asked to work from home and we are facing the new normal life now. Our lifestyle is quite different before the coronavirus come. However, we have to fight this situation, and staying at home is the safest way to avoid that viruses spread more. Regardless of the tough condition, we are looking for proper home decoration to decrease the tension. Subsequently, our decision come to tropical design!
In this writing, we already collected some of the best decorations that could support the relaxing tropical ambiance! Displaying a lot of natural decoration that creates a subtle look. As a result, we'll find the proper relaxing decoration. We hope you enjoy our writing and yet apply it to your relaxing home project!