Jordlinghome.com – Are you the one who feels that your kitchen needs something to store some stuff in a better way? However, having a neat pantry to store our stuff rather than in the cabinetry. Anyway, if each one of you doesn't have an idea what pantry is, well it is a room or cabinet, it has a function to store utensils, fresh produce, and raw foods. As a result, we have enough space to store the food and feel the kitchen so clean and spacious. In this writing, we will reveal the advantage of having a pantry and the designs that might suit your kitchen!
The Advantage of having a pantry in our house
Create additional storage space
When you feel fed up with a lot of things that lay on your table and anywhere in the kitchen. That means you really need to create additional storage to store all of this messy stuff in your kitchen area. Creating a small room inside the kitchen dedicated to storing the dry food and kitchen appliances will give you so much pleasure.
Clutter-free kitchen design
When we have a room that is dedicated to storing the food and appliances only. Our main kitchen area will have a clutter-free design. Put the dry food, clean fresh produce in the pantry could hideaway unwanted clutter.
Create a statement
Due to the modern interior design, we tend to have a functional and clean interior design. If the bedroom has a walk-in wardrobe installation to store the clothes in a better way then the kitchen has a pantry to store the food and appliances. The structure of the pantry creates a statement for your kitchen. Whether you design it in the traditional or modern one, creating the pantry gives an impactful statement to your kitchen design!
After we discuss brief information about the kitchen pantry and its benefits. Now, we can not wait to share amazing kitchen pantry design ideas with you. So, you can follow the style too. Let's dig into the project!
Utilize the small space into a useful pantry to store your foods in a better way!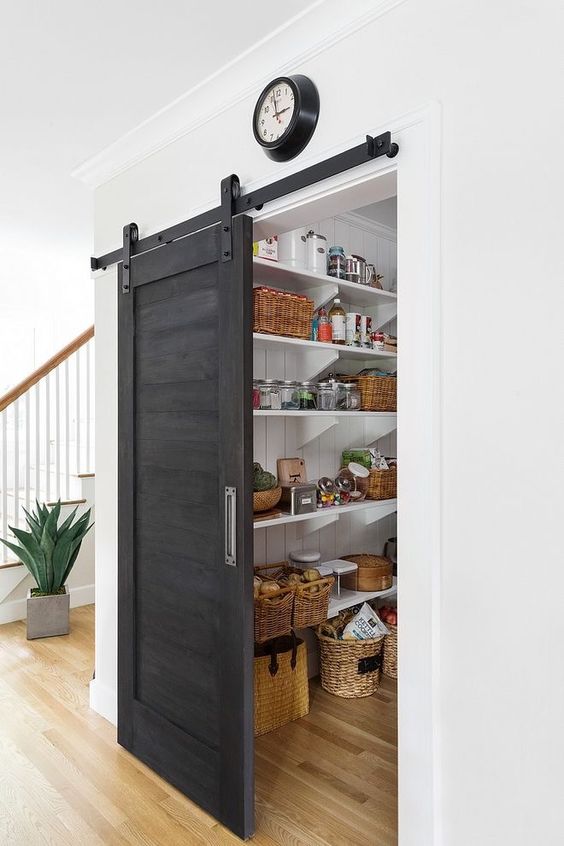 When you have the space but don't know how to utilize it, why not make a pantry to store some food and kitchen appliances. Located under or beside the stairs, there is usually a space that we didn't pay attention to. Now, we better take the advantage of the small space to be helpful storage to organize your stuff. Installing the wall and installing the black door will not make anyone pay attention to this room. But, we find it interesting when we slide the door and feel surrounded by food. It's such an unexpected pantry that does not locate near to the kitchen too!
Warm small pantry design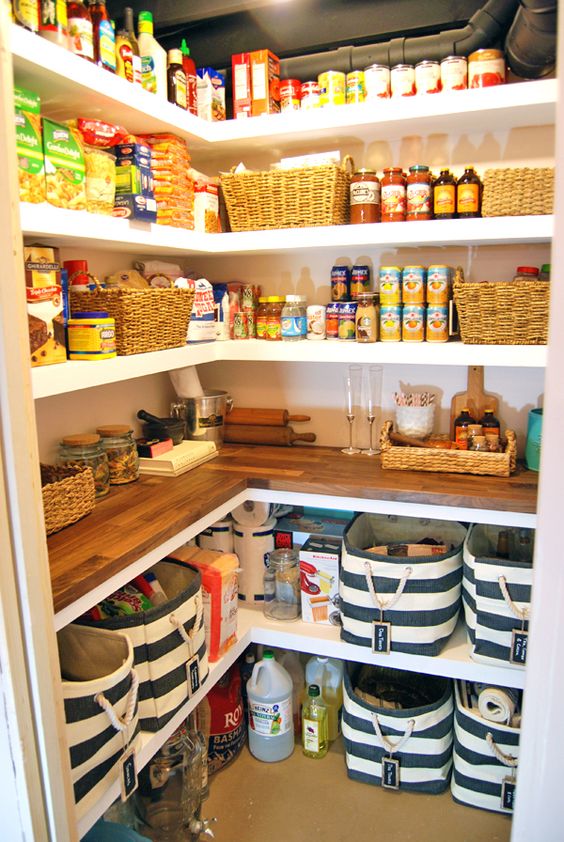 Having a little bit of space in your kitchen, is it possible to create a pantry? Well, we still have the chance to, this small pantry project only takes 1 x 1.5 meters. A so tight room isn't it? Well, it does not matter we have the small space to store our food, this pretty enough to utilize lots of stuff in our kitchen anyway! Installing a full-height rack, storing the stuff in a vertical way save space a lot! Installing the wooden shelves and lamps will make the ambiance inside feel warm. Look at this tight pantry, even though it's narrow but it caters to lots of food and kitchen stuff. However, having the pantry will not make your main kitchen look cluttered, cause we have already organized the kinds of stuff in one single room!
Sleek masculine pantry design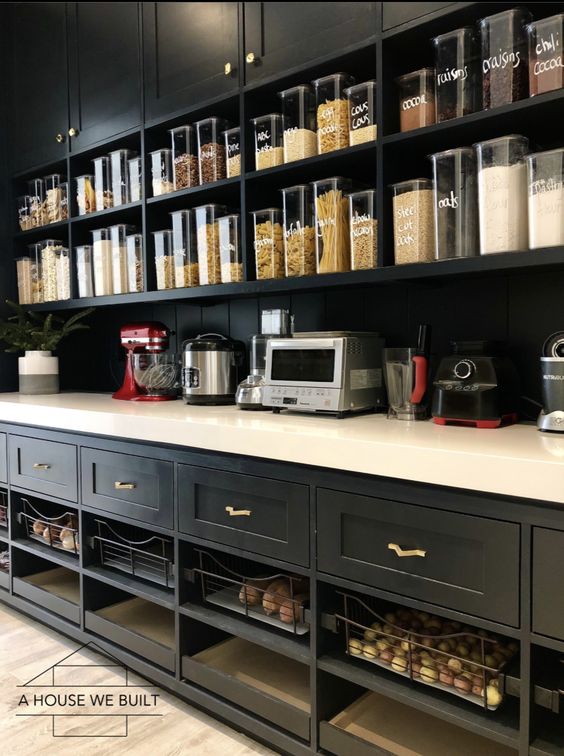 Do you fall in love with sexiness and sleek masculine interior design? Where the natural decoration, dark material decor, and subtle lighting concept clearly highlight the manly interior taste. Well, now we are discussing the masculine pantry design idea. There is a large cabinetry blush in black color tone. There are lots of drawers and shelves that can store a number amount of foods that look neatly. Entering this pantry will make us admire the sleek manly interior look. However, styling in the manly interior design this pantry is also friendly for her. The wooden flooring and bright accent countertop make the ambiance inside feel warm!
Minimalist pantry design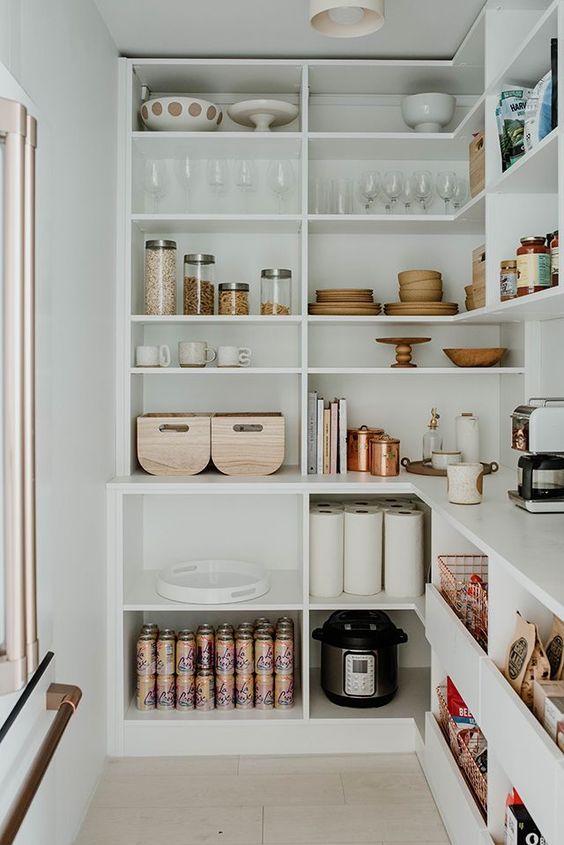 Creating a statement in our kitchen by installing a pantry is a great idea. Most of us complain and do too much thinking about the pantry's design rather than starting the project immediately. Usually, think too much about the design because we want to make a focal point decoration in the kitchen, sometimes that makes our plan does not realize. So, when you are confused about the design, then you have to take action and decorate the theme style. Anyway, there is always a solution for any problem we face, here we have a minimalist pantry design that is affordable, clean, and cozy of course. Brush the wall with a white paint color tone to create a spacious and clean minimalist style. Then, installing white racks to the interior. Finally, adjust the lighting in the pantry room. This minimalist pantry design project is so applicable and worth trying if you have no idea about the design!
Reach-in pantry style!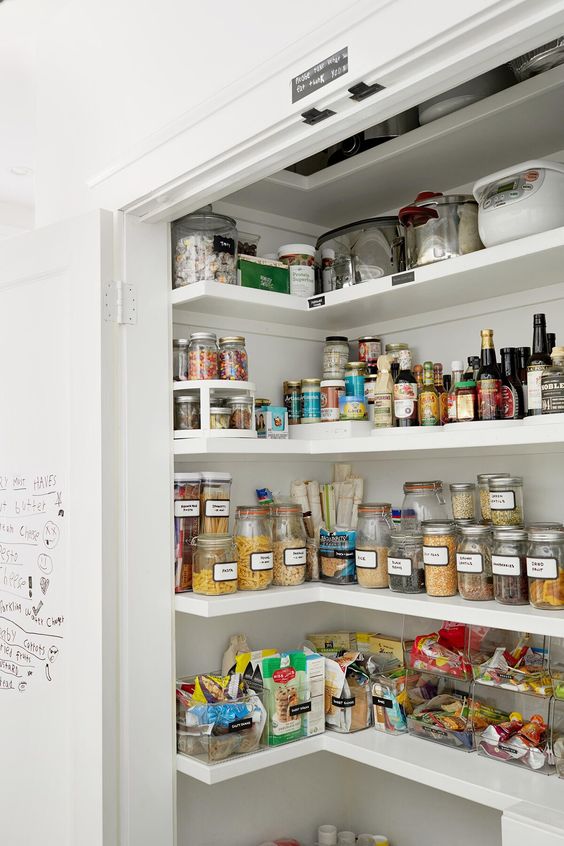 The pantry does not always transfer into a walk-in room style. Just like this reach-pantry style that design such as large cabinets that lots shelves inside. It is called a reach-in pantry because our hands still reach the food and the whole area of the space. So, we don't need to come inside to take some food or organize it. Just open the door and we can reach the food anything we want easily and fast. The advantage of having a reach-in pantry design is that we can take something inside so fast. Especially when you cook something and need to grab new ketchup, open this pantry and grab what you need is faster than walk-in pantry style!
Pull-out pantry design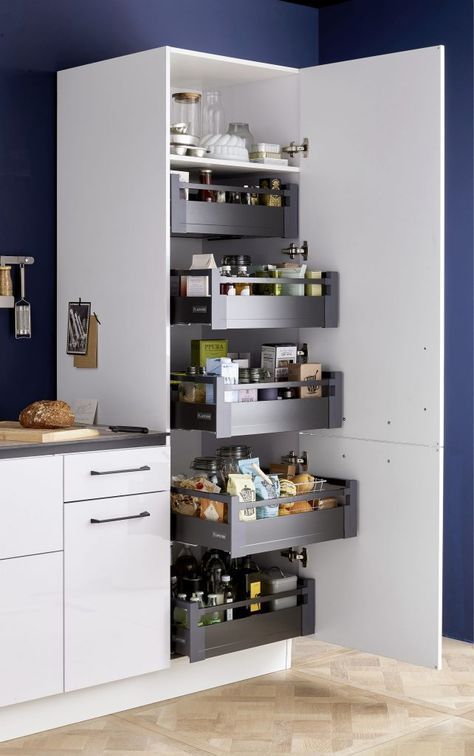 When you need another space to store your chips, ketchup, spices, and organize small things in your kitchen. We can install the practical and affordable pull-out pantry design. It has a square shape like a fridge, but inside, we will find lots of storage that we can pull out to store our stuff. We can also organize the utensil inside so our kitchen is free from clutter.
Stylish and useful pantry design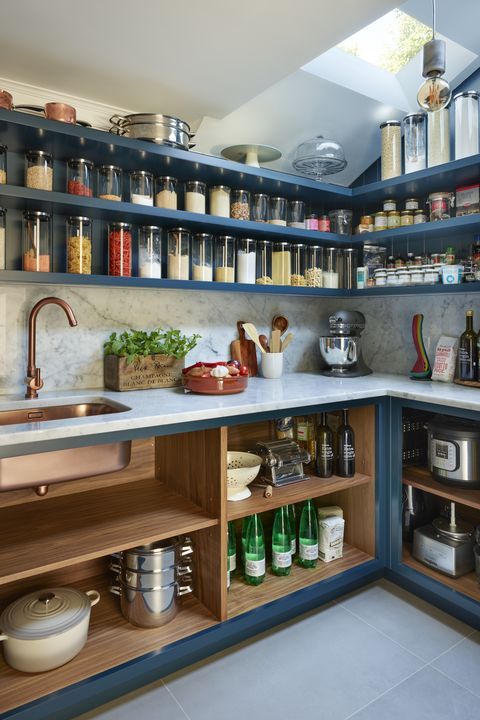 You might didn't see the pantry design with a backsplash installation above. Well, in this stylish pantry design, we can see the backsplash has been installed. It gives us the privilege to wash and do better preparation without creating a mess in the main kitchen area. The open wooden shelves above aim to store spices and snacks. And the underneath storage air for storing kitchen appliances. This pantry looks so comfortable, well-decorated and more than that, there is the ceiling window installation that allows natural lighting to come in. So, in the daytime, we don't need to turn on the lights because the natural sunlight provides enough lighting inside this pantry!
U-shape pantry design idea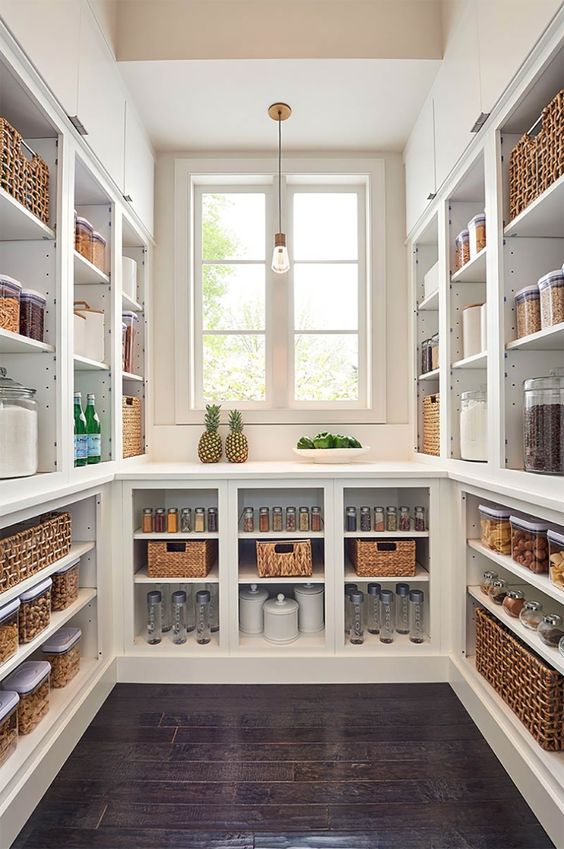 Do you have a square meter space in your kitchen? Don't worry about that, we can take the advantage of it by installing a pantry room. Put the racks on to the right and left of the space creating a U-shape pantry design. Creating the spacious access in the middle makes us comfortable to reach something in the pantry. In addition to the coziness accent, we can install the window right in the middle of the room. This provides natural lighting that will lighten up the space in the daytime. To create an airy space, we can brush the wall and shelves with a neutral color palette, white. Sweeten the look by featuring pineapple, and fresh organic fruit, and veggie. This simple decoration creates a welcoming and friendly atmosphere inside!
Cozy coastal pantry theme style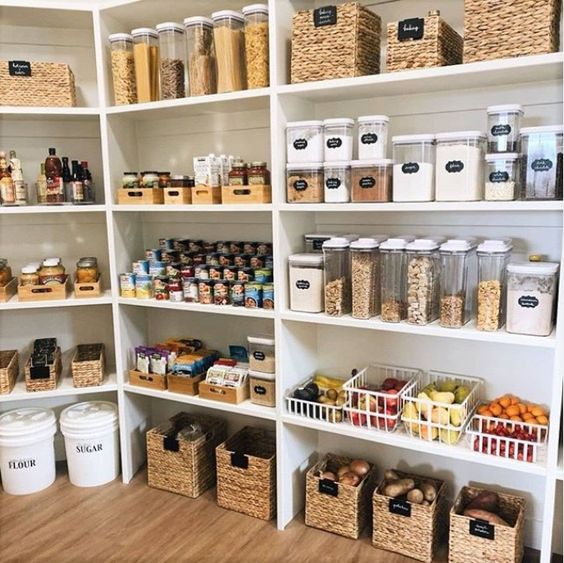 The laidback beach house design and organic coastal theme decor style make a serious cozy feel when we step inside. We can create this feel in the pantry room too!  Installing wooden racks that blush in white creates a spacious interior. The wooden flooring gives an actual warm environment. More than that, the woven basket to store some food gives a lovely and laidback accent to the simple coastal pantry theme style. Do you fall in love with this soothing pantry design to be installed in your kitchen?
Conclusion
Thinking about installing a pantry or not for your kitchen is your decision. But, we suggest you have it when you need a space to store food and kitchen appliances neatly. On the contrary, if you have enough space to store the stuff in your kitchen, then cabinetry is enough for you.
When you decide to have a pantry for your kitchen, here we have some options in various designs and styles that you could follow to be installed in your kitchen! From a simple pull-out pantry design to the stylish and sleek masculine pantry style. Make sure to know your budget and be wise of your finance to create a cozy environment in your home. However, installing a pantry is a part of home improvement. Trying to figure out the functional, and stylish modern home design. We hope you enjoy the projects, and if you want to have one for your kitchen, let's make it come true. So, cooking in the organized kitchen will bring so much fun and enhance coziness inside!