Jordlinghome.com – Due to the pandemic of covid-19 spread around the globe, we are facing hard times. Currently, we need to eliminate contact with each other. By initiate working from home, we hope it could decrease coronavirus cases. It is not only for adult who works from home but it also affects to our education, students are studying at home too! In fact, that staying at home is the safest way to press down the rate of increasing coronavirus cases.
Considering we work from home, we still have to be productive and make a professional time and setting. To accompany your working from home, we decide manly office decor ideas to make you feel positive and active during the hard days.
The masculine home office style has a sleek modern and calming design. These elements of the manly decoration are perfect to create a calm and cozy office environment at home! Right now, let's begin the project to support our working time while being at home. Moreover, working from your own home would be less stressful and more fun! While decorating our own office will be straight with manly interior desire. Hence, it will bring out a good mood and a lot more creativity to come! So, we can decorate and take advantage of the small space inside our home that dedicates to work. Men, you do exactly know what your desire and things to do. Here, we will guide you to create an inspirational gentleman's workplace with outstanding manly decor ideas. Let's dig into the project!
Small bachelor pad home office style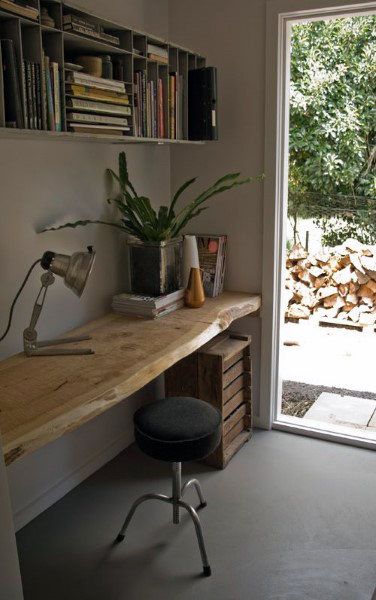 If you are complaining about the small space in your apartment or house. You don't have to think about that. Let's get rid of all of the bad mindsets in your mind. Just think about the possibility in every situation. Creating a comfortable home office to cater yourself to work in it shouldn't be a big problem for you.
Installing the wooden floating desk that next to the spot you think you will get inspired by. Our tips on creating the workplace in a small space are facing it to the open side view. For such next to the window, especially if you have a natural view over the window or private door next to. You exactly have a great view over your small office. This will opens up the larger space and airy feel to it! In addition, we can install the hanging bookcase above the desk, by organizing some pieces of stuff vertically, that exactly we achieve savvy-space for our office!
Calming farmhouse decor ideas!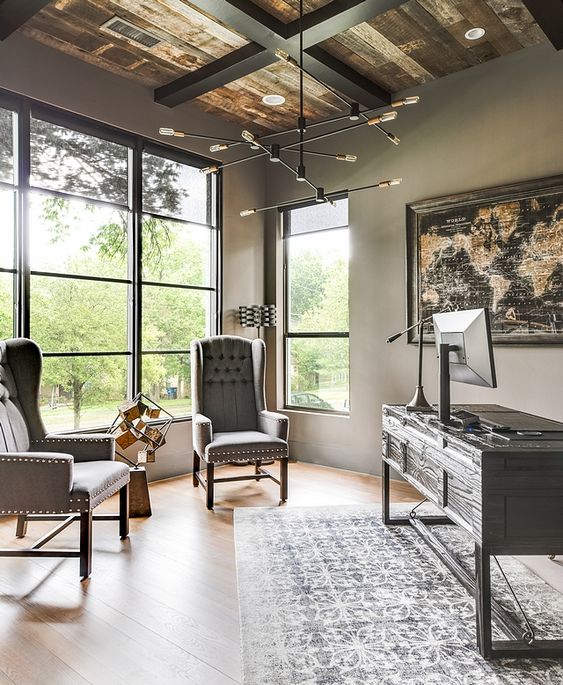 There is nothing wrong to add the rustic view of the farmhouse decor ideas for a manly interior style! This home office style is well-designed in a farmhouse laidback environment. As we can see, there are some windows have been installed to allow a relaxing green view to joining the workplace ambiance.
The farmhouse wall paint idea should be on a relaxing color tone. The light gray will transform this office's setting into more calming yet spacious to the eye! For the decoration, this manly office style using some farmhouse light fixtures that successfully give charm to the interior style. The distressed ceiling style gives the old-fashioned room style. Moreover, the vintage desk and chairs give a lot more charming accent to the interior design! When the soft palette decoration meets the rustic farmhouse decor feature and finally satisfying our eyes with a spectacular relaxing backyard view. It's a type of place that men love to work in the calming ambiance!
Soothing Scandinavian home office style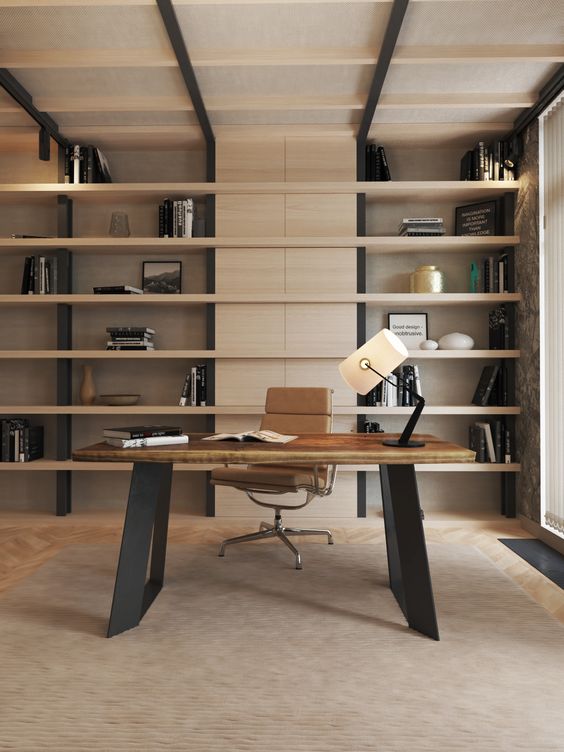 During the hard times of pandemic issue, makes us realize that spend time at home with gather with our family is worth more than anything else in this world! Working from home can be so comforting with the cozy office decoration. Figuring out what types of decoration that fits with a hard situation like this. We found out the soothing Scandinavian decor ideas are quite comfortable!
The lightwood construction is installed on the ceiling and the large bookcase. The lightwood accent successfully gives a soothing effect to our eyes! In addition, we can spread the cream or neutral rug on the floor. In addition, allow the natural light to come inside to the interior. It creates a subtle look and a laidback workplace environment! Set a wooden table in the middle with a comfortable chair to lay on. This Scandinavian interior decor is perfectly soothing in clean line decor and organic material!
Multi-function small office design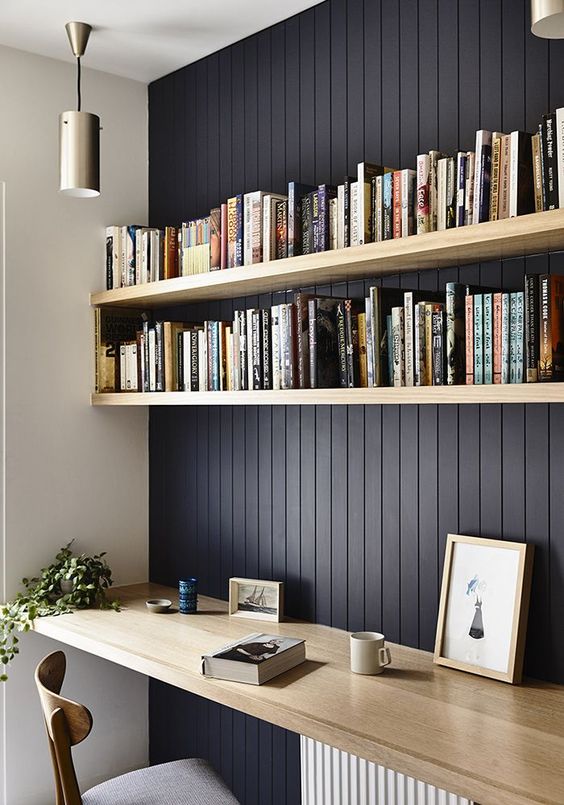 Using the small space in your manly bedroom to create an affordable office style. The stylish wooden wall panel gives a nice backdrop for your small office style. Then, installing a very fine finished wooden floating table next to the wall. To organize your book collections, we can install some floating wooden bookshelf. Under the floating table, your foot is free to move which makes you super comfortable to sit even on the floating table. A nice wooden chair can be added to your small office design.
When the window is open, the natural light robustly comes through the interior give the warm ambiance inside. We can take this small office not only for work but also as a cozy place for breakfast. Or even reading a book with a cup of tea in the afternoon, this small space literally could be a cozy reading nook! What a multi-function small office design it is!
Minimalist home office design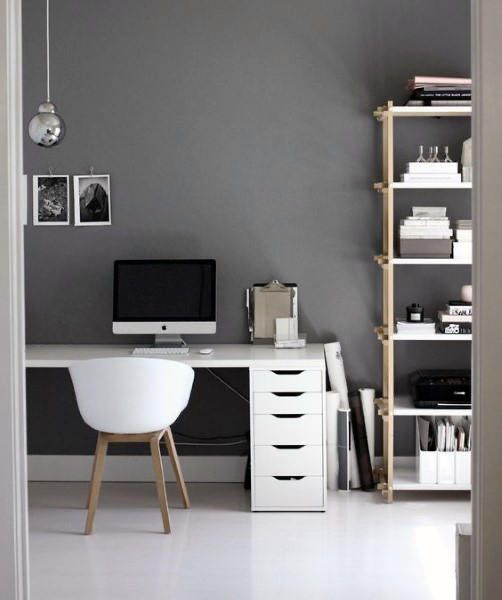 If you love to decorate your small office fast and tidy arrangement, the minimalist decoration is something that you need the most! The basic minimalist interior design rules is playing with neutral palette decoration, sleek modern furniture, and spacious decor.
To begin this small manly office decor project, we can paint the wall with a neutral color tone, for such the gray. The brushes of neutral colors create a spacious interior feel. The white ceramic tiles are installed to support the spacious effect in this small office. Adding a set of wooden white desks and chairs into this room, followed by the wooden bookcase to achieve minimalist clean line decoration.
Giving the masculine touch to this home office decoration by installing the metal pendant light. As we can see, this room is decorated with simple and minimalist furniture. All of these decorations give the spacious and functional home office style!
Comfortable sleek modern manly home office decor!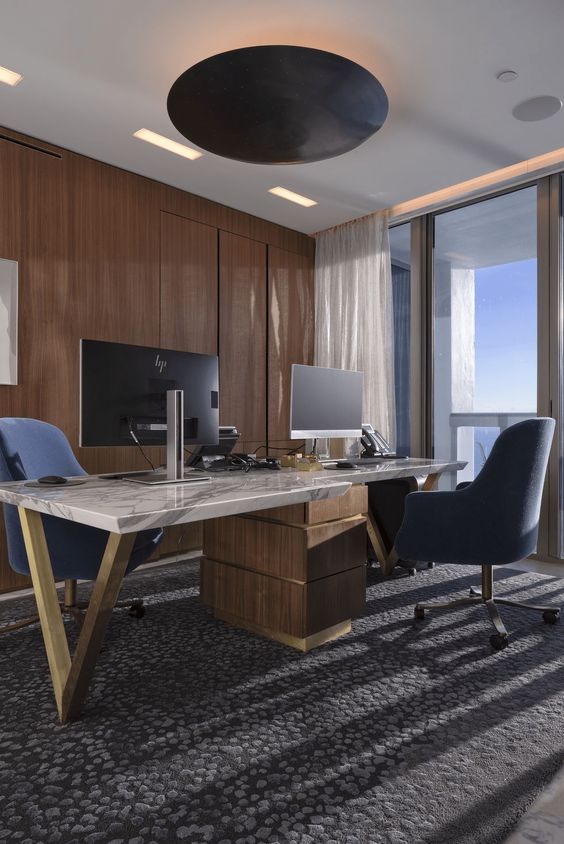 When we talk about masculine interior design desire, we cannot doubt the modern and sleek feature of the decoration itself. Men love something sophisticated in the design and many of them combine it with a rustic accent decor to give a charm to their decoration vibe!
We can clearly see this manly office decor idea is quite comfortable in sophisticated modern accent furniture and design! The textural gray rug covers the floor give a warm ambiance to this room. The stylish white marble table set in the middle creating a sleek modern look decor! Then, the highlight of this modern home office style is the hiding cabinetry style. The book and some kind of office stuff are neatly arranged in the stylish wooden sliding cabinetry. So, the room looks clean, spacious, and pretty organized!
The extend of modern decoration is we can point out on the modern ceiling light above! It is not to leave behind the friendly welcoming ambiance by gathering the natural light robustly come to the interior through the full-height windows! Moreover, when you get stuck on the inspiration while working inside the office, you can see the spectacular natural view over the full-height windows installation!
Classic manly home office decor idea!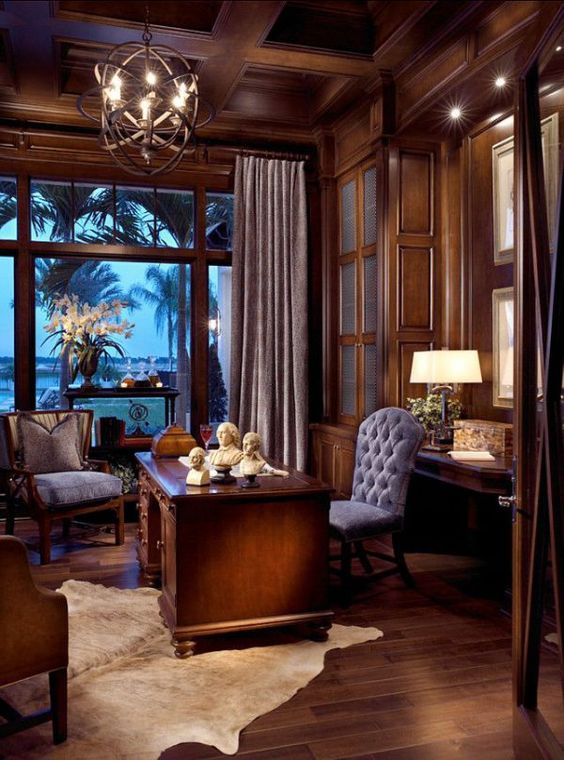 Creating an inspirational gentleman's workplace in our home is a great idea. Especially, for those who work from home, you need to create an extra manly interior design dimension kind of style! The classic masculine interior style could be your option to give a manly character to your home!
The vintage wooden table or victorian classic table can be added to the room decor. Then, the classic chairs join the sleek and classy masculine vibe interior. The cow skin rug lay on the floor and the metal pendant light tuck perfectly on the ceiling. Don't forget to add some artistic decoration, for such an ornate statue on the table. All of these elements of the decor successfully bring back our mind to the classic masculine interior version setting! If you love something bold and classic manly taste of the decor, this classic manly office idea can be your option to follow the style!
Smart balcony home office style purposing the small space in your home!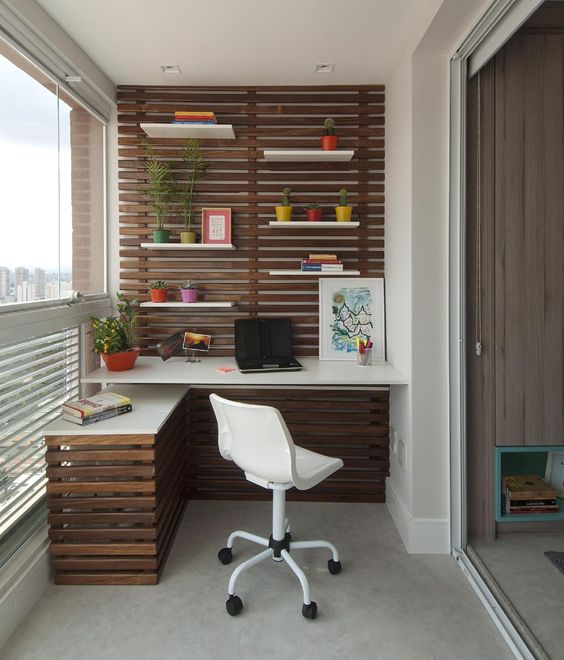 With creativity and positive open-minded thinking, we can actually purpose the small space into something precious. For such this smart balcony home office design idea! Taking a small spot on your balcony to be a refreshing workplace is a great deal for small home living! We can install some glasses all around the balcony railing. It will protect us from heavy rain or too windy air while working in the outdoor space. In addition, we can open up the window glass if we need some more fresh air circulation throughout this small office area.
For the desk, we can install the floating table design, it gives a lot of space for our feet to move. Then, we can set up some wooden panels as the quirky backdrop. It gives an organic feature as well as beautifying the small balcony office we have! Moreover, include some small plants on the wooden panel, these plants gather the welcoming ambiance in this small space. As a result, having the small office on the balcony feels so cozy! Don't forget to add the office chair next to your working table!
Conclusion
During the pandemic issue, our world facing hard times. Gathering and meeting a lot of people are commonly normal, we are used to that situation. But, now, we have to keep the distance from each other to avoid the coronavirus spread even more. Considering this difficult situation, people still have to work to afford a living. For some people, they can work from home. keeping the positive and inspired circumstances while working alone from home. We have collected some affordable and cool manly office decor ideas that you could follow too!
There is a super sleek classic style, simple and clean line minimalist decor, charming rustic office design, the soothing and welcoming Scandinavian home office style. Thus are amazing masculine home office styles you can choose based on the budget and space you have. We hope you enjoy our manly office decor projects. And we hope a great home office style can boost up your mood and get inspired you even more while working from home! Keep up the good job!