Jordlinghome.com – If you're passionate about gardening, then we guarantee you would never be enough trying garden styles around the world. Considering landscaping our garden is not as easy as it looks even the simple landscaping. But, we don't have to be an expert to decorate our outdoor space!
Home gardener, we don't have to be afraid to start the gardening project of our own home. For most many people scared to landscape their own garden thinking about the mess, they will make. In the end, we just left the outdoor scape without decorating it. It happens when we have lack landscaping information and couldn't pay a garden landscaper. Well, better to bury all of those fears and start the project immediately. Remember that you are designing your own home, and you have the freedom to design your garden in any style you want!
With a stunning array of Scandinavian home designs, it couldn't stop making us adore its beauty. Whenever we look at Scandinavian garden design, we amaze by its complexity and meaningful garden design! Anyway, all of the garden's purpose is to give the beauty of our garden and purpose it as a relaxing outdoor space of our property. In this writing, we will share with you some displays of the Scandinavian garden design completed with deck and patio ideas. We hope you enjoy 6 stunning Scandinavian garden designs down below. So, make sure you don't miss any of them, enjoy!
Decorating a garden with shrubs and perennials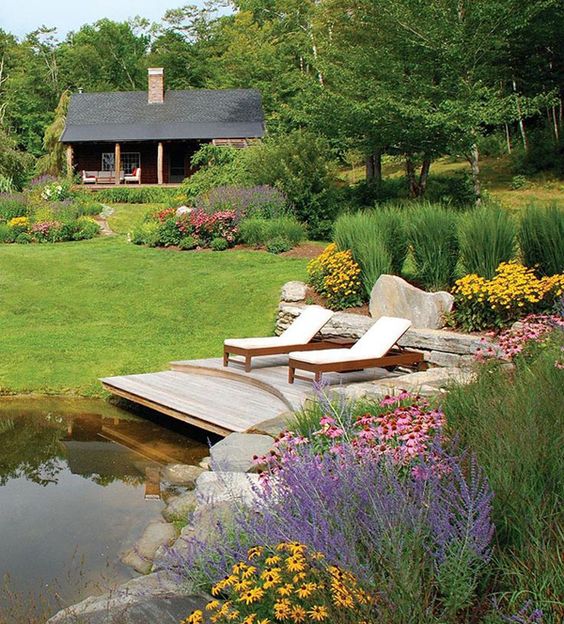 If you want to see a lush garden in your backyard. You can decorate it with shrubs and perennials. The shrubs will give the lush and thrives garden look. On the other side, we can add lots of colors to our garden with perennials. They are well known for their less maintenance and thrives for more than a year, moreover, they come with pop color. That will enhance the beauty of our garden!
In this Scandinavian garden view, we can see perennials and shrubs decorated around the house. There we can see the trees thrives around the house giving a more relaxing accent to this Scandinavian garden style. It feels incomplete if we're not adding water features in the garden. The calm pond ideas are suited for a relaxing Scandinavian garden ambiance.
Cozy small Scandinavian garden idea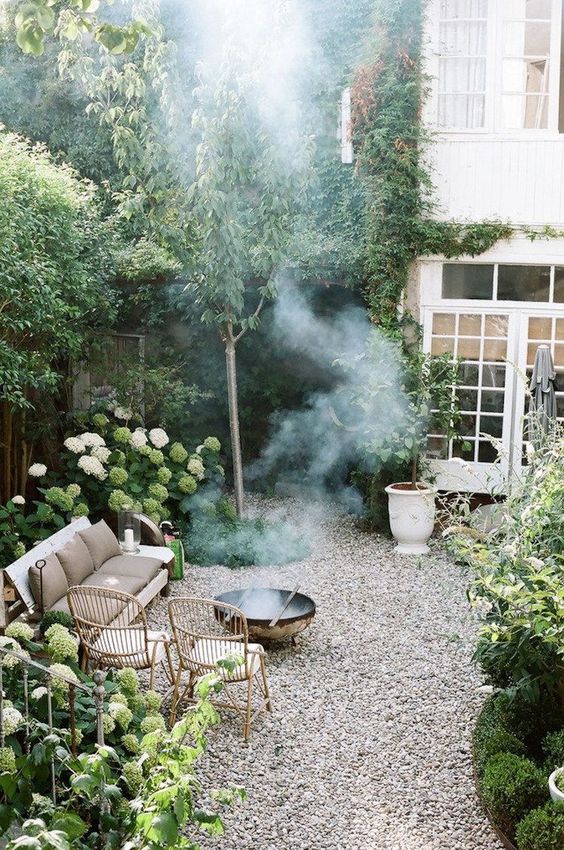 When you have a small space in your backyard garden, you can create a cozy backyard design. First of all, we need to create privacy around our garden, so we have more privilege to enjoy the private garden we have. We can use a fence or hedges to create a privacy wall. After that, we can grow shrubs and plants to make our small garden green! For an easy maintenance small garden, we don't need a lawn, simply adding gravel on the ground. Finally, we can add some chairs to provide seating, and set a metal fire pit bowl in the middle. That's all, we've got a nice Scandinavian garden.
Clean line Scandinavian Landscaping style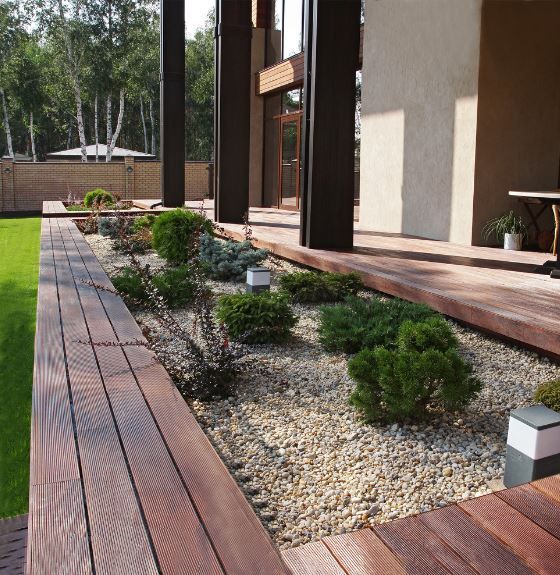 If you are a clean line decoration lover, the Scandinavian house might suit you the most. Scandinavian interior design is well known for its super clean line decoration. The simplicity that has been brought from the interior, we also can see that for the exterior! The green lawn is spread at the front, then there is raised bed that connects with the deck. Timber panel flooring gives an aesthetic to the exterior. In the middle of the deck, we can see gravel decorate the clean landscaping. This garden is quite simple and looks so charming with the combination of gravel landscaping and green lawns. Do you love this minimalist Scandinavian garden style?
Raised bed landscaping idea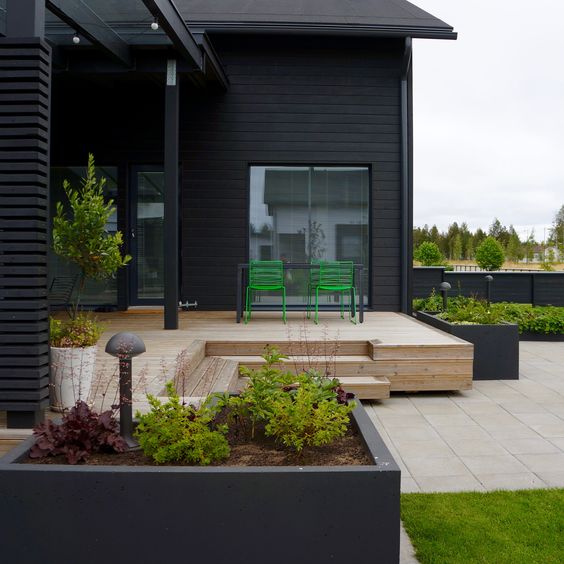 The next Scandinavian garden design idea comes with raised bed planters. Keeping the look organized and easier to take care of our plants, we can copy this style. For enchanting the curb appeal of our home. We can paint the raised bed all in black, the trend home exterior lately tends to display bold and exotic colors such as black.
The benefit of growing plants in a raised bed:
When we grow the plants in a raised beds, we can put fertile soil to keep our plants grow. If you consider the quality of soil around your home is not good enough. You can use potting mix and simply put them in a raised bed. When the weather outside is getting colder and could break our plants. We can move the raised bed to a safer place. Growing plants in a raised bed are effective and so manageable, right?
Watering our plants will be more effective in the raised bed rather than watering the plants that tuck on the ground. In addition, when heavy rain comes, the raised bed will keep a good water supply on the soil. So, even with the heavy volume of water caused by heavy rain, the raised bed will remove the excess water.
Hard landscaping style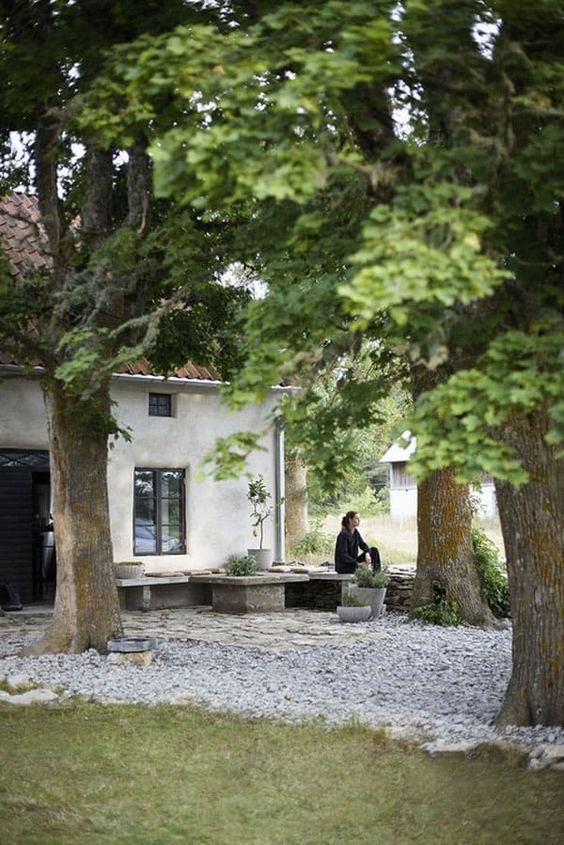 Creating a cozy shaded place in our backyard is quite possible with growing some trees. With the colder climate that Scandinavian countries have received all year round, we need to know some trees that could survive in Scandinavian weather. If you don't have trees in your backyard garden, you can grow fast-growing trees, so you will take advantage sooner!
In this hard landscaping idea, we need a combination of rock and stone. First of all, we need to create a patio that made from concrete and then decorate it with some gravel stone and mix it with river stone. Then, we can create durable seating area with concrete construction that withstands all extreme weather outside. When the summer comes, hiding under the shaded trees in our backyard is so comfortable. Do you love this simple Scandinavian garden idea?
Decorative Scandinavian garden with shed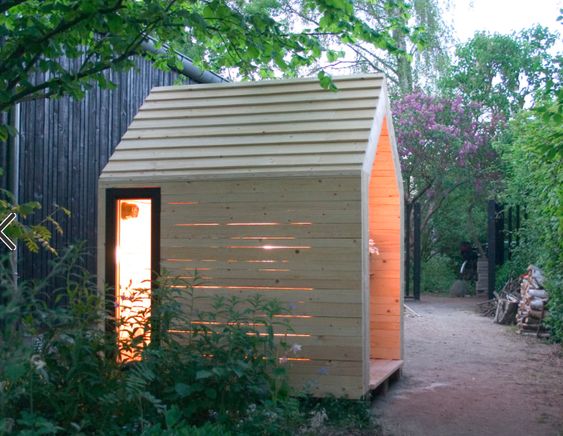 The Scandinavian garden is well known for its comfortable shed design. They are usually made from wood, we can find a lot of oak wood material so we can use it to construct a home and including this beautiful shed. We can install a shed in the middle of the garden, so we can see the beautiful garden inside this cozy building. To comfy inside this shed, we can install LED lamps to adjust the lighting. So, when the sun goes down, we can still be in the garden and feel warm inside this cozy building! What a stunning Scandinavian garden design featuring a cozy shed is!
Conclusion
There are many ways to decorate our garden, but when it comes to landscaping ideas. Many of us have no idea to start with and probably worry about the mess we will make. To make your dream garden come true, we have to get rid of those fears and start the project immediately. In this writing, we already provide you some practical Scandinavian garden ideas that could be your info in landscaping your garden. Displaying various styles of Scandinavian landscaping ideas, which one to be your favorite?