Jordlinghome.com – A shed is where we suppose to keep garden tools neatly. But more than that, the shed has lots of development. Lately, it appears like a cozy building around the garden. Considering we love to spend the day in the garden and see the beauty of the natural environment surround. Many of us think to transform the shed into a useful building in the garden. For instance, we can purpose it to be an outdoor office, relaxing home spa, seasonal dog house, or even purpose it as a relaxing place to hang out with the family. and many more!
This time, we will guide you to see some gorgeous Scandinavian garden shed decorative exterior ideas. The unique appearance of the Nordic garden room makes them in great demand across the globe! They usually use timber paneling for the building and large window glass for its distinctive building. Let's have some unique Nordic garden room down below!
Purpose shed as a cozy summer house!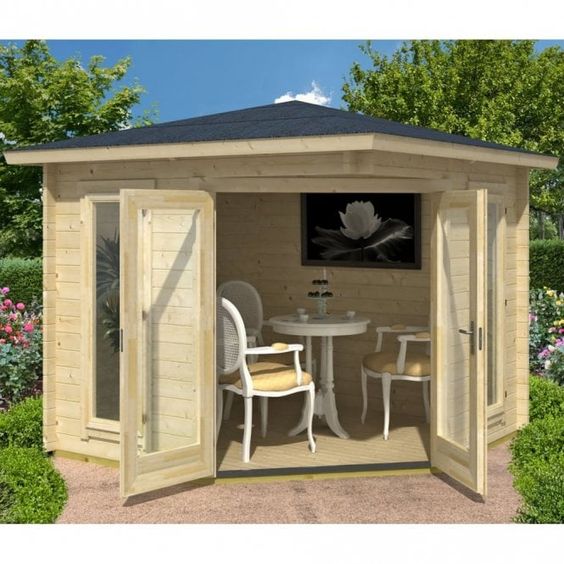 Looking at this picture, soon we are fantasizing about having a great lunch on the summer day! The warm weather has invited us in late spring and soon we will embrace sunny summer days! It's a great idea to have some fun and enjoy the bright day in our outdoor space. This is a Nordic garden sheds around 70% made from oak wood and the leftover construction made up of glass. The benefit of having wood for construction is can warm up the temperature when it cold outside. On the contrary, it will cool down the temperature when it's hot outside
We can decorate and purpose the garden shed to be an amazing place for lunch or dinner. It's worth having a garden shed, instead of purpose it as a place to utilize garden tools. We also can enjoy the ambiance of our garden by hiding in the shaded building, wonderful! If you don't have a garden shed yet, better to install it immediately. So, you'll get the advantage of hanging out in the shaded place in the garden!
Office garden shed idea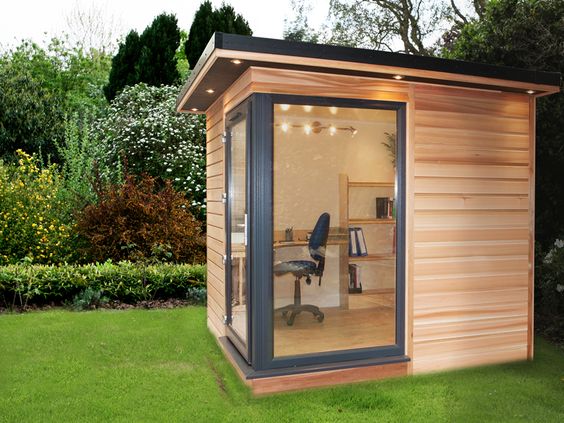 Another decorative exterior idea we can do is to purpose the garden shed to be a cozy small office. We only need 2 square meters of space to make the small office. First of all, we have to choose the best site in our garden, so we've got an amazing view inside the building. We only need wood and glass windows to construct this cozy office garden idea. Then, making sure to decorate inside the office with versatile furniture. So, it won't get cramped being in the tiny space. Adjust lighting inside with LED light to comfy your working space. Reducing some noise and escape in the silence of the garden. Moreover, seeing a beautiful garden will reduce the stress and pressure while working! Would you like to have a workspace in your garden?
Multi-purpose garden studio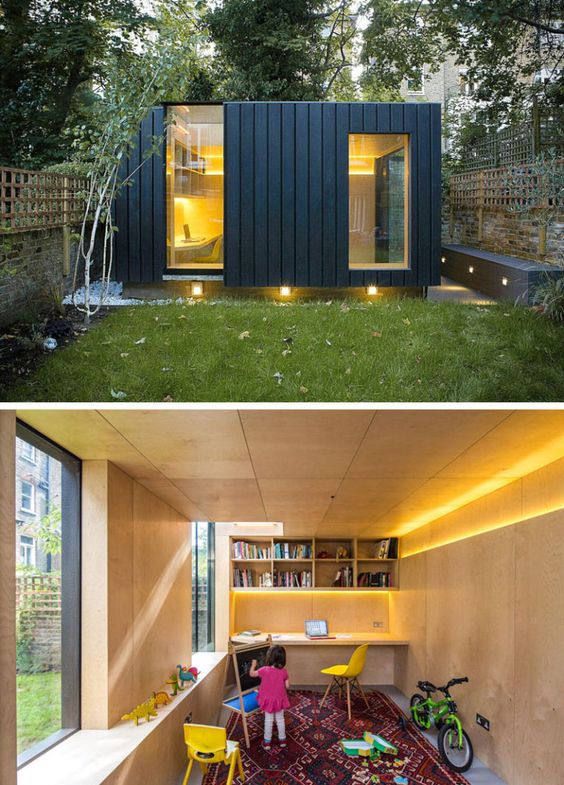 This Nordic building is so gorgeous looking outside. The black timber panel makes a big statement to the building, plus full-height window installation gives an aesthetic to this building. In addition, the arrangement of the LED garden lamp creates a warm ambiance outside, it's a superb Nordic building design!
Above, we already talk about the appearance outside, now let's take a look inside this building! The interior as beautiful as the exterior look. There is a bookshelf tuck on the wall, an organized working table below it, two beautiful simple chairs and there is a spread of vintage rugs that decorate this studio. In addition, there are straight LED lamps on the wall to create a warm ambiance. It's a superbly compact design inside the building and a very charismatic look outside of the building!
Purpose shed garden for a welcome guest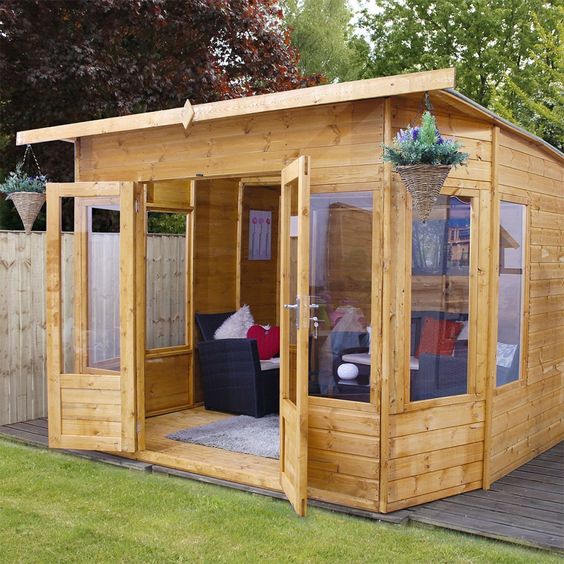 When you have an undecorated shed and want to change the old-fashioned shed look to entertain the guest. Here we have a beautiful summer house that set in the garden! This house made of wood paneling glass window installation around. For the decoration, we can spread a warm rug and then adding a few single sofa chairs and a coffee table inside. We can purpose this shed to welcome guests! In addition, we can enjoy the shine sunny days and hide in this cozy summer house. Would you like to change an old shed to be a decorative summer house in your garden?
Beautiful Scandinavian garden shed decorating idea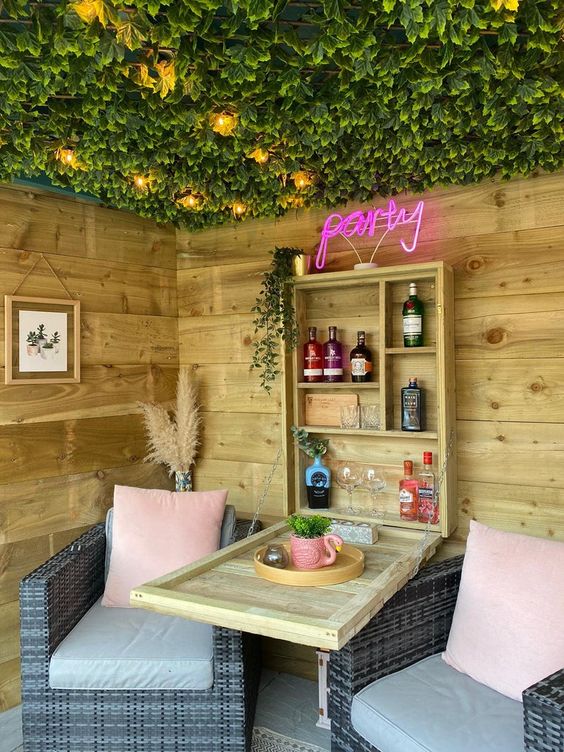 With the sun upon us, let's cheer the summer days that no longer come soon! It's fun to have some outdoor activities on sunny days or even just get relaxed on the hot summer days! If you have a shed in your garden you are a lucky one. Because we can purpose this place to hang out and relax in the garden. We can set up the shed with a minibar decoration. We can add a few chairs and tables to provide seating. Purposing backyard garden with outstanding decoration.
Beautiful wooden outdoor playhouse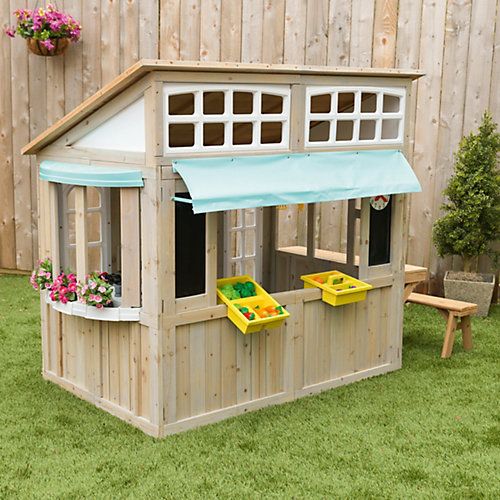 Another decorative exterior idea we want to show in the garden is building a wooden playhouse! With an abundance of oak wood materials in Nordic countries, we can take advantage of it to construct the building, including this playhouse made from wood.
We can make a traditional grocery store made from 100% wood. Creating an eco-friendly building structure and educate children to play in outdoor places. Making them aware of the natural environment surrounding them. In this grocery playhouse, they can play selling fresh products. We can harvest the fresh produce in our vegetable garden and store them in the shed. In this case, we already provide the importance to love nature and eat healthy food. Moreover, this grocery playhouse will give an aesthetic to our home!
Beautiful outdoor kitchen idea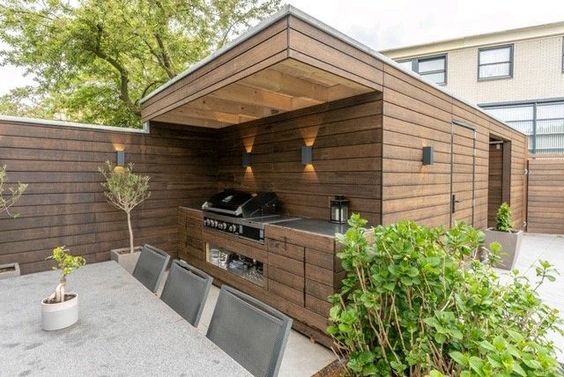 Enchanting backyard garden and embrace lovely warm weather outside by creating an outdoor kitchen! We definitely love to spend outside on sunny days such as having dining al fresco with family. To give a more warm ambiance outside, we can move our kitchen to the outdoor in summer! No matter what size of shed you have, you can purpose it to be a cozy outdoor kitchen this summer! Taking out kitchen appliances and let's have a Barbecue outside! Gathering with family is quite fun and we can make it quite more fun by cooking outside. So, we could enjoy the warm ambiance without being left alone in the kitchen preparing some dishes!
Conclusion
With the sun upon us and the shine to do fun outdoor activities has come. There is nothing better and safer than gathering with our family at home. Due to the pandemic issue, we supposed to stay at home and keep the contact with people outside. We don't complain that much as long as we can have fun in our home! For instance, decorating our backyard garden for a gathering place with our family.
In this writing, we already share with you 7 Beautiful Scandinavian garden sheds that could be our inspiration for decorative exterior ideas. There is various amazing shed we can purpose by our needs such as creating a small workplace, dining spot or even purposing it as an outdoor kitchen. Basically, there are still many more ideas to come to decor our shed in the garden. But, we hope those 7 decorative shed ideas could be your inspiration to be installed in your garden. Finally, we hope you like and enjoy our writing and soon can be applied in your garden decoration project!