Jordlinghome.com – What impression do you get when you hear the word of Bali? A beautiful island that feasts our eyes with some gorgeous beaches and breathtaking rice terraces? Bali is such a dreamy place on Earth!
Before we talk more about Bali, did you know where it is? Bali is a beautiful island and one of many provinces in Indonesia. Here, we will focus on the Balinese traditional house!
Before we dig into Balinese vernacular architecture we will display in this article, we better know what a vernacular building is? According to Paul Oliver who led the vernacular architecture research shown that encompasses the people's accommodation that relates to the resources and respective environment. So, when we talk about the Balinese vernacular house, it means made from a local resource and keep the traditional aspect in designing their houses.
At this time we will analyze the Balinese Traditional house that uses a vernacular concept in design. Providing Hinduism influenced architecture as a majority of Balinese belief and some distinctive local custom!
Do you want to have a Traditional Balinese design? Get to know the characteristics and each function in a Balinese traditional home!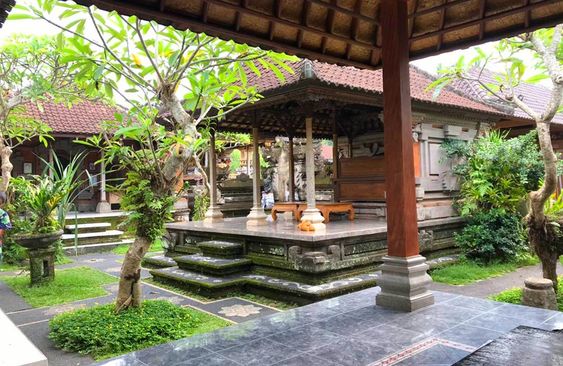 Buiding a traditional Balinese house seen from various aspects. One of the well-known concepts in building a Balinese house is called "Asta Kosala Kosali". It is well known as a Balinese Hindu Fengshui for creating a curated traditional house. It emphasizes curated arrangements for dwelling and sacred place.
A local Balinese house usually divides into 7 parts of dwelling which each part has its own function. Let's get to know appealing Balinese traditional home features down below!
Gapura Candi Bentar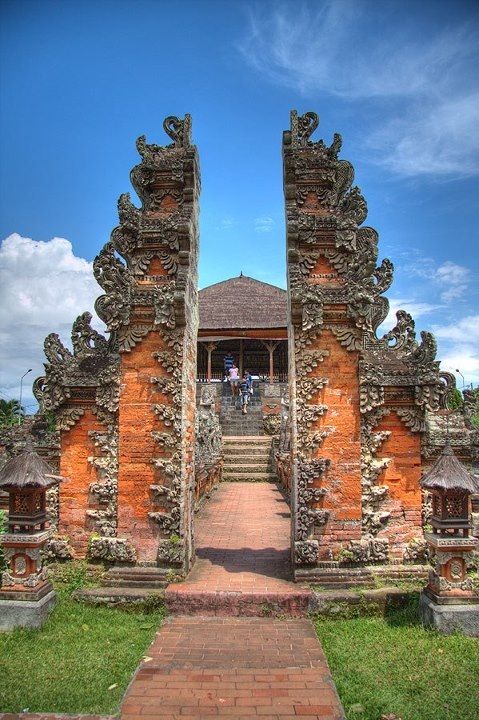 Gapura candi bentar is the entrance gate before we come inside the rest of the houses. As we alluded to earlier the Balinese house divided into seven dwellings. The first building we currently reveal is the pretentious yet solid gate. It's made from a local red brick and limestone. These two entrance buildings look so pretentious with a temple-like design!
Angkul-angkul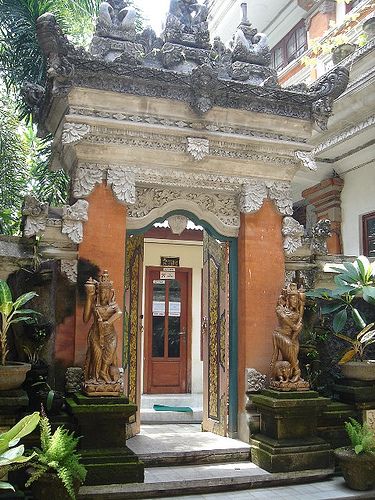 After passing the Gapura Candi Bentar, we will find another gate before entering the central part of the house. The second gate is smaller than the first one, it is called ankul- angkul. The Balinese believe that the second gate gives them double protection from the negative evil spirit.
Now, let's talk about the angkul-angkul design. Its shape looks like a Hindu temple which has slender shapes that differ from the Budha temple that has a wide layeout. This second gate look stands out with an appealing traditional roof type!
There are two to three steps of the concrete ladder before entering the gate and there is a statue decorate on each side of the gate! Are you ready to step into the Balinese local house?
Aling-aling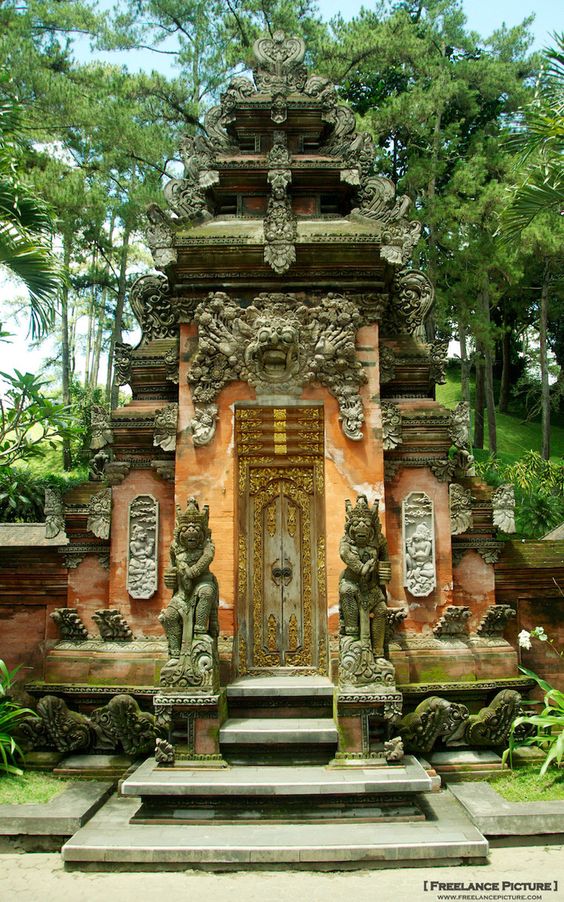 Talking about the Balinese home features, here we find many gates in their home. Differ from Gapura Candi Bentar and Angkul-angkul that represented as a gate. Aling-aling is definitely none of the gates but aiming for a screen wall. It usually made from brick and stone. We can find aling-aling inside the yard of the house. Again, the Balinese building featuring some protection wall to deflect malign leverage.
Pura Keluarga (family tample)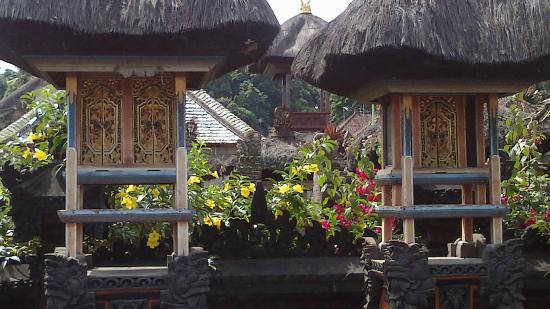 Pura Keluarga is well known as a worship place for every home owner. Every local mostly have this worship spot in their home. According to Sanskrit Pura is taken from a word of "phur" that has a meaning of sanctuary. Then the word of Keluarga is an Indonesian word that means a family. So, Pura Keluarga is a holy place where all family members can pray in front of this building.
It is usually located in the northeast of the house. The roof of the Pura keluarga is made of palm fiber, a wooden frame, and some Balinese handmade statues decorate Pura Keluarga at the base.
Bale Dauh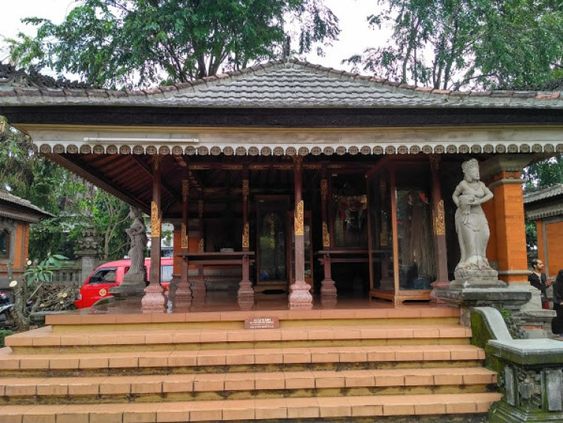 Bale Dauh is a place where a bachelor pad can sleep or rest there. When we enter this place, we will only see simple bedding for teenagers. The family also use this place for gathering people to make Balinese traditional handicraft such as weaving typical Balinese fabrics, sculptural crafts and many more.
Bale Gede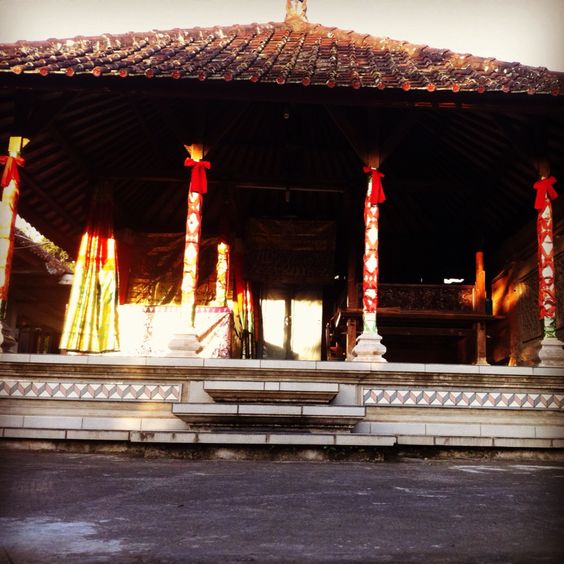 Bale Gede is located on the east side of the Balinese local house. It is an open-air building supported with some pillars. There are two sizes of Bale Gede, we count it from the number of pillars that have been installed. Bale Gede with 6 pillars is called sekanem and 9 pillars called sangasari. This building is functionally to hold a traditional ceremony. For instance, there is held a series of the human ceremony which tell us about the human life cycle while still in the womb till the end of our life. So, we already know that Bale Gede is the biggest and important place in the Balinese house.
Bale Sekapat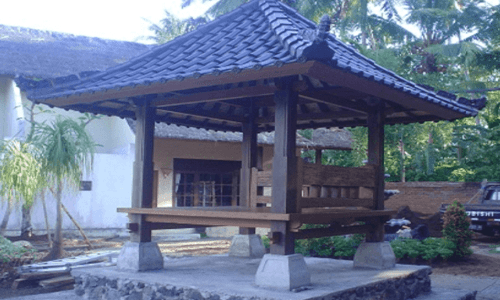 Bale sekapat is such a gathering place for all family members to rest and talk to each other. It has the simplest building construction that provides an open view surround the outdoor space or we called it a gazebo. It's a cozy place to adore the Balinese garden!
Paon (Kitchen)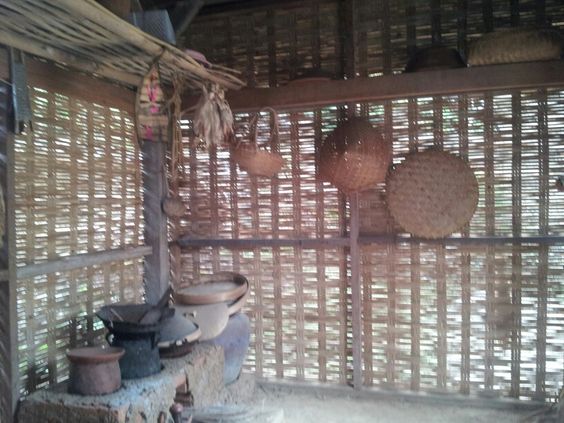 Paon is a traditional Balinese kitchen. The building construction usually made from bamboo as a buffer and woven rattan for the wall. This kitchen divided into two sections, the main section for the cooking area and the other one used for keeping the kitchen utensil and sometimes provide as a dining spot.
Balinese Landscaping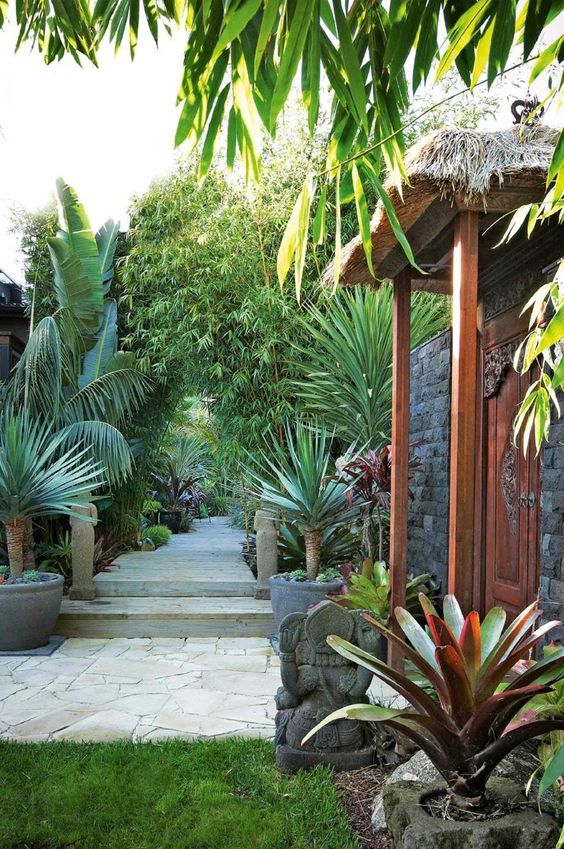 The Balinese garden evokes an exotic and lush tropical garden. When we come inside the garden, feel the mysterious ambiance made from the arrangement of artistic Balinese sculptures. The landscape style is bold in green lush tropical plants such as palm, banana, and Cordyline australis trees. 
We have to make sure in designing Balinese tropical garden should include natural materials. Leading the eco-friendly garden, Balinese garden use bamboo or timber paneling for installing a gate. The decoration made from the carving stone. Finally, appearing water feature in the garden will bring the garden more alive! When we already achieved those important elements, be ready to get closer to our dream Balinese garden!
Those are seven traditional Balinese home features we already share with you. We hope this article could help you all out to know more about the distinctive Balinese home features! Providing gorgeous yet mysterious tropical garden landscaping make us adore the beauty of this exotic garden style. The Balinese garden also worth decorating your backyard and make a big statement to the tropical concrete house!