jordlinghome.com – The garden does not only have to be made in the front yard, side, or back of the house. You can also bring a garden into the house. This is an interesting way to make your home look unique and attractive. Having a garden in the house will make the room feel so fresh. Green colors from plants in the house can make you feel calmer and also relaxed. So, if you are interested in creating an indoor garden, here we have provided 25 Attractive Indoor Garden Ideas for Fresh Interior that can be your references. So, let's check it out!
1. Hanging Plants as A Barrier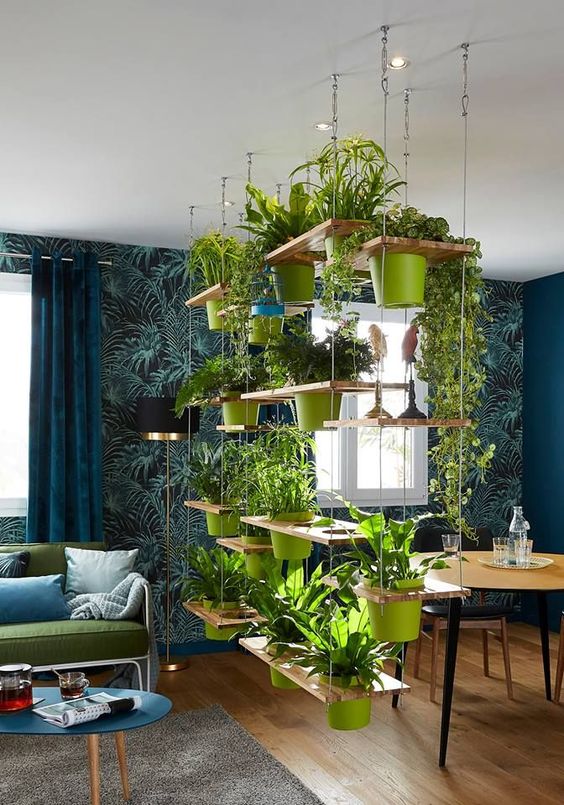 The first of 25 Attractive Indoor Garden Ideas for Fresh Interior is hanging plants as a barrier. Some wooden boards are hung by ropes and attached to the ceiling. So that it forms like a beautiful hanging shelf.
Holes were made on wooden boards to put a pot containing a plant. Because the hanging shelf is installed between the living room and the dining room, the plants hanging there are like a barrier between these two rooms.
2. Fresh Corner of The Room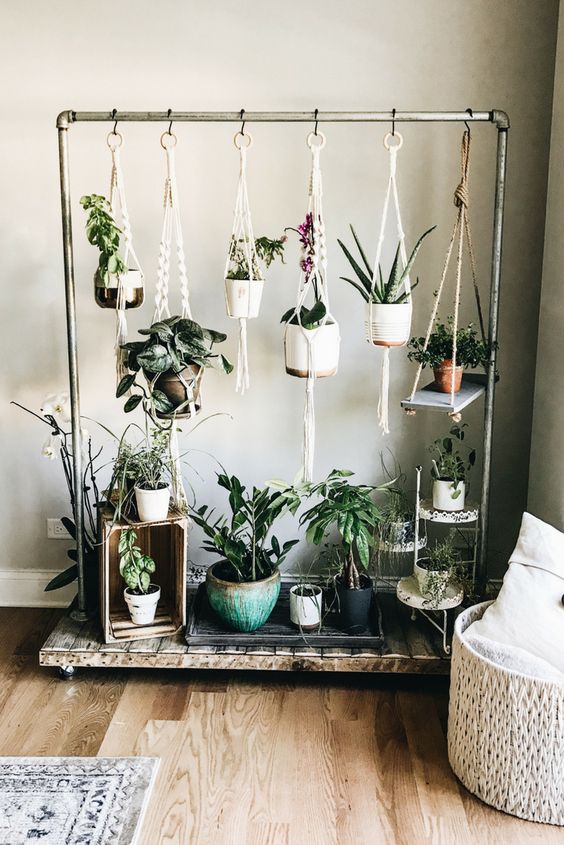 A garment rack is usually used to hang some clothes. However, in this idea, the function of the garment rack is changed to a place to hang and put some plants.
The plants used here are small indoor plants. So, you can use more plants there.
The corner of the room adjacent to the window is the right spot. Because, as we know, plants need sunlight to keep growing. And by placing it in the corner of the room near the window, the plants will be able to grow well and not easily wither.
3. Small Workspace with Plants Decor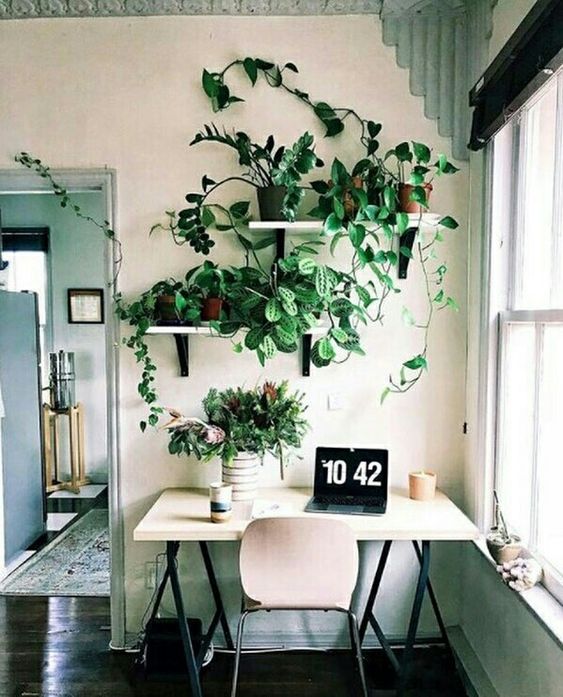 Although small, this workspace feels comfortable and fresh. Besides the sunlight from the windows, the small plants there also have a big impact.
Hanging wall shelves are installed on the wall. And this is where some indoor plants are placed. These plants provide excellent greenery. So you can turn your eyes to the plants to rest your eyes from the laptop, computer, or iPad screen.
4. Comfortable Living Room in Natural Nuances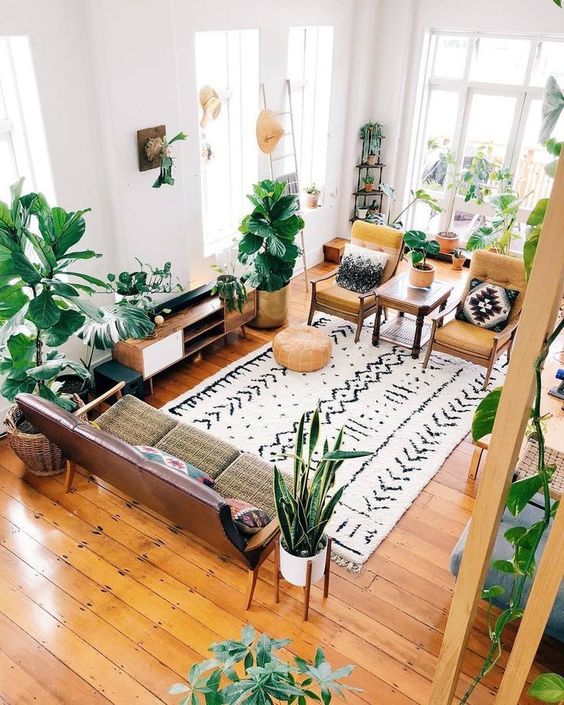 This living room does not have displays that hang on the wall or on the rack. Homeowners prefer plants to decorate the living room. Although there are no interesting displays, some plants there make the room look more beautiful and fresh.
Some plants are placed around the living room. So you can feel the freshness of the plants more perfectly.
5. Large Tree in The Middle of The Room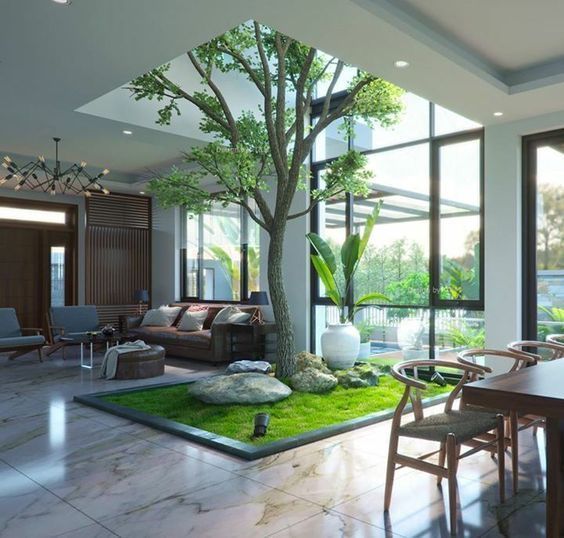 The next of 25 Attractive Indoor Garden Ideas for Fresh Interior is the large tree in the middle of the room. In the middle area between the living room and dining room, there is a small green garden that is very beautiful.
This garden does not have so many plants because there are already large trees that are towering. At the bottom, there is green grass that refreshes the eyes. Also given some natural stone which makes it look more natural.
The walls and ceiling in the indoor garden are installed with windows. So, even though plants or gardens are indoors, trees and grass still get good sunlight for them to grow.
6. Small Indoor Garden at House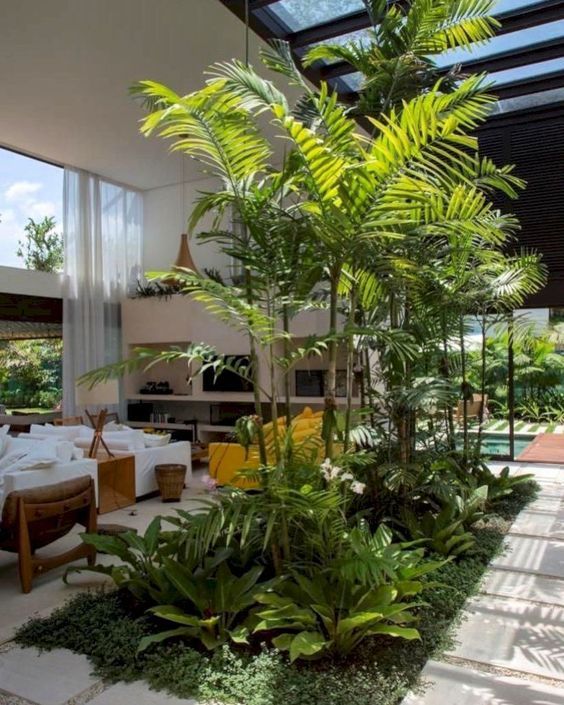 Small indoor garden at house becomes the next of 25 Attractive Indoor Garden Ideas for Fresh Interior. The plants used in this indoor garden are indoor plants. So, even though they only get a little sunlight, these plants can still grow well.
7. Large Window Show Green Spot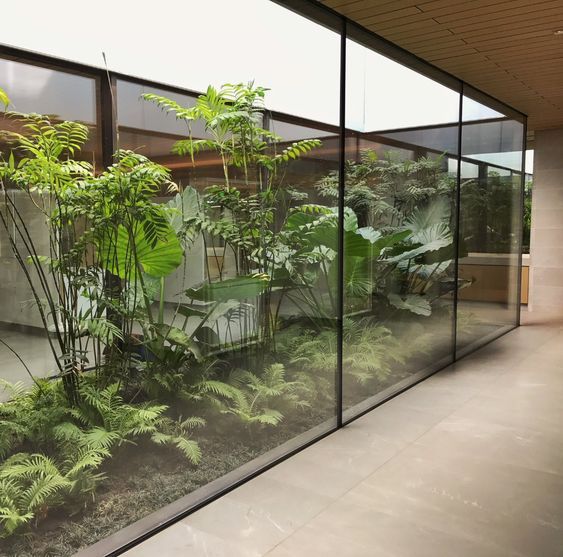 This one park is actually spelled out outside the house. This is because the ceiling is left open so that the plants get maximum sunlight. It's just that, the location is still in the house, that is between the kitchen and living room.
Large windows and glass doors serve as a barrier between the room and the garden. So that you can still enjoy the garden and fresh green plants from inside the house.
8. Small Indoor Garden Under The Stairs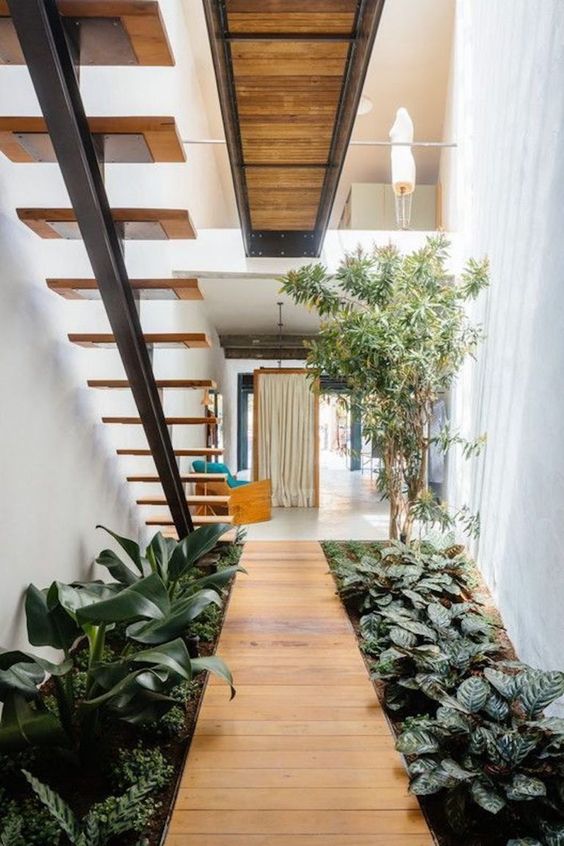 The next of 25 Attractive Indoor Garden Ideas for Fresh Interior is a small indoor garden under the stairs. As we know, the area under the stairs is often left empty. Therefore, you can use this area as a small garden that is beautiful and fresh.
No need to add big trees there because it can make a small garden feel cramped. You can choose several small indoor plants and plant them neatly. Also, make a path of wood to make it easier for you to water the plants.
9. Greenery The Room Vertically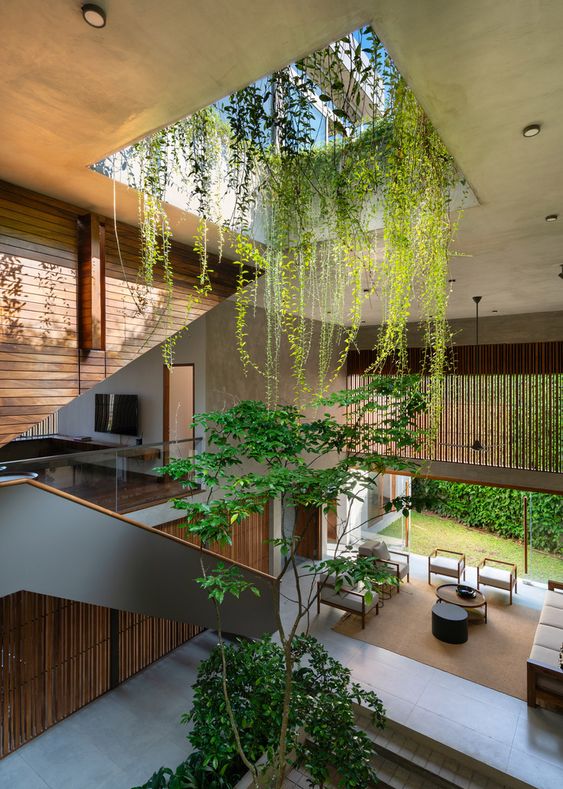 This one indoor garden may be considered magnificent. Because the high walls and spacious room provide more space for you to make it as a garden.
Plants in the center area of the room are applied vertically. Starting from a large tree that soars up to the roof, and on the roof, there are vines hanging down.
Right in the garden area, skylight windows are installed to provide direct lighting on plants and trees. So, the plants in the house can still grow well.
10. Simple Plants with Natural Stone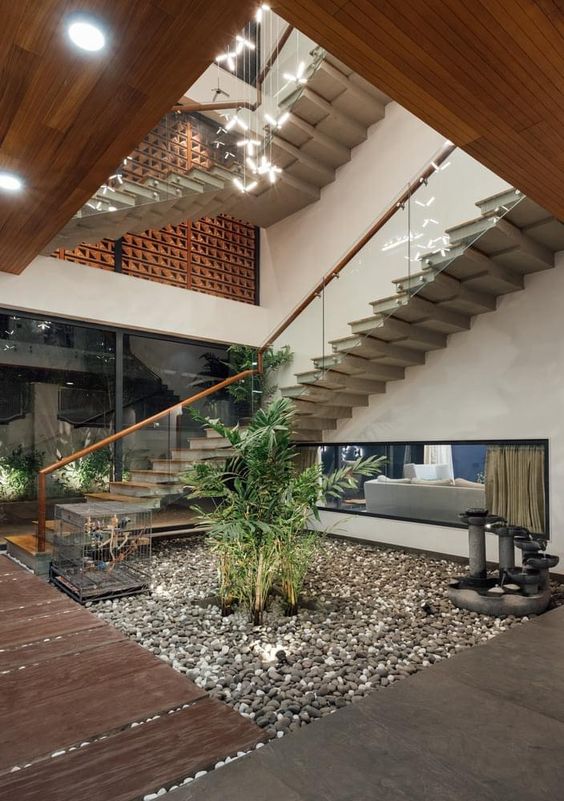 The area under the stairs that is often left empty is made into an attractive simple garden. Right in the middle of the garden, there are only a few small greenery which is quite refreshing.
To make it look interesting river pebbles are spread scattered. At the end of the garden, you can see a small water fountain which makes it look more natural and attractive. The water flowing in the water fountain also adds to the serenity of the garden and makes the room feel cozy.
11. Minimalist Indoor Garden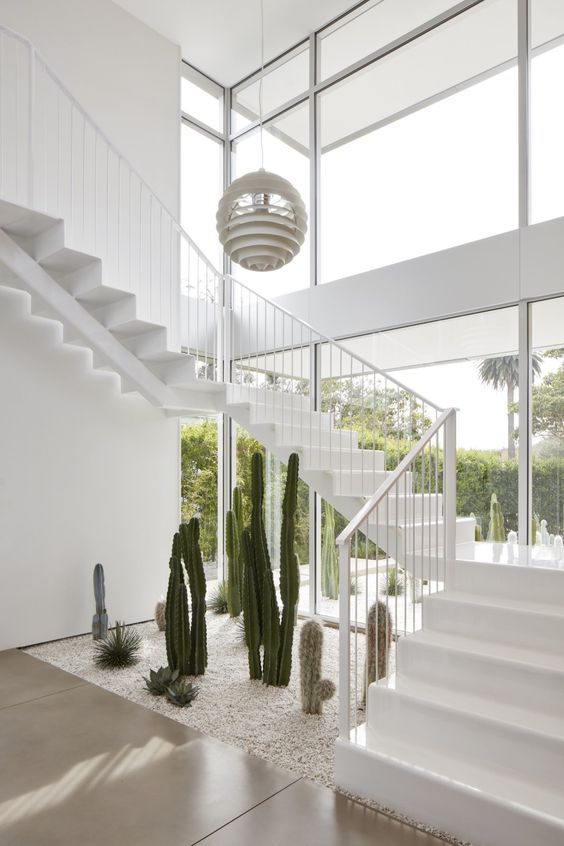 Indoor gardens do not always have to have fresh green grass. In fact, this minimalist indoor garden looks beautiful without the green grass there.
The theme used in this garden is tropical. We can see it from some of the cactus plants that decorate the garden. And to replace fresh green grass, you can rely on small white river pebbles. This will make the indoor garden look cleaner, brighter, and also beautiful.
12. Small Indoor Garden for Luxury House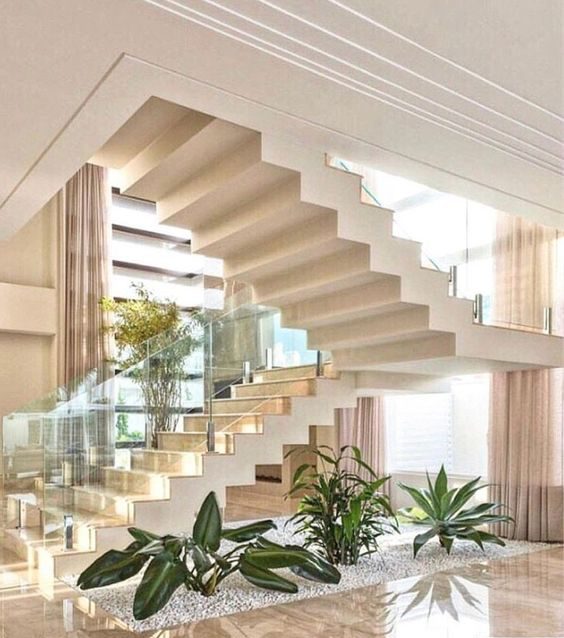 This luxury house looks so beautiful with gold color and glossy granite floors. The sunlight hitting the floor surface reflects off and makes it look so beautiful. However, the existence of a small garden right at the bottom of the stairs makes this luxury house look very attractive.
This small garden has only three indoor plants. Although it is relatively small, this plant is successful in making the room feel fresh. The garden is getting more beautiful with white river pebbles that fill the garden area. Makes it look more beautiful and natural.
13. Beautiful Cactus Plants in The Room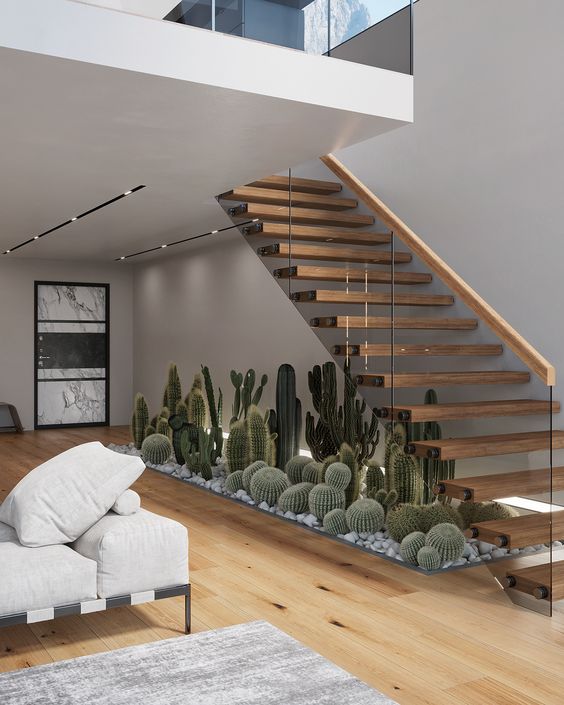 Cactus plants are indeed the most appropriate for indoors. Because cactus plants do not really need sunlight to keep growing. Not only that, but cactus plants can also survive even you are not watering them regularly. So, using cactus plants for an indoor garden is the right choice.
This small garden which is located at the bottom of the stairs looks so attractive with some cactus plants that adorn it. Several types and shapes of cactus plants make it look so attractive.
In making this indoor garden look more standout, LED lighting is installed on the edges of the garden. With this, the indoor garden will look more attractive at night.
14. Plants As Wall Decoration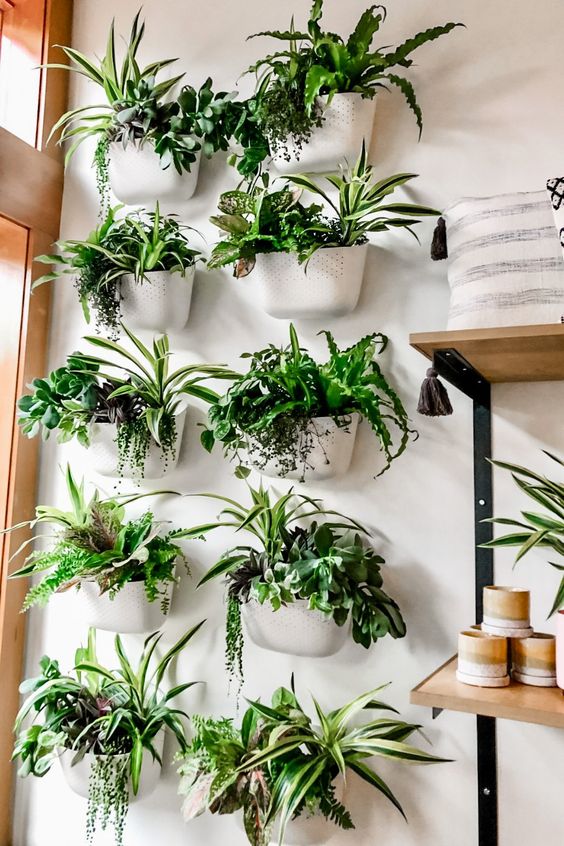 No need to worry if you do not have more space at home for you to make a garden. Because you can use the wall area for greening the room.
As in the picture above, the white painted wall looks so beautiful with the indoor plants hanging very neatly. So, the walls look so beautiful, clean, and fresh.
15. Attractive and Unique Room Divider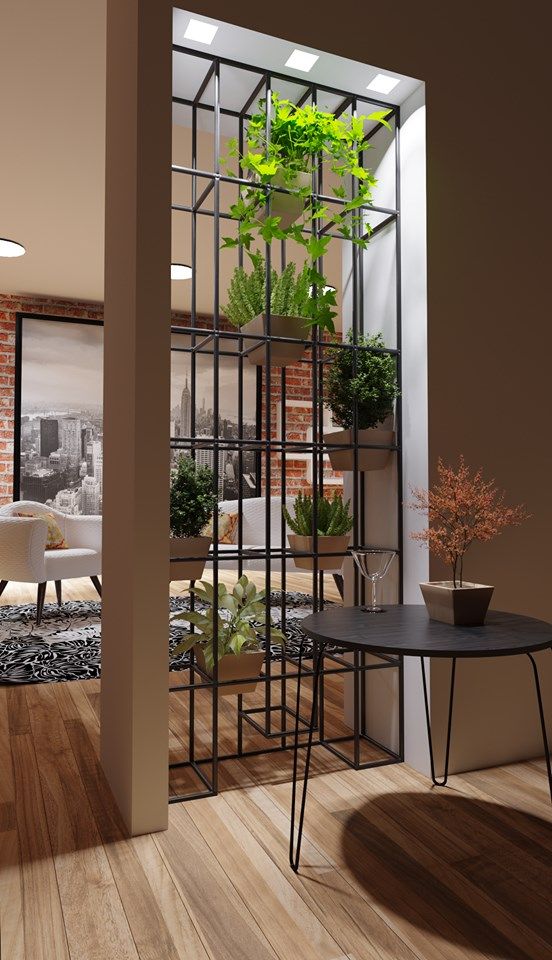 This one house applies an open plan concept. So, there are no doors that block one room from another. It is just that, a little barrier is made to separate the rooms.
This open plan concept uses shelves as a room divider. Where this shelf is made with several small plants placed there. With this, both rooms will get a fresh feel fairly.
The plants that adorn the shelves are not too many. Because this open plan concept applies a minimalist concept. Also, the indoor plants that adorn the shelves have a simpler appearance which fits perfectly with the minimalist concept of the room.
16. Modern Indoor Garden Design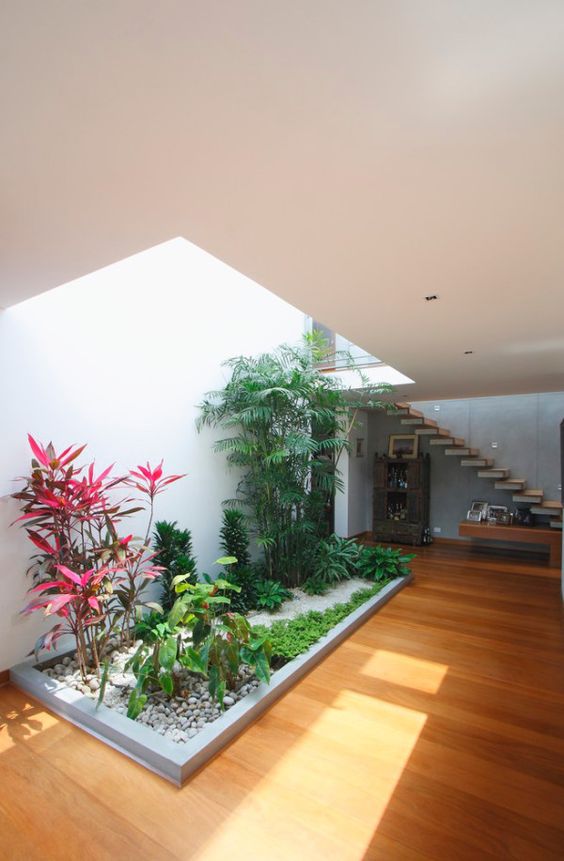 Although small, this modern indoor garden design looks so attractive. Some green and red plants there really decorate the room. And to replace the refreshing green grass, this indoor garden uses river pebbles to make it look more natural and simple.
As usual, so that plants can get good sunlight, the ceiling for the indoor garden area is installed with skylight windows. With this, you do not have to worry that the plants will wither when indoors.
17. Pretty Simple Indoor Garden in Japanese Style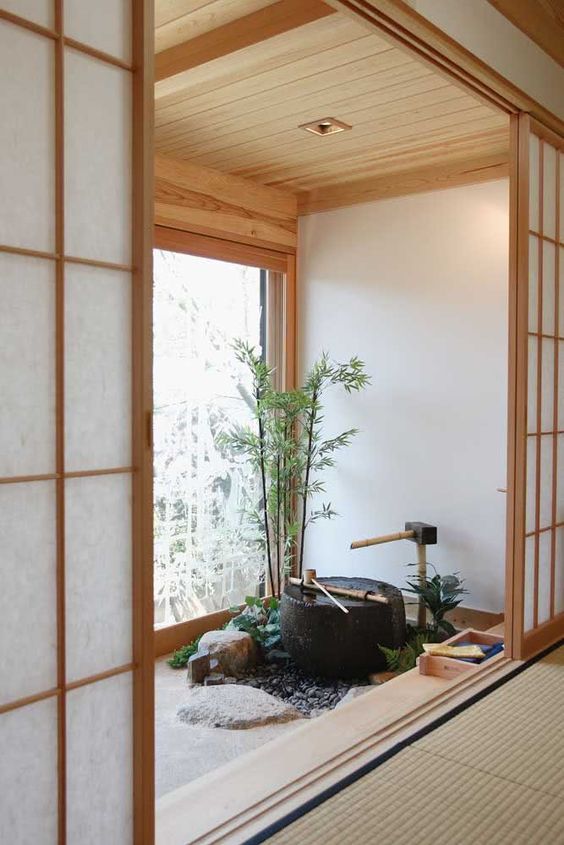 Japanese style or design is indeed rich in serenity. This is why many people like this one design.
For those of you who want peace in your home, you can choose an indoor garden in Japanese style. If we look at the picture above, a very simple green plant with a Japanese small fountain design looks very attractive. The addition of river pebbles there makes it look more natural.
18. Indoor Garden for Relaxing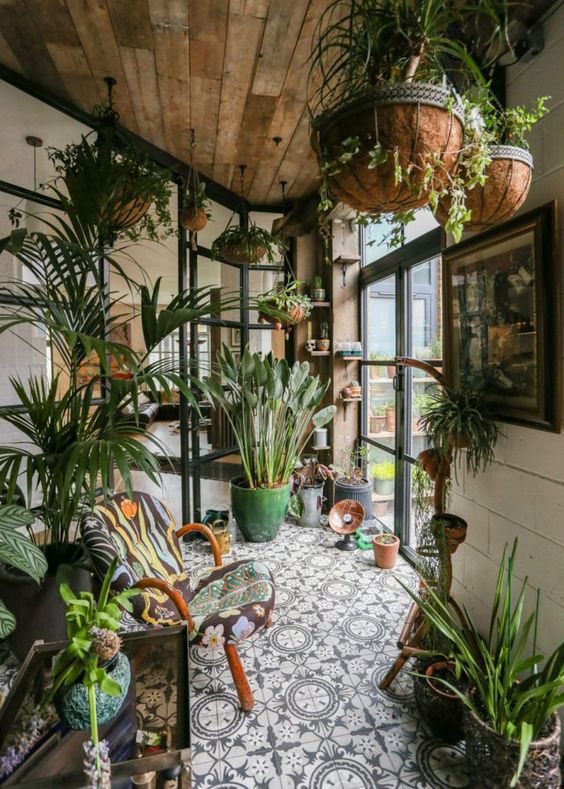 The next of 25 Attractive Indoor Garden Ideas for Fresh Interior is an indoor garden for relaxing. This small room is decorated with some fresh indoor plants. Starting from small plants to large plants.
Large windows and glass doors allow sunlight to enter freely into the room. And this will be very good for plant growth and freshness.
You can put cozy small chairs there for you to rest yourself. The natural green colors of plants and also a very comfortable fresh atmosphere will really help you to relax and make yourself calmer.
19. Fresh Boho Dining Room with Plants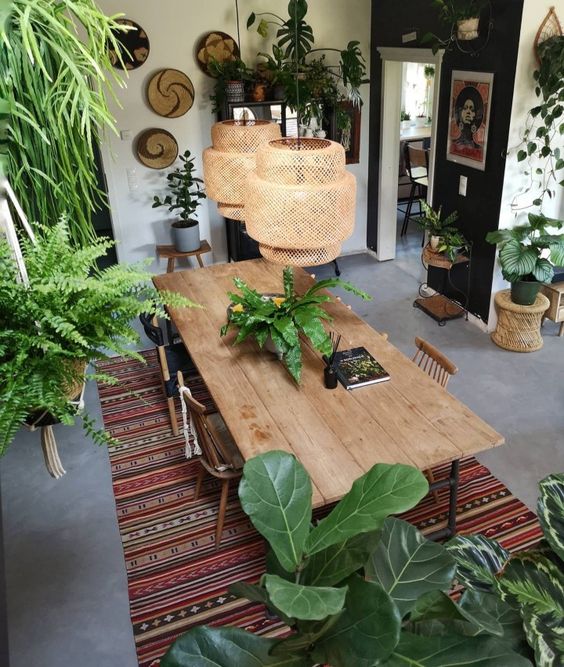 Boho design is famous for its cloudless atmosphere. Because this design uses a variety of interesting decorations, one of which is plants.
This Boho dining room design looks so beautiful with a boho-style carpet that adorns the cement floor. In the wall area, there are interesting Boho-style displays that make the room look more attractive. And finally, some greenery is very dominant in this room. Starting from the small-size plants to the large-size plants. So that the dining room looks like an indoor garden that has a fresh and comfortable atmosphere.
20. Beautiful Round Mirror Decor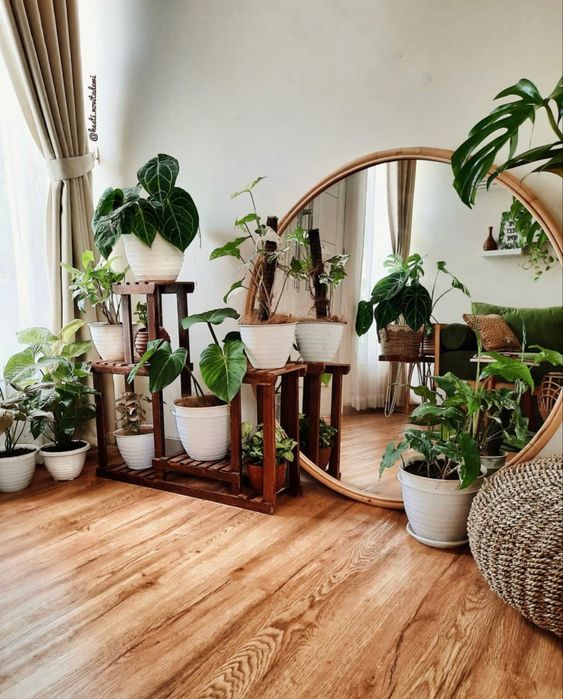 Actually, this is a living room. It is just that, around the living room there are some green plants that make it look so fresh. These plants are small in size but have a large number. So that the green color looks more dominant.
This living room area besides looking fresh also looks attractive. Usually, the mirror is hung on the wall, but this time the round wall mirror is placed on the floor. So that it looks integrated with the plants in making the room look more beautiful.
21. Vertical Indoor Garden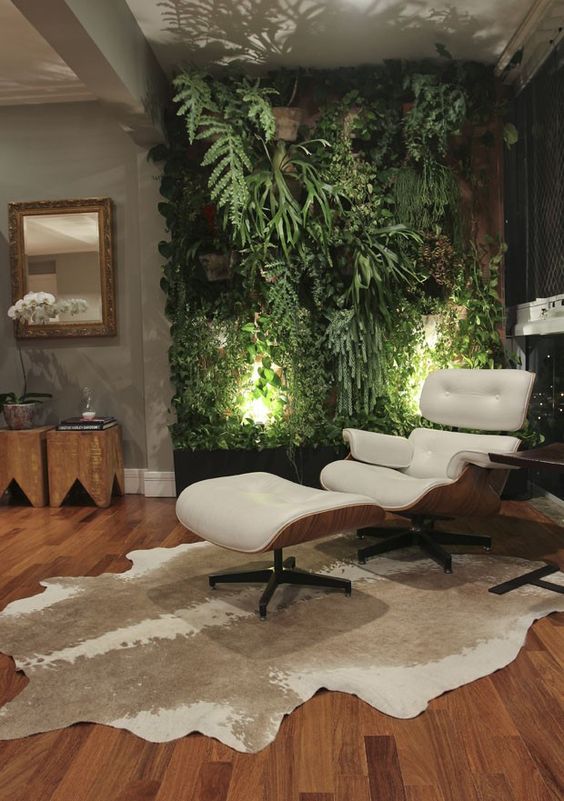 A vertical indoor garden is the next of 25 Attractive Indoor Garden Ideas for Fresh Interior. This is one way to create a green spot without taking up space and making the room small and cramped.
The wall is a place to put all the plants. However, not all plants can be used. You need to choose plants that can live indoors without being exposed to sunlight.
Because it has a fresh, comfortable, and calm atmosphere, utilizing this indoor vertical garden is the right idea. You can put a comfortable bench like in the picture above. That way, you can make this one spot an area for you to calm your mind and avoid the crowds of the world.
22. Beautiful and Fresh Living Room with Wall Plants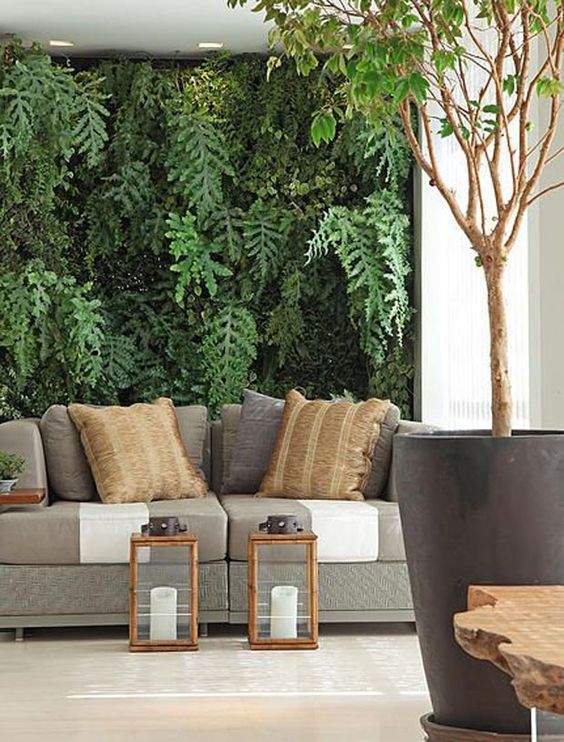 Just like the previous idea, this idea applies to a vertical garden. So, the plants chosen are plants that can live indoors.
However, the difference between this idea and the previous idea is that this one idea only uses one type of plant. So that it looks like a very beautiful and harmonious wall decoration.
It is very appropriate to apply this one idea to the living room. Because the living room is often used as a place to gather with family or maybe just relax. And green plants will give a fresh feel that will make people there feel comfortable and calm.
23. Indoor Garden Make Workspace Feel Cozy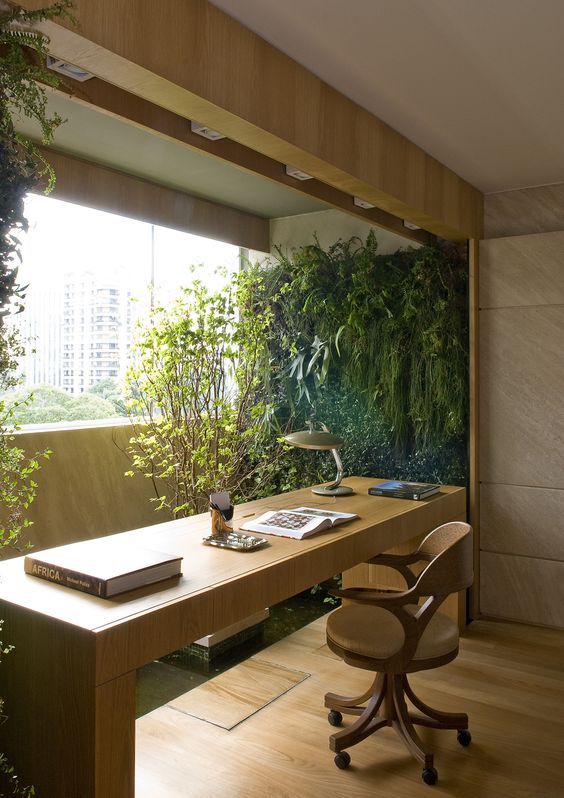 Want to have a comfortable, fresh, and serene workspace? If so, then this idea is worth to try. This room has a small garden at the end of the room. Starting from large plants and even attractive vertical gardens.
Large windows allow sunlight to enter the room freely. So that plants can grow well and do not wither.
This workspace also uses wood elements for tables, chairs, and floors. So that the atmosphere you feel here is more natural and full of warmth and tranquility.
24. Ceiling Shelves for Small Plants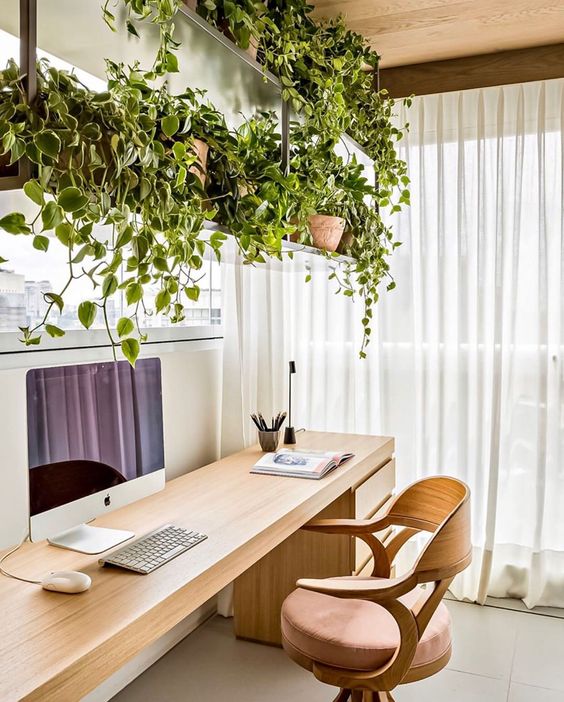 If there is no more space in the room, and the walls are already filled with large windows, then you can try this idea. The idea at this time is to rely on ceiling shelves to put some small plants.
You can apply this idea to the kitchen and workspaces. You can install this ceiling shelf right above the island table in the kitchen or above the workspace as shown above.
25. Indoor Garden for Indoor Balcony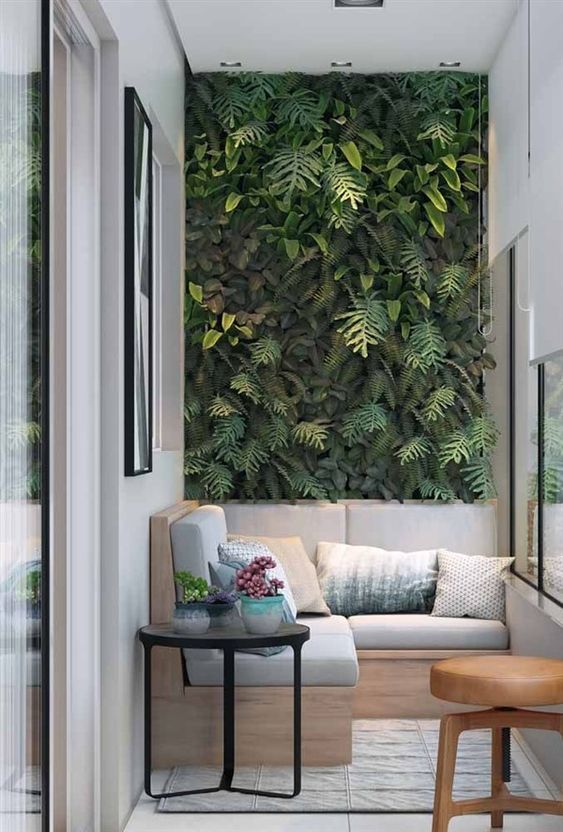 The last of 25 Attractive Indoor Garden Ideas for Fresh Interior is an indoor garden in the indoor balcony. This small vertical garden looks beautiful decorating the small balcony. The atmosphere present on the balcony is much fresher and calmer. With this, you can make the balcony a destination for you to relax and also calm yourself down.
Final Words
Having a garden is not always outside the house. You can also have a garden in your house, or what is known as an indoor garden. In contrast to gardens outside the home in general, for indoor gardens, you need to be careful in choosing plants. You need to choose plants that can live indoors and don't really need sunlight to live. And the points above are 25 Attractive Indoor Garden Ideas for Fresh Interiors that you can use as a reference.