Jordlinghome.com – When you have a plan to create a green living space but do not have a large outdoor space. Don't worry so, we still have a chance to decorate a small outdoor space to be a welcoming green space! In this writing, we will share with you some of the best small garden design ideas. With a friendly-budget decoration style that won't mess up your finances.
If you are investing in the green space in your house, there are some advantages we can get from it. First of all, the beautiful garden scenery can boost our mood. Who does not like sitting and seeing the refreshing view after just wake up? We bet, we all love this ambiance and boost up our mood. Besides that, having the garden giving a great chance of Vitamin D exposure, which is really important to strengthen our bones. More than that garden can combat loneliness. Living in a beautiful natural environment where colorful flowers, green plants sharing with the water feature makes us calm and gain a positive vibe. Alright, now we are going to share with you the easiest ways to remodel the small outdoor space into a lovely garden with affordable way and on every budget you have!
Adding folding chairs in the small patio garden you have!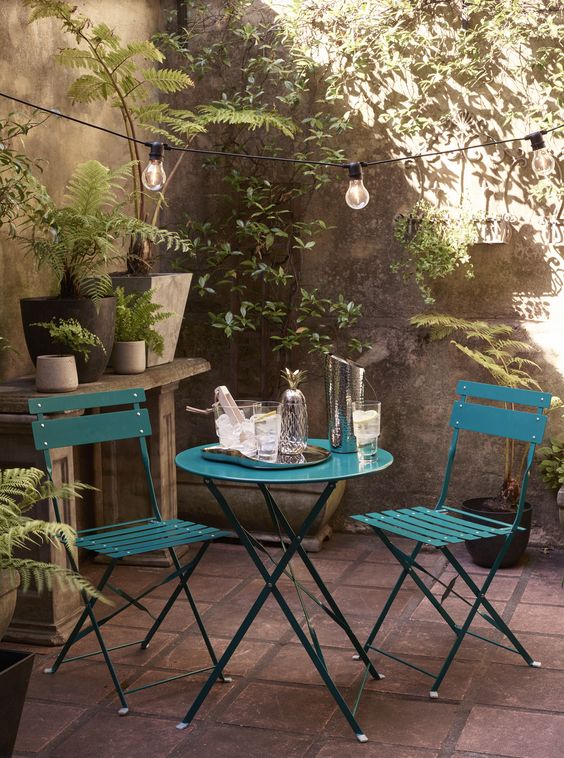 The first affordable garden decor idea for any budget is we can set some of the folding chairs and a small table on the patio. These are lightweight and extremely easy to set up. Wherever the spot you want to sit or even just adding the seater as much as you need, these chairs are fits to decorate the small garden. We don't need to have the grass in our tiny garden, it's enough to put some pots with inexpensive plants. We know that a beautiful garden does not always tend to be expensive. We can use shrubs or some beautiful wildflowers to create harmony in our garden! That is the simple way on creating a budget garden in our home!
Recycled furniture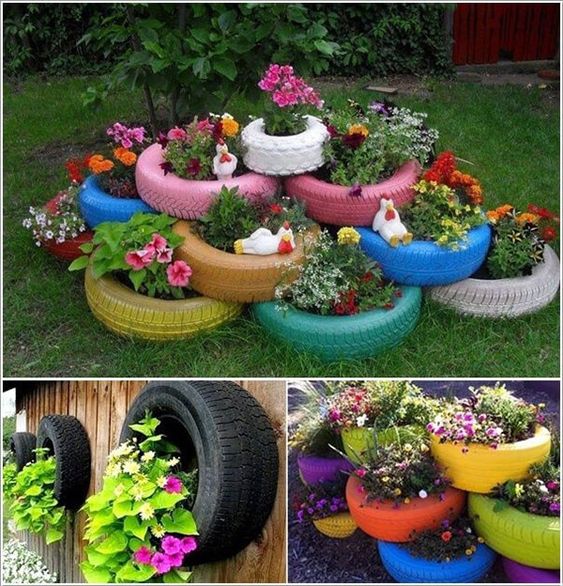 Considering the gardening requires not so little budget, so we have to reduce the financial error for a budget gardener. Do you have any old tires that don't use again? If so, we can make it as beautiful planters. If you want to showcase the idea of a rustic planter, you don't need to paint the tires. Another thing, if you want to infuse your small garden with colors, it looks cheerful. We can paint the tires with a colorful paints palette. After that, we can set the planters in the spot we want to. Stacking them into a group of beautiful planters will create a focal point in a small garden. Or we can hang them on the fence, this vertical planter ideas will save the space!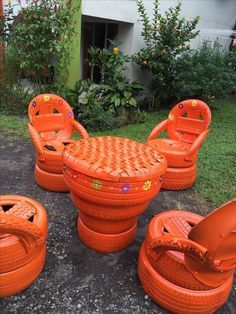 If you still have many old tires in the hut, let's take them out and make something useful for our garden! Alright, as you can see there are some orange chairs and one coffee table above. They are beautiful and also comfortable, but what makes them are amazing is that they are made from old tires. The tires have been stacked and painted to create the table. And then for the chairs, the tire is folded to create an armchair, and it is made with all tires material. Then, painted it up with an orange color tone, taking advantage of unuseful stuff to be something useful is a great idea!
Minimalist small garden design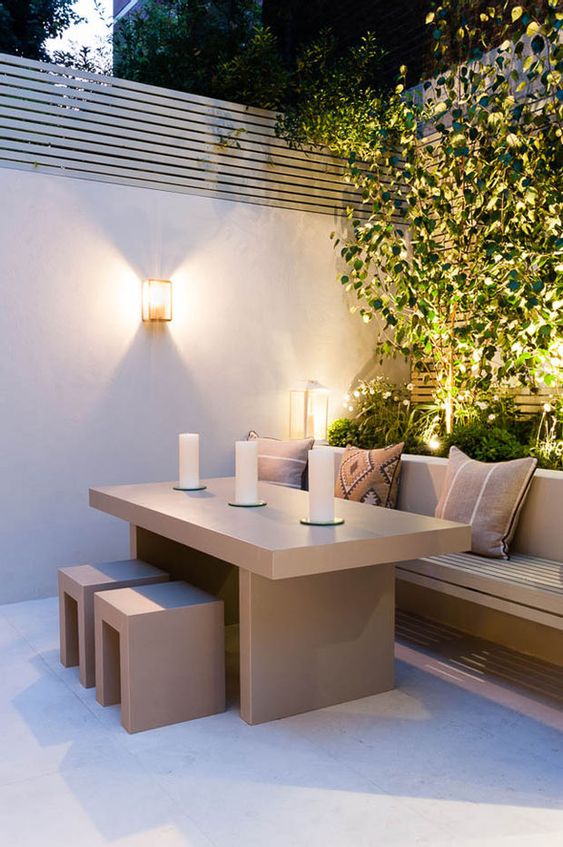 Another way to decorate the small garden to feel comfortable is by designing it into a clean minimalist style. The clean decoration will make the small space looks more convenient. So, here we can set a wooden outdoor bench with chairs that are durable and withstand outdoor weather. Installing the concrete flooring is easy to maintain and lasts longer than growing the grass. For the plants, we can choose the vines that give a lot of green shades and infuse the strict minimalist garden design to be more alive. In addition, we can set garden lights to make our small green space warm and welcoming ambiance!
Vertical gardening layout concept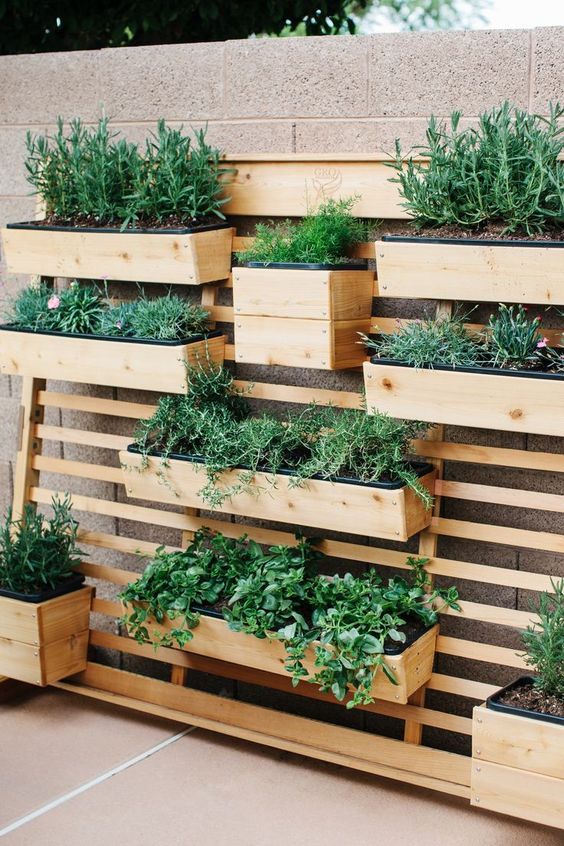 Another clever gardening way for small outdoor space is by creating a vertical gardening layout. Stacking the plants, vegetables, and even some berries on the vertical planters. They will grow well if we put enough potting mix and taking care of them regularly. Stacking wooden planters into a vertical shape will make you save floor space in your garden. And this style will give more charm and a lovely small garden layout idea. So, home gardener, you can follow this rule too, if you have any small outdoor space. you still have to enjoy it by decorating the space with the proper and sustainable design!
Creative small layout garden idea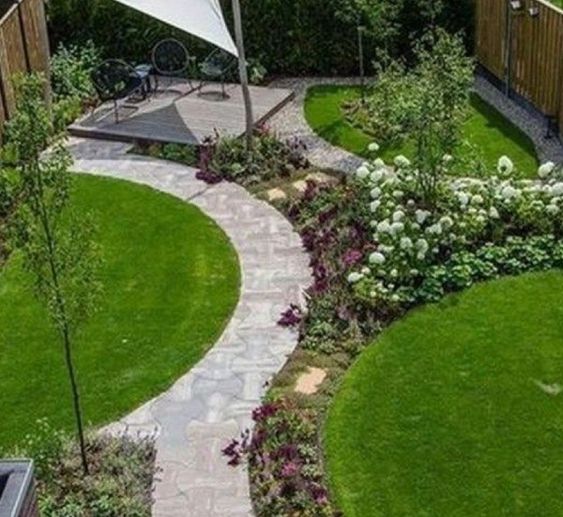 Having a small space does not mean to stop you from observing and transforming your creative layout garden design idea. This small backyard is designed with clever landscaping. The half-circle landscaping shape creates a wider look, so we can trick the small space by using a diagonal shape layout to create a larger view. The green grass takes the diagonal shape space, the paving blocks and gravels create a beautiful pathway. And the highlight decoration of this cozy small garden there is a comfortable seating spot at the corner. So, we can enjoy the whole awesome view of this garden at the corner of the garden!
Create the aesthetic small garden with Japanese style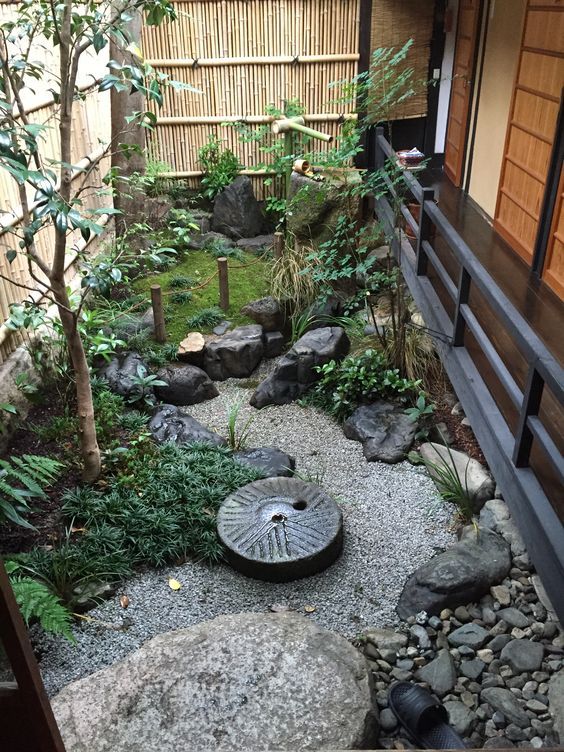 The Japanese garden is well-known for its unique character landscaping design and highly represents nature. This idea becoming an ideal design to infuse the small space but wants to present a relaxing garden atmosphere. All we need is to combine rocks, stones with the landscaping project. Then, the water feature joins the ambiance and greeneries altogether creating a compact relaxing, and aesthetic Japanese garden design!
Tips to know about creating aesthetic small but budget-friendly garden design!
Know the plan idea of your landscaping
The first tip to create a successful home project or landscaping is base on your idea. Make sure, we have the main idea to transform into the space, so it does not turn to be unplanned and might confuse half of the project. You already know exactly where you can put the furniture, set the plants, and decide on materials for your garden. So, the idea is the first important thing to make the project clear and avoid a mistake!
Using local plants (an inexpensive one)
When you have a problem with your finances you know exactly what you have to do. Buying some local plants that have inexpensive prices, invest them to create lush shade in your garden! Having a bunch of lush green plants will make us relax and feel comfortable sitting in the garden!
Recycle furniture
There are lots of cans and tires in the shed, let's take them out and make useful furniture to beautify our garden. We can recycle old tires into clever and useful garden furniture, make chairs and tables from the unuseful tires such in the picture above. Recycle the cans for beautiful planters, we can paint the cans to create an aesthetic look for planters that could infuse the garden with a cheerful vibe!
Hand in hands to do the landscaping project
There is a lot of jobs feels easier if we have hand in hands to do the project. Just like gardening, if you include your family or friends to decorate the outdoor space, it will feel easier and fast to handle. So, don't hesitate to ask your friends to work together in your garden so you all will have more good time hanging out in the space. And don't forget to appreciate their work by giving them some drinks and a fun barbeque. Gardening would feel so much easier!
Conclusion
We have come to the conclusion now, we have seen some of the small garden projects above, which is awesome! Transforming the outdoor small space into an enjoyable spot that we could share and join together with the closest people is priceless. When you have any financial problems, don't let this obstacle stop your dream of creating a beautiful and cozy garden in your home.
There are still lots of affordable ideas we can make come true with a friendly budget! Recycling furniture won't make your wallet drain, in addition, this kind of furniture is looking quite distinctive to others, so you have a unique personal furniture design. Another way to save your budget is to ask your friends to work on the project, appreciate their work for your garden and have some good mealtime will enhance the friendship you have. Then, we can choose some local which has inexpensive prices that could decorate your garden with natural accent decoration! Alright, that is all the amazing small garden decor ideas including tips to manage your finances well. We hope you enjoy all the decoration tips. And hope you can apply these projects that we shared with you and let's do it right now!