Jordlinghome.com – The front yard indeed needed to maintain to keep it look pretty and improve the curb appeal. We often think about the expense of expensive landscaping to make our front yard beautiful. Somehow, making it easier by using pop-eye color decoration can improve the curb appeal. Doing simple and a budget landscaping style is a great idea to manage every space in front of our home. With knowing some basic skills to recycle some kinds of stuff such as cans, old tires, or even using the old wood to make a rustic beautiful landscape design.
In this writing, we will be sharing with you how to style and decorate your front yard with an easy simple guide. And budget-friendly of course. So, there is no reason it's too difficult to tackle the front yard decoration with the cheap decor! Let's dig in!
Tree garden decor idea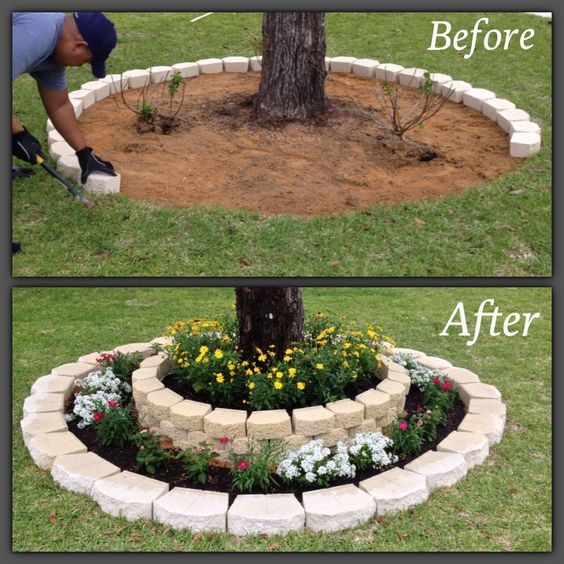 Don't think that landscaping is hard to master so that could drag you down and never do a project of your own. We can make it an easier and friendly-budget home gardener! Do you have a tree in front of your house? It's okay if you have palm trees or fruit trees. We can make a simple decoration under the tree to take the interest.
Home gardener let's begin simple landscaping by creating a round shape around the grass. Let's hoe the ground around the tree, make a circle as much as you need to plant some flowers. Creating a holding raise bed using bricks or broken stone, put them around to create a border between grass and planter around the tree. We can have a double look by creating double brick bordering. Create the smaller circular brick border and then going with the second border. After that, we are ready to put some plants we like. But if you want to make an eye-catching tree landscape design. We can put some vivid color flowers, begonias are good to extend this easy and simple landscape style.
Tips on creating a beautiful front yard with a friendly-budget landscape style:
Splash the pop color
One of the easiest ways to make our front yard instantly beautiful is by adding a splash of pop color. The bold red, blue, yellow, and many more. The essential of bright color plants will catch our eyes and take our attention. The splash color in our front yard will embark on the lovely summer decor.
Recycle the waste
If you have the old unused furniture that always is in your hut, just take them out and use them for the planter. We can use many wastes for eco-friendly and budget planter ideas. Some metal, wood waste can be a good idea for planters.
Using cheap or wildflowers
Another tip on creating a beautiful yard with simple and on a budget are choosing cheap beautiful perennials or colorful wildflowers. So, let's decorate our garden with beautiful and colorful flowers that will elevate the curb appeal of our home!
Create a border using old unused wood and green shrubs landscape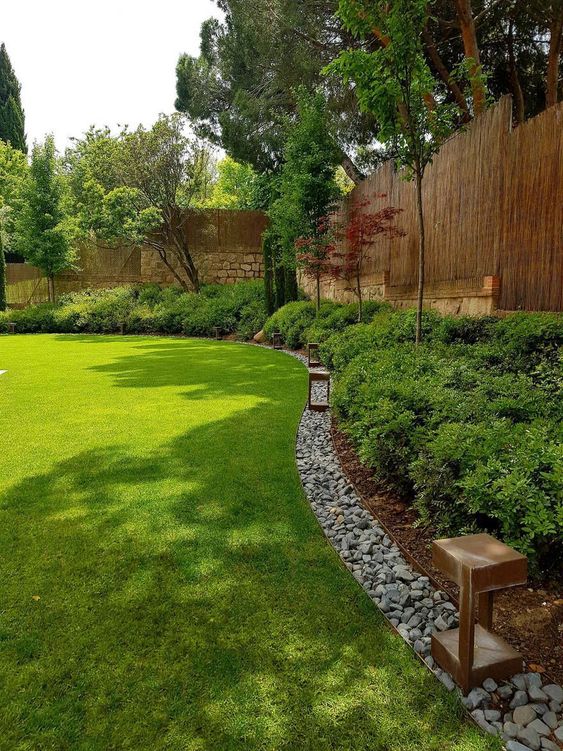 If you have any old wood from old furniture, don't push them away just because you don't need it. We can simply use it to create a border in our front yard garden. Creating the privacy wall from old wood allures the rustic decoration, which is beautiful! Then, we can begin the simple landscaping idea by planting green shrubs. These lush shrubs are not expensive but they will successfully reinforce the green living space when they thrive! Combine the shrubs with stones landscaping style around them to create a border. Isn't it a simple, beautiful, and cheap landscaping idea? We believe you can do it too to give the beauty of your front yard!
Creating beauty with colorful wildflower landscaping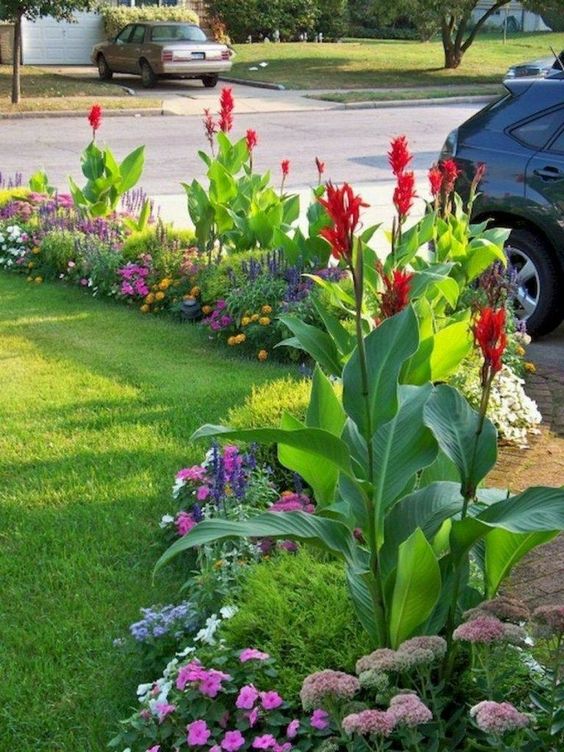 As we alluded to earlier, creating a beautiful front yard decor does not always require expansive landscaping. We can create a lovely front yard with wildflowers too. So, we don't need to pay an extra budget for the landscape. There are lots of begonia and perennials thrives in vivid color beautiful flower. When you have an undecorated green lawn in front of your house. Don't neglect that precious outdoor space we have! Let's plants some beautiful vivid color wildflowers to create a border of our lawn. Especially, if we don't use a fence for the front yard. we can grow some colorful plants and flowers to invite a lovely yard. It's cheap landscaping for the front home but the result is quite beautiful. So, let's plants some colorful flowers in front of our house that will improve the curb appeal of our property!
Get a beautiful Italian window box front house essential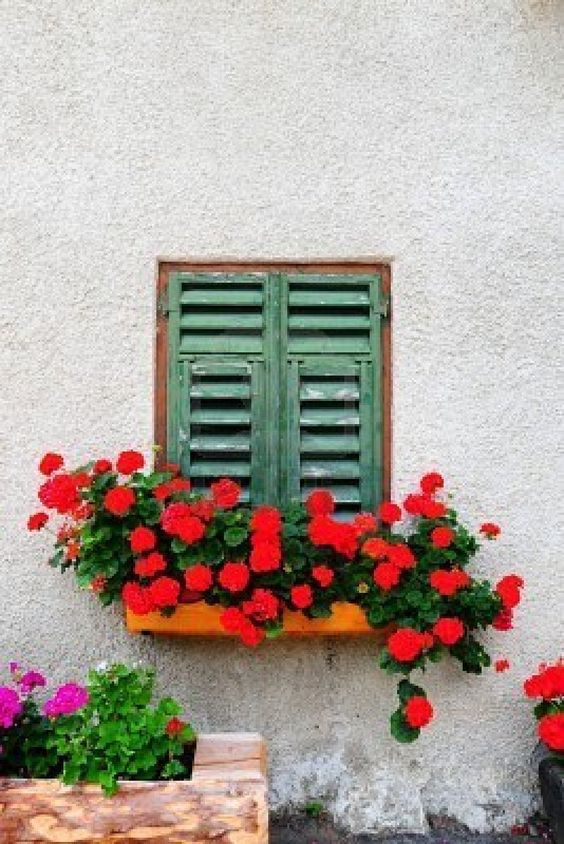 Have you ever travel to Italy? Then walking through a beautiful tight alley. The classic beach houses offer their charm in the way we walkthrough. Every house offers decorative flower window boxes, it's a beautiful thing when we walk around the lovely European alley. Roses are flourish in front of the classic wooden shutters window. It is such beautiful scenery. So, we can do it too in our house. Installing the wooden planter box in front of the window and make sure to maintain your flower. Taking care of our roses from the full sun by installing a pergola above the window. It will block extremely hot sunlight that will break our flowers. Then watering them regularly, raise your flower with love so they will thrive happily. Once they bloom, they offer true beauty and for sure we are successful to elevate the curb appeal of our property!
Rustic tea kettle planter decor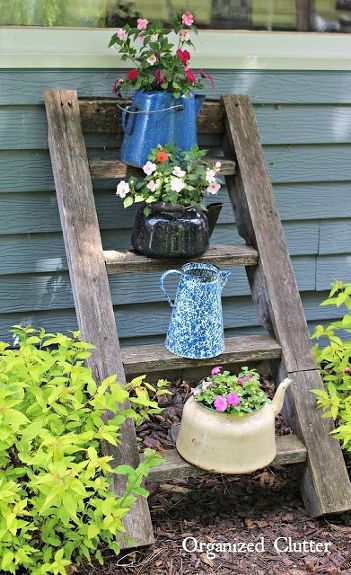 Another cheap landscape decor we can do is using the rustic tea kettle. If we have the unused teapot and kettle or anything the unsued items in your kitchen. Don't throw them away in the basket. We can make it to create rustic planter ideas. Just fill the tea kettle with potting mix, and we can plant our flower inside of it. Put them nicely in front of our house, then this view will allure the rustic view. Taking the advantage of unused items is one of the best ways to make a simple landscaping design on a budget!
Happy summer decor ideas!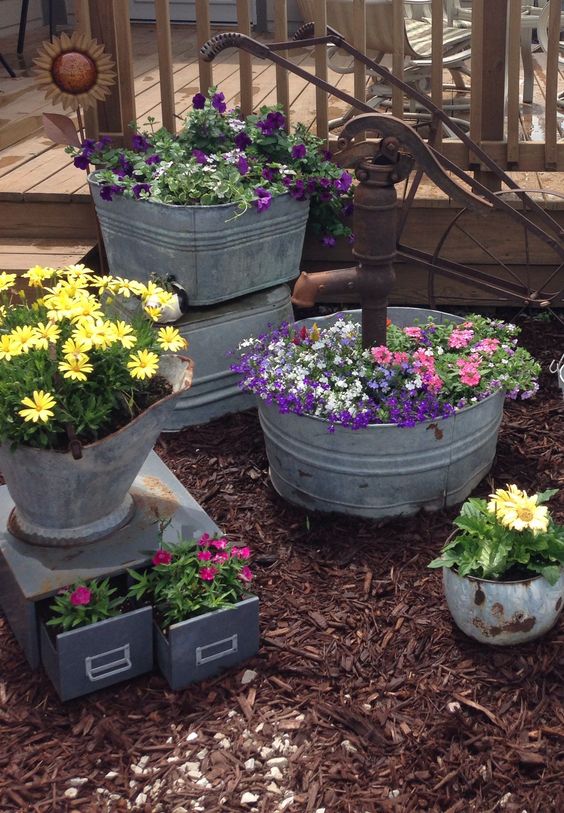 With the warm and cheerful summer season essential, let's embrace this lovely warm season with lovely colorful front yard decor. Carry out the unused item in our home to get rustic planter ideas. The metal basket, old furniture turn to be a planter. Then fill it with potting mix. After that, we can start to plant summer essential flowers for such daisies, begonias, and many more. These colorful summer flowers will embrace and embark on the summer season essential. What lovely scenery in the front yard space!
Hose holder planter idea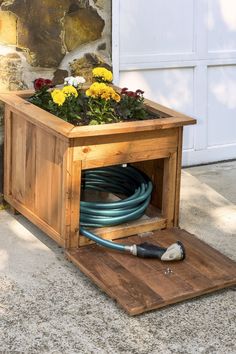 Another affordable and easy front yard decorating idea is showcasing the unique decoration. For such this hose holder planter idea. We can cover up the hose holder with wood. Then creating the small raised bed on top of it, so we could begin to plant. It's a pretty unique and helpful tip to decorate the front yard. This planter tip we can use to save space especially if we have a small yard area.
Conclusion
Thus are some tips on creating a beautiful garden with an easy and affordable budget-friendly landscaping style. We have seen there are many options to decorate our outdoor space. We don't have to master the landscaping skill to make our garden beautiful. Using affordable and simple decor is worth trying since it doesn't drain your wallet for front yard decoration. Let's begin the project immediately to improve the curb appeal of our house!