Jordlinghome.com – Far away from the busy daily urban living style, we want to have the perfect place to relax! Beyond oriental tranquil haven landscaping style, we will have that dream calming space. Oriental landscaping essential will give us a relaxing retreat. In this term, oriental refers to the East and southeast of Asia. A Japanese garden is one of the most well-known and the delight of oriental garden design. This garden base is full of mindful natural landscaping ideas. In addition, the aesthetic Japanese garden pavilion is well retreating to enjoy the natural ambiance!
Garden takes an important part of many housing in Japan. The presence of the garden makes our living close to nature. Always include natural beauty in many aspects of life and Japanese believe that they will get the kind of life to create a happy living.
There are many essential elements that made the Japanese garden look so calm. The green lush plants, calming water feature sound, and the outstanding rock garden. Those are what make this Asian landscaping garden looks so amazing! Another structure that exists in a Japanese garden is a pavilion. They love to stay and embrace the garden view, so then installing a pavilion is a great idea!
Classic Japanese gazebo style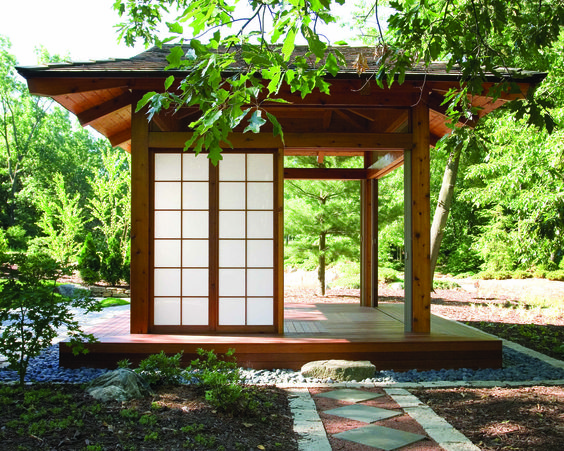 When you entering the Japan-style garden, you will notice that there is a simple bungalow. It is a simple minimalist building set in the garden, a perfect place to hang out and enjoy the garden view. In the picture above there is the classic and timeless Japanese gazebo style made from the wooden structure. It completed with sliding door feature that we commonly find it in traditional Japanese home feature. We can have tea time in this gazebo, it feels so calming!
Japanese tea house style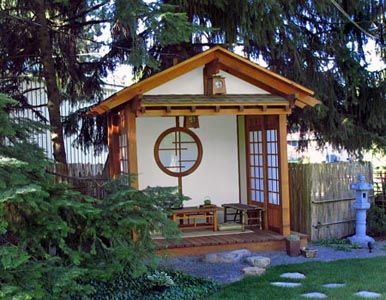 This minimalist Japanese tea house is made from wood with an open-air window style. This window allows us to see the garden view and connect with nature's surroundings. There is a tea table and some floor cushions to enjoy a cup of tea. Drinking tea in this pavilion with a beautiful view surround is so calming and pleasing!
Drinking tea is a custom in Japanese culture in everyday life. There is no day without drinking ocha (tea). Enjoying a cup of tea is good for our health, especially when we drink it in the beautiful natural ambiance, that's a calming retreat! In Japanese culture, drinking tea is more than that, it's a cultural aspect and family social gathering that should be respected by all, including the guest.
Enjoy the beautiful Japanese rock garden style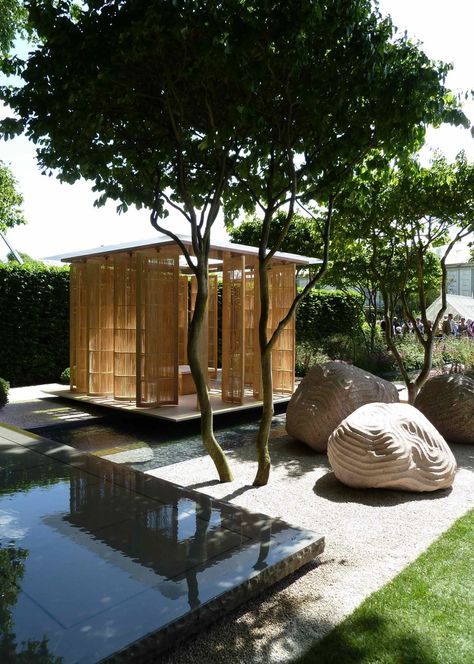 What makes this Japanese garden so beautiful to the eye? The clean line landscaping style featuring water calming water features, great shade from green trees, and of course two awesome rock craftsmanship. We can choose a Japan-craftmanship style garden with this rock carving style. The round carving symbolizes the waves of the ocean in the Japanese rock garden. This is such a complete Japanese-style garden that features a rock garden, water feature, and a simple tea house. This small pavilion is made from wood and bamboo, the hollows in the design keep the fresh air come inside. In addition, the warm sunlight joins this pavilion.
Decorate patio ideas with Japanese garden pavilion style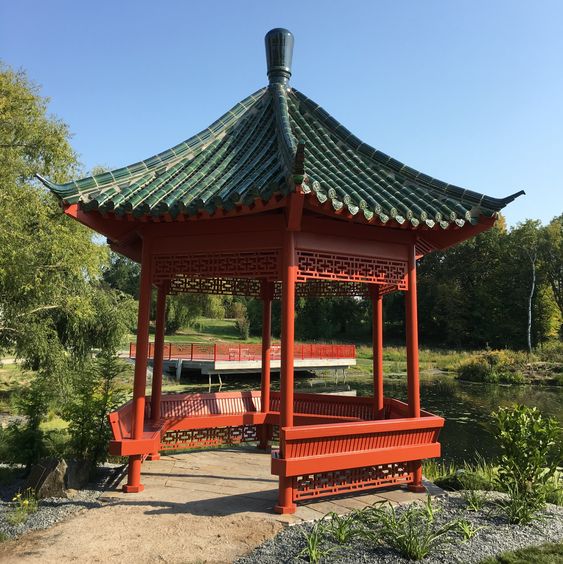 Do you have an undecorated space in your backyard garden? Well, we can use the space to create a beautiful classic Japanese garden pavilion style. The classic Japanese arch roof is so pretty made from ceramic tiles shaped like bamboo. For the construction, we can use wood to provide some seating. There is no window installation in this bungalow that allows us to see a beautiful backyard garden decoration around. The open-view bungalow gives us garden perspective in the shady comfortable spot!
What is an Oriental garden essential?
Japanese garden landscaping style turns into one of the most beautiful oriental garden styles. The word of oriental garden coming from European people that's called the Asian landscaping style from East to southeast Asia. There are many oriental garden ideas from Chinese, Koreans, Exotic Tropical Balinese gardens, and many more styles coming out from many countries in the East and Southeast Asia region.
The history of Japanese garden landscaping
One of the most well-known oriental gardens is Japanese garden landscaping. The beautiful and meaningful garden makes it take lots of interest from many gardeners and landscapers around the globe. Dating back to history, the Japanese garden was first found in Nara, 710-794 century, Japan. There was found the natural landscaping style that features stones, water features beyond lush green shades, it such an authentic oriental garden style. Since then, the landscaping style has spread throughout Japan and massively brought to the world!
Japanese garden structure
The most popular Asian garden style, Japan has an absolutely beautiful and meaningful landscaping garden style. Now, we will learn Japanese garden structures to peel off what's inside and the elements that build this garden. As to the major topic we have brought above, we will learn about oriental landscaping essential. But, at this time, we will be a focus on a Japanese landscaping garden style that could represent the style!
Water
Water is the source of life for all creatures that exist on earth. With the pureness and goodness water has given us, it's very important to include water elements in Japanese garden structures. The water feature transforms into a beautiful fountain, calming pond, or basin. So, if you want to have an aesthetic Japanese garden, water should be included inside the garden decoration.
Stone
Stone is the essential element after water in Japanese landscaping style. Stones and rocks symbolize the mountain and the strength of Buddha's philosophy. There is a various style of Japanese rock gardens that add aesthetics to the landscaping.
Plants
A garden without plants feels unattractive, the presence of plants in the garden can improve the state of mind and calming ambiance. This is so beneficial to create a heavenly peaceful garden. Especially, when we need a relaxing place to hang out in our outdoor space. Incorporate plants is a must! We can use Japanese native plants to give an impactful haven landscaping. Hakone is one of the most popular shrubs to create beautiful shade in the gardens.
Include Koi or Golden fish
Creating the garden that feels so alive when we staying in. In addition, the koi or golden fish include in Japanese garden essential decor. The fish giving a visual impact in the garden which makes it more beautiful to see!
Lantern
Defining aesthetic Japanese garden decor, there are some lanterns set in the garden. There are various Japanese lantern styles is set in the garden giving impactful decor and provides lighting. So, we can enjoy the garden beauty after the sun goes down!
Build a pavilion or tea house to enjoy the garden
The last thing to make our garden beautiful is by installing the pavilion or tea house. We can enjoy the garden view in the comfortable pavilion. Japanese gazebos are also made from wood that commonly has beautiful arch roofs.
Final Thought
One of the most popular oriental gardens is the Japanese landscaping style. What makes this one garden look so beautiful and attract many landscapers across the globe? After we learn the brief history of the Japanese garden above and then learning the natural landscaping style. That makes us understand how precious and meaningful this garden style is! We have learned that water, stone, plants, fish, and lighting adjustments made from lanterns that synergize altogether create a meaningful yet impactful oriental garden style!