jordlinghome.com – Who does not know about Industrial design? This design is one of the popular designs favored by many people. Indeed, industrial design is usually applied to commercial buildings. However, applying it to the house is also an interesting idea in making the interior look aesthetic.
In contrast to other designs, Industrial designs are more adapted to the physical building. Thus, this design often looks outdated. Even so, the outdated look of Industrial design gives it a different and more attractive look.
History of Industrial Design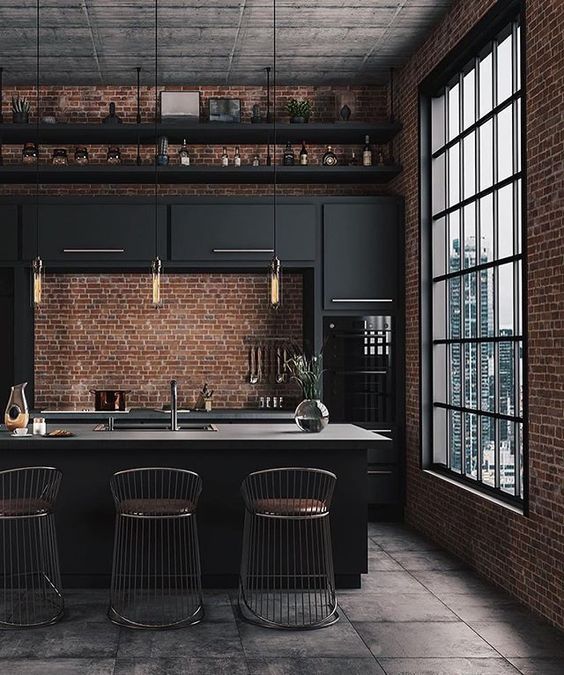 The industrial design came around the 1950s. This design first appeared in Europe. Where there are currently many abandoned factories. And Europeans use it as a place to live.
Over time, Industrial design spread to all corners of the world. The distinctive look of a used factory makes it look different and attractive. Even today, Industrial design is not only intended for housing or buildings but also penetrates into furniture.
Industrial design is now very popular. Besides being applied to residences or houses, Industrial designs are also often chosen to decorate restaurants, cafes, and other commercial buildings.
The Elements of Industrial Design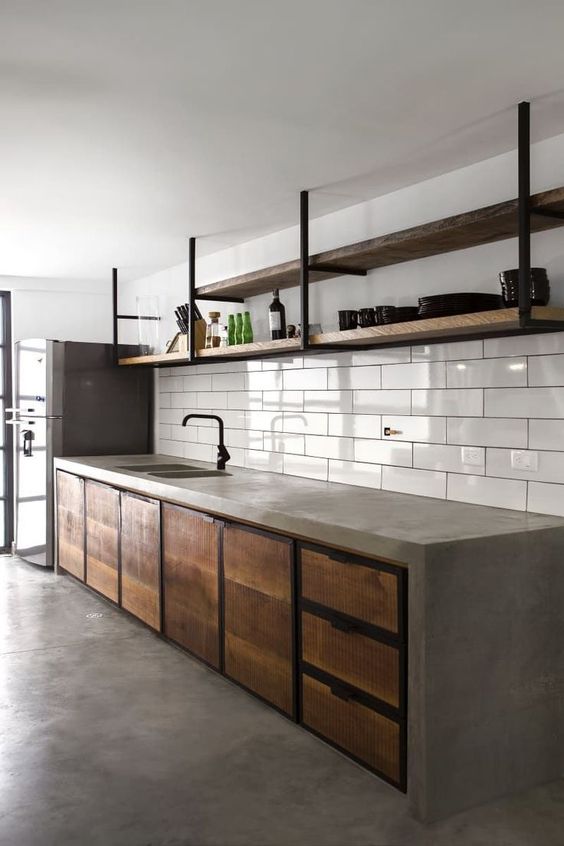 Each design certainly has different elements. Likewise with industry. These elements are what distinguish industrial design from other designs.
Industrial designs tend to use dark colors that look masculine like dark brown and black. However, this design often uses white to make the interior look naturally bright.
For materials, Industrial design prefers materials that can be recycled, such as aluminum, iron, glass, and so on. So that the atmosphere of the industrial-designed interior is cooler but calming.
Here are some elements that are often present in Industrial design:
1. Flooring
For floors, industrial designs often choose cement flooring. The natural gray color will make the interior look cooler. When cement flooring is exposed to sunlight or lights, the surface will look glossy and make the room look more attractive.
2. Wooden
Iron, aluminum, glass are indeed materials that are often used in industrial designs. However, it doesn't stop there. This design also often uses wood with a darker color to give a warmer effect to the room.
3. Bricks
Who does not know exposed brick walls? The exposed brick wall is one of the characteristics of Industrial design. The red or orange color of the bricks makes the room look more attractive and not monotonous.
To make the interior look unfinished, you can choose a plaster exposed brick wall. This will make an industrial-designed interior look more aesthetic.
4. Concrete
The natural gray color does not only come from cement flooring. The industrial design also often chooses concrete for walls, floors, and ceilings. The use of concrete for building structures will make buildings stronger and more durable.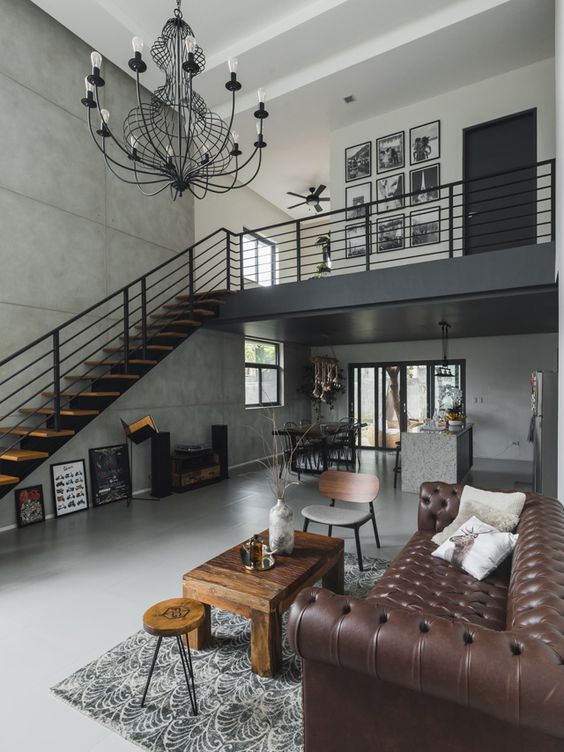 5. Building System
In terms of buildings, the industrial design gives the physical building a more prominent appearance. Starting from the cement floor, the pipes on the walls and ceiling are left exposed, exposed brick walls, windows without curtain decorations, until the ventilation is open for air circulation to run well.
6. Lighting
There are two types of lighting to illuminate the room:
natural lighting, and
artificial lighting
Natural lighting certainly comes from the large exposed windows without any decorations. So that natural lighting can enter the room freely and make the room look naturally bright.
For lamps, industrial designs tend to use pendant lights made of metal or iron, or attractive industrial-style spotlights.
7. Colors
As previously explained, industrials choose colors that tend to be dark and masculine, such as black, dark brown, gray, and white. Actually, these colors fall into the group of neutral colors. With this, even though the room looks darker and more masculine, the atmosphere in the room will feel calm and comfortable.
8. Design Pattern
Industrial design tends to choose bold patterns, such as perpendicular lines that make it look masculine, mature, and modern.
Characteristics of Industrial Design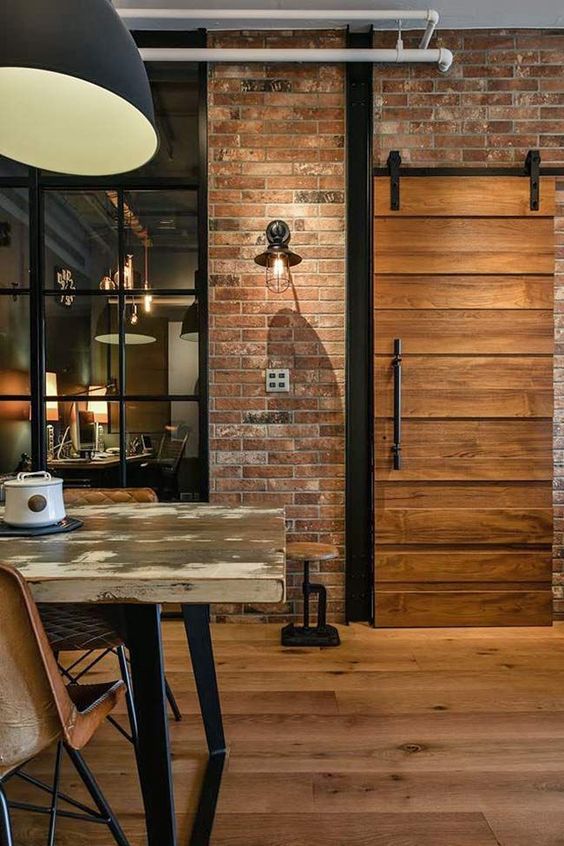 To get to know industrial design more deeply, also understand some of the characteristics in it. And the following are the characteristics of industrial design:
1. Recycle Material
Recycled material is the main characteristic of industrial design. This design chooses furniture or materials that can be recycled, such as iron, wood, metal, glass, and so on. Usually, this material is left untouched to make the interior look more worn. However, not infrequently also those who will polish it again with black paint.
2. Unfinished Look
The industrial design comes from people who use abandoned factories as a place to live. So, do not be surprised if the look of this design seems unfinished, such as an exposed brick wall, exposed pipes, and so on. In fact, the furniture is left unpolished so that it gives its original color.
3. Large Window without Decorations
As a factory, this design uses a large window. There is no polish or touch like decoration on the windows. In this way, natural lighting can enter the house freely.
Illumination from sunlight is the key to why industrials still feel comfortable even though they use colors that tend to be dark, such as black and brown. This is because these colors will look more alive when exposed to natural lighting.
Final Words
Industrial designs are often applied to commercial buildings, such as cafes, restaurants, offices, and so on. However, it is okay to apply this design to the house. Because initially, this design came from people who used abandoned factories to become comfortable places to live. And before applying this design to your home, it is better to understand industrial design more deeply.