Jordlinghome.com – Japandi is a design that marriage simplicity and natural decoration. The fusion-style interior design from Scandinavian and Japanese decor, both share the same interest in minimalism. So, what is the Japandi style? It is the design that brings functional, cluttered free, and minimalist aesthetic interior style. Bringing the best line decor from different regions Scandinavian and Japanese give birth to the calming and trendy interior look!
So, what do we need to create this Japandi decor trend is? The key point to achieve your dream soothing interior is to begin the project immediately!
There are some points we have to concern to create the Japandi interior style:
Integrated with functional and eco-friendly furniture
Both Scandinavian interior design and Japanese decor tend to use functional and eco-friendly furniture ideas. The functional furniture will create a savvy space and cluttered free interior look. Especially when you have a small space, you definitely need functional and aesthetic furniture to be added to your living space. Then, the eco-friendly furniture looks so natural and gives the aesthetic to the minimalist interior style!
Neutral wall color scheme to create a subtle look interior
To create the spacious and calming Japandi interior look, we need to brush the wall with a neutral color scheme. White, glossy grey, pink pastel, and another soft color tone will successfully create a subtle look and spacious interior feel!
Showcase the simplicity and natural interior decoration
Embracing the minimalist core decor, Japandi or Scandinavian-Japanese style always showcasing the simplicity and natural interior decoration! We can achieve the simplicity line decor by adding some functional furniture to the living space. Then, we can get the natural look inside by adding some eco-friendly furniture. The wood accent can be added to create a laidback natural environment in our living space!
After having a brief description of Japandi interior design. Now, we will bring you to some awesome Japandi wall decor ideas to create a super cosy and calming interior look! Let's have a look down below!
Abstract wall art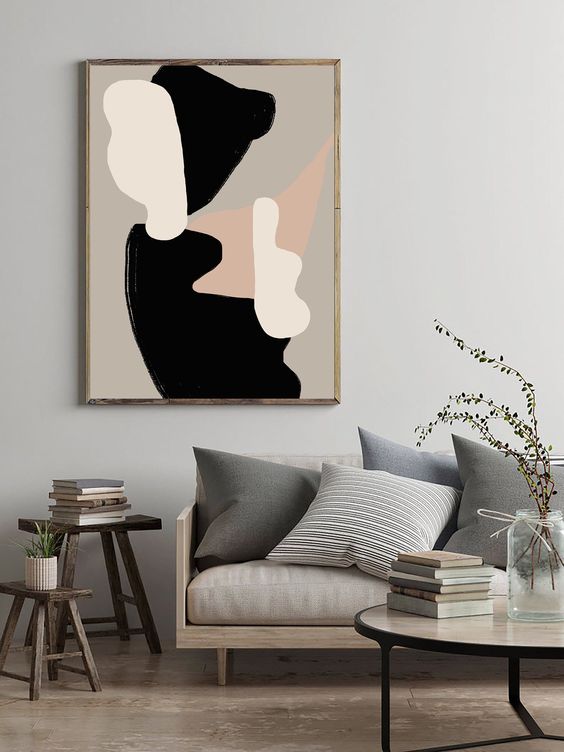 The first Japandi wall art decor idea that could apply to your living space is abstract wall art. There are lots of Japandi abstract wall art decor available. We can choose the poster, print, and abstract painting. The minimalist color tone painting, the black, white, and pink color shade blend perfectly to create a Japandi abstract painting harmony. Stick this abstract painting onto the neutral gray wall. This could be a focal point when we entering the minimalist decoration.
Organic mirror style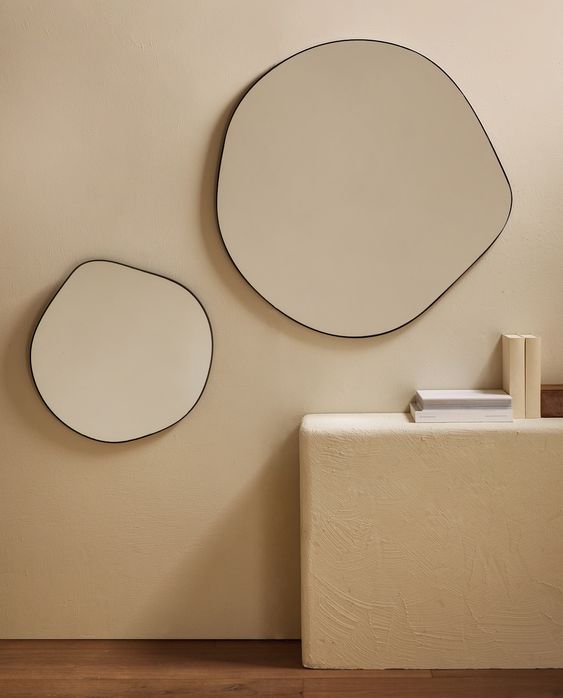 Another Japandi wall decor idea to create a quirky Japandi style is organic mirror shape. The round mirror shape is not in a fully perfectly round shape giving a quirky natural look into the style. These organic mirror doesn't only give a charm to the interior style, but it also gives the interior look feel more spacious. The shine from the mirror reflected the interior space, as a result, we will have a subtle and bright interior! It will be perfect to stick this organic mirror on the lovely blush wall color tone. It creates a warm and welcoming interior look!
Japandi wall lamp style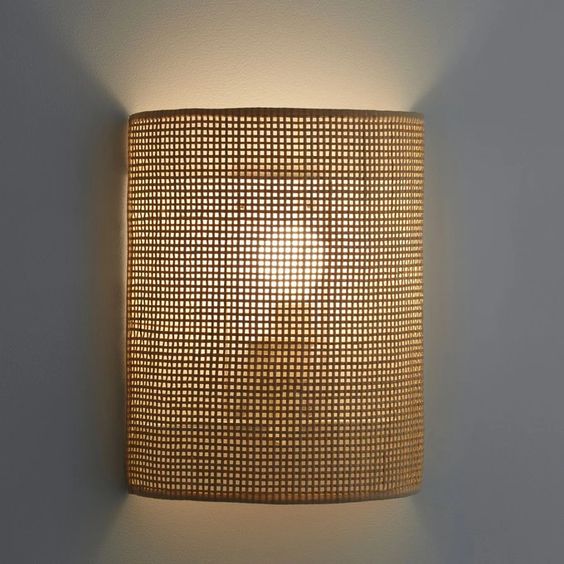 There is nothing better than to showcase the natural decoration in Japandi interior style. So, we can do some projects from adding furniture, to decorate the neutral wall with minimalist and natural decor. Well, we can choose an eco-friendly wall lampshade, made from wooden, rattan, or bamboo material that will exactly transform the interior look to be blissfully natural and so welcoming to the eye!
Choosing the subtle light lamp that covers with unique and natural rattan lampshade. This proper amount of lighting will transform the day into a cozy night environment in your living space!
Trendy kimono wall art to be a focal point in your Japandi living room style!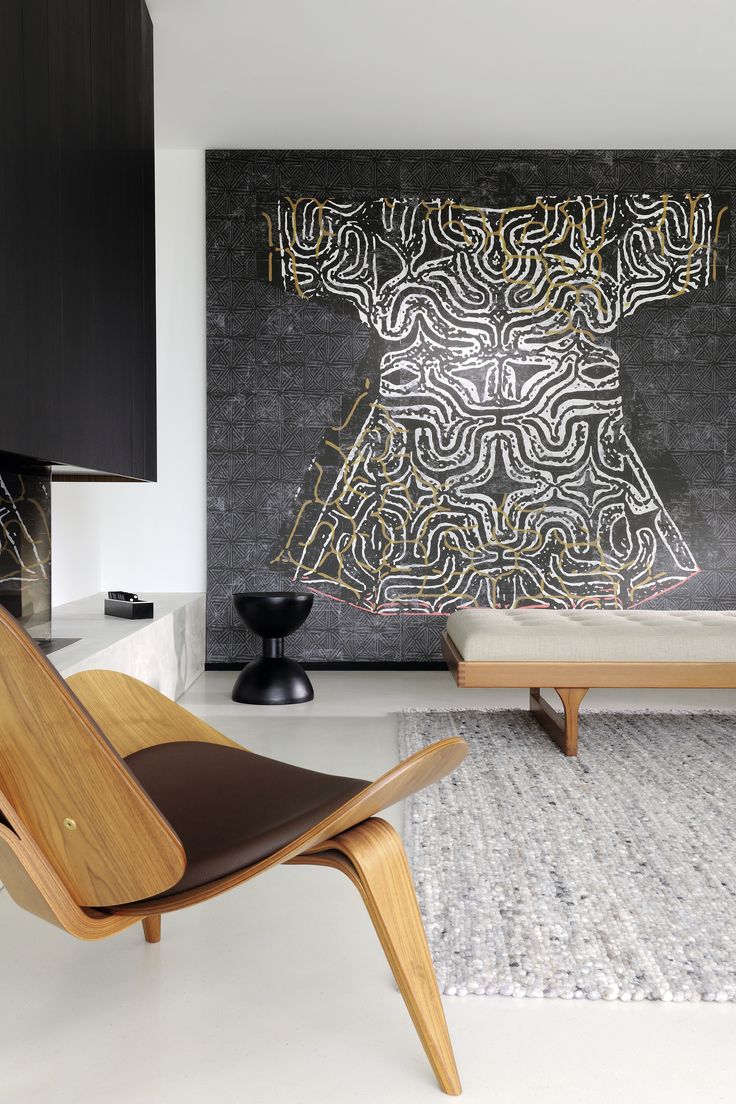 When you love the clean line modern interior design and then polished perfectly with unique Japanese decoration. Japandi is the double combo of calming and also trendy minimalist interior design! The wall is integrated with a neutral color scheme. Now, we can give an artistic art that could be a focal point in our living space! We can install a large art kimono wallpaper on the neutral wall. It gives an impactful Japanese decoration to the design. When this artistic kimono wallpaper has been stuck perfectly, complete the trendy modern Japandi style with wooden furniture. Giving the Scandinavian vibe into the decoration by spreading the warm minimalist rug on the floor!
Minimalist textured Japandi wall art ideas!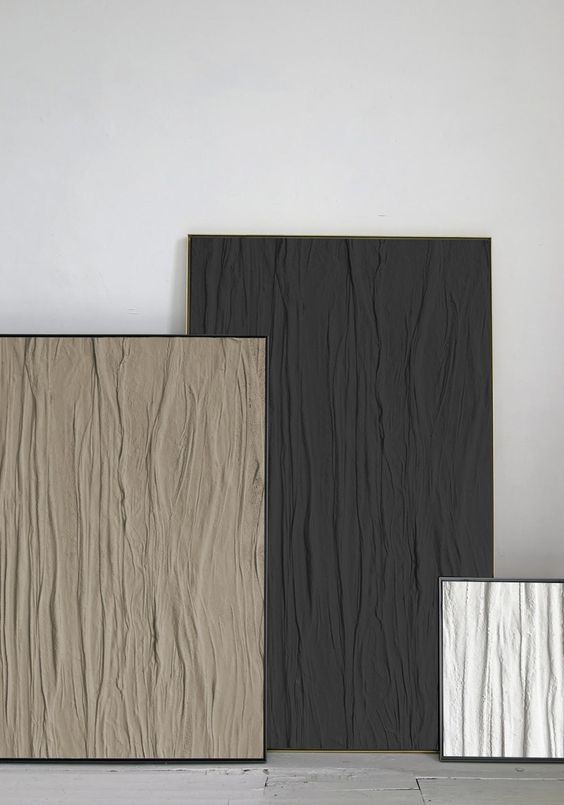 Both Scandinavian and Japanese interior design share the same core of minimalist interest. Here, we have the minimalist textured wall art style. There are some earthy and neutral color tones, brown, black, and white. These minimalist abstract wall art will give make your Japandi interior space looks trendy!
Woven wall hanging art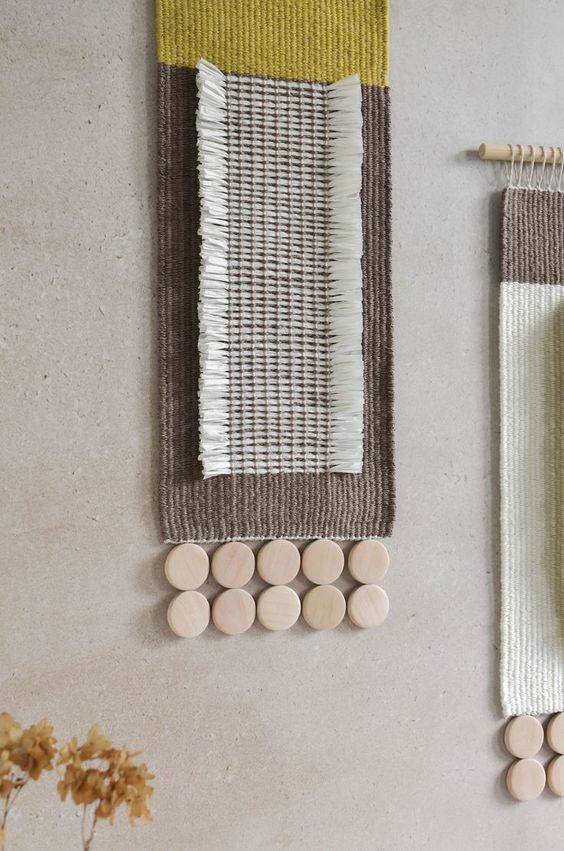 Another wall decor idea we can choose is to elevate the Japandi interior style. The woven hanging wall art gives texture to the plain wall. It does not only give the texture but the textile also creates a warm ambiance to the interior. We can find a lot of knitwork in Japanese home design. So, we can also take this type of decoration in Japandi design. But, we have to choose the subtle look knitwork that correlates with the soothing Scandinavian design style! So, we can see the Scandinavian and Japanese design blend perfectly and transform into this beautiful knitwork!
Wabi-sabi Japanese aesthetic interior style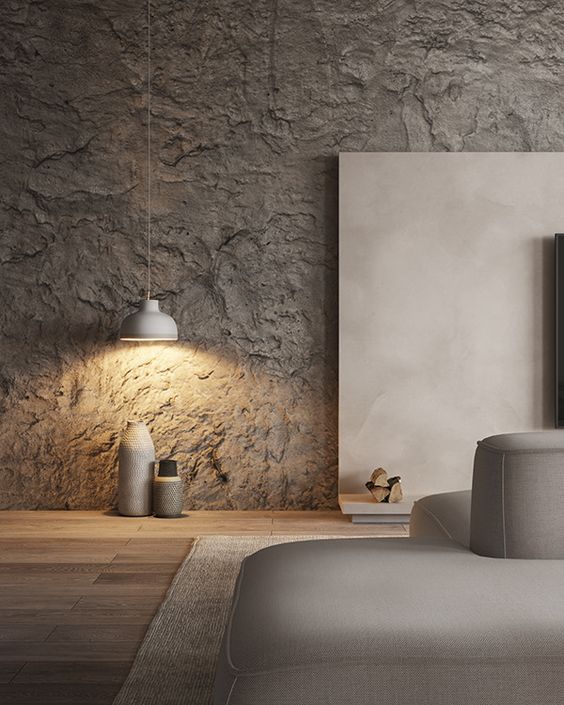 There is an art of the aesthetic Japanese interior called wabi-sabi. It displays the imperfect accent decoration but we adore the beauty of natural things that do not always look perfect. This beautiful natural process from nature gives the lesson and also aesthetic in designing beautiful home projects. So, that is the core of the wabi-sabi aspect in Japanese interior design.
In this Japandi bedroom style, there is a unique concrete textural wall design that showcases imperfection. But, look how it goes, it's super cool and be a focal point in this room! It looks better with this textural wall design rather than the flat clean wall, it looks more attractive to the eye! Then we can put a few Gucci in addition to the subtle pendant lamp to create a calming environment! By applying this wabi-sabi concept we can find the simplicity and natural decoration in Japandi interior style!
Outstanding DIY wall art project!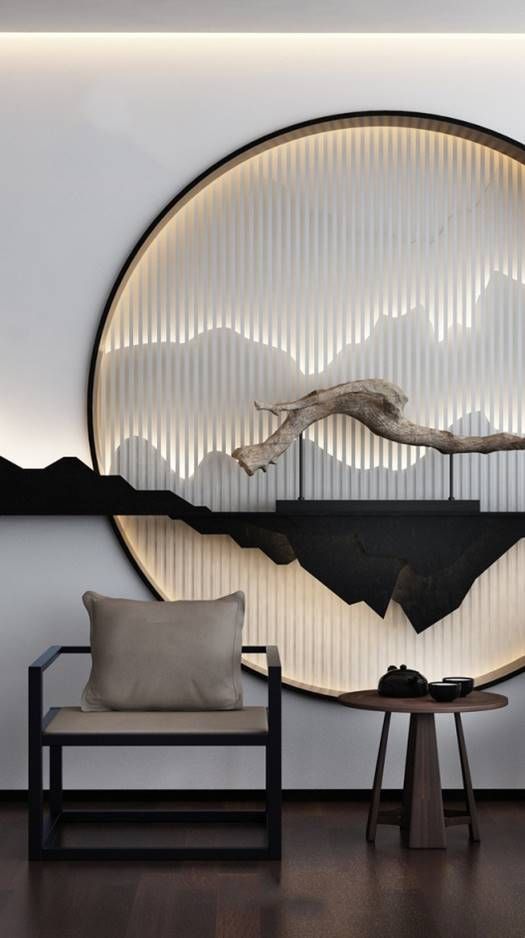 When you come to decorate the interior space by creating a focal point and wow factor, creativity is needed! Talking about Japandi design, there always be an awesome decoration that showcases the natural theme. Whether it is made from eco-friendly furniture or featuring the landscape or natural theme craftmanship. In this Japandi living room design, there is an outstanding DIY moon and natural landscape view. The round paper is stuck to the wall, and then the LED light transforms its bright onto the paper, so it looks like a moon. Then, giving the essence of natural view by installing the wood in front of it. The black fabric is presented as the essence of the ground. This DIY moon theme is so artistic and beautiful! When the sun goes down, this artistic moonlight view will shine at night. It successfully creates a stylish Japandi decoration and crafted an artistic look!
Conclusion
Japandi interior style giving the satisfaction of the calming interior project. When the soothing modern clean line Scandinavian design marriage the artistic Japanese decor. It gives a mega combo of calming interior design. Both Scandinavian and Japanese share the same interest in the minimalist core. So, both styles are perfect to be combined all together.
To showcase the taste and interior style we have, we need to do some decoration to bold the style. Including to show the calming and trendy Japandi interior design, we have to decorate it with proper aesthetic decor.
In this writing, we have compiled some outstanding Japandi wall decor ideas. Based on we have shared in this writing, the Japandi wall decor showcasing the natural look of the nature and made from a natural material, for such wood, rattan, and textiles product. When the modern clean line Scandinavian interior design meets the unique and artistic Japanese decor. It creates a combo calming interior project. So, if you are looking for a minimalist modern interior but crafted with artistic decor. The Japandi style could answer your interior desire! We hope you enjoy our Japandi wall decor ideas above, let's do the amazing Japandi interior decor project immediately!