Jordlinghome.com – Remembering children loves to explore what comes around. Provide their developing stage by stimulating their activities with good exercises and some fun games. When it comes to their bedroom, they also do want something impeccable to rise up their interest in the learning process. Talking about kids' bedroom decoration, we are responsible to create an interesting decoration to improve their learning process.
In this writing, we will share with you some intriguing bunk bed design ideas, your children will love too! For a little family that plans to provide a bedroom for their children. The bunk bed is a good option to save space and provide your kids very well and efficiently. They can also sleep in the bunk beds till teenagers. The bunk bed design also creates a good bond for the little ones with their sisters or brothers. When you achieve a solid bond for all your children then there where you are successful in creating a good family! Without further ado, let's have some jaw-dropping bunk bed ideas that your kids will love it!
Built-in bunk bed design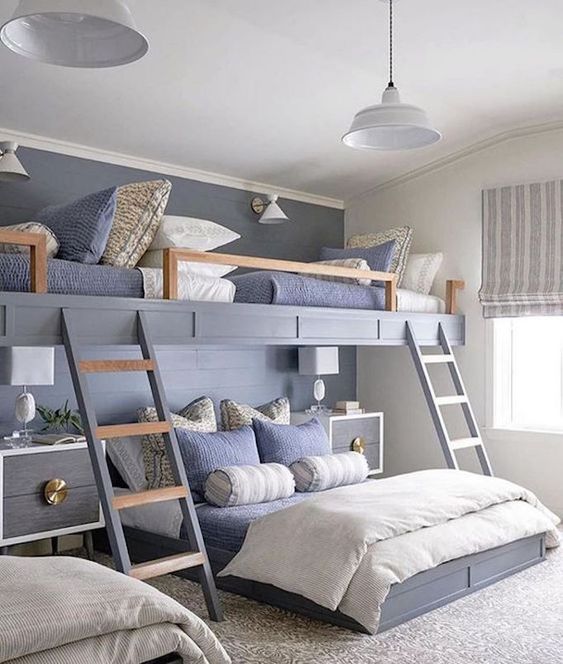 The first cool bunk bed design idea we want to share with you is the built-in design. This built-in bed uses wood as the main material. From the bottom side, there is two large comfortable bed and at the top, there is two single bed tuck neatly. If you don't have enough bedrooms to cater to all your children, this bedroom decor is worth trying to provide a few children sleeps together in the same bedroom. Brushing in neutral gray and comfortable bedding will make your kids love to be inside. And also this bedroom design will create a strong bond for all your children! We all know as the children grow older they need some private room. But this bunk bed idea at least can be used until their teenhood.
Toy storage bunk bed design idea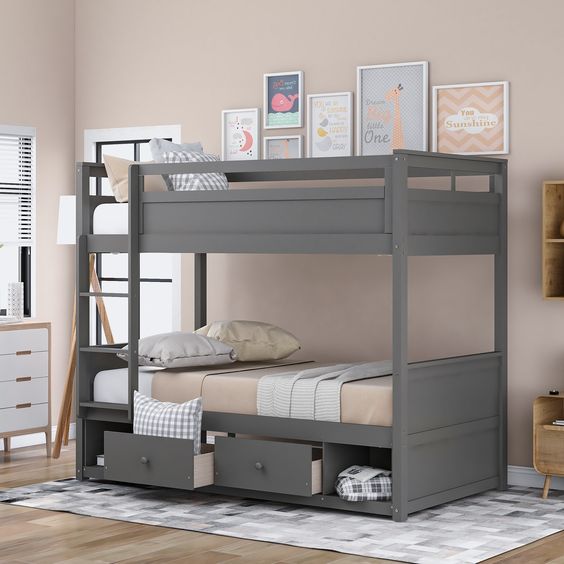 The second bunk bed idea is a twin bed style complete with toy storage at the bottom. When the space in the bedroom is tight then adding functional bedding and furniture is needed the most. Especially in designing kids' bedrooms, to store the toys neatly this bunk bed plays an important action. It functions as a bed and is also completed with a large storage capacity that is useful to arrange toys neatly. Create a large spacious floor plan for your children and let them play with their sister brother and friend in their bedroom. So, if you are looking for a functional and savvy space bed, this twin bunk bed with a large toy storage capacity is actually what you need to purchase!
Cool kid's bunk bed design with slide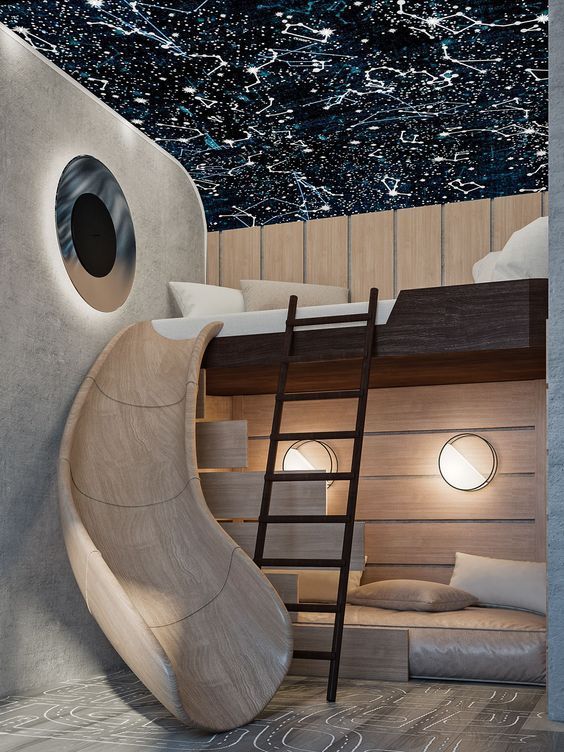 Creating a decorative bedroom for your children that will make them happy. Especially, provide playground concept they will love their room and thank you a lot. Alright, what makes this bunk bed is clearly different because it has a cool slide design that tucks with the top bunk. They will love they can play and rest at the same place. In addition, to create an imaginative setting, we can stick on galaxy wallpaper or any other theme that most of your children want to customize the themed style. Illuminate the galaxy atmosphere by installing LED lights behind the object. When the night comes, turn on the lights and see the magical decoration shines. The galaxy kids bedroom theme style complete with slide will absolutely make your little one happy!
Cozy wooden bunk bed with decorative arch window style!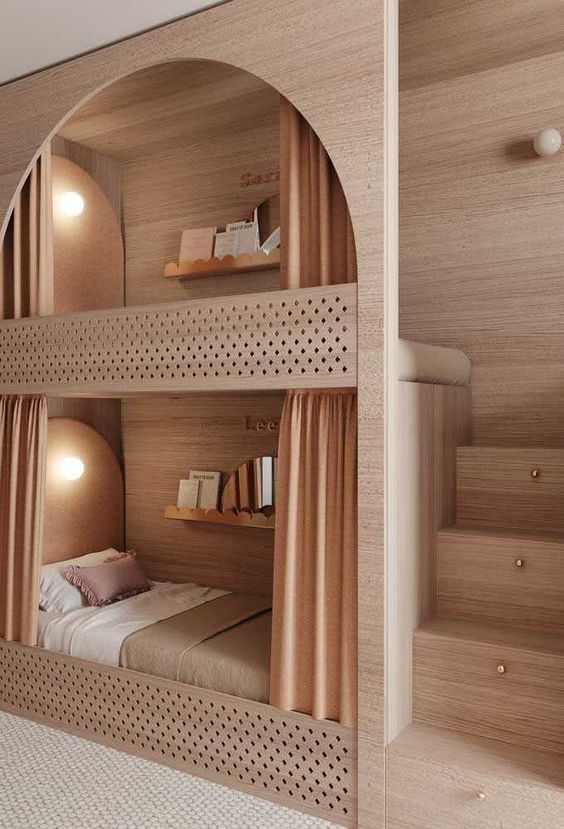 What is the first impression when you look at this kid's bedroom decor? Super cozy, warm, and clean that is superb! Creating a warm and cozy accent interior we can use lots of wooden material. This bunk bed is generously designed with finely finished wood. But what makes this bunk bed seriously alluring? There is the arch window design which makes it look alluring, then inside this bed provides a mirror, a simple shelf, and subtle lights. Your kid will love to read the book and feel warm in this style! On the side, we can see the stairs design is pretty safe, and more than that it is completed with storage. What a clever way to design a clean and multifunctional bedroom with this lovely bunk bed style!
Bunk bed design that fits for boy and girl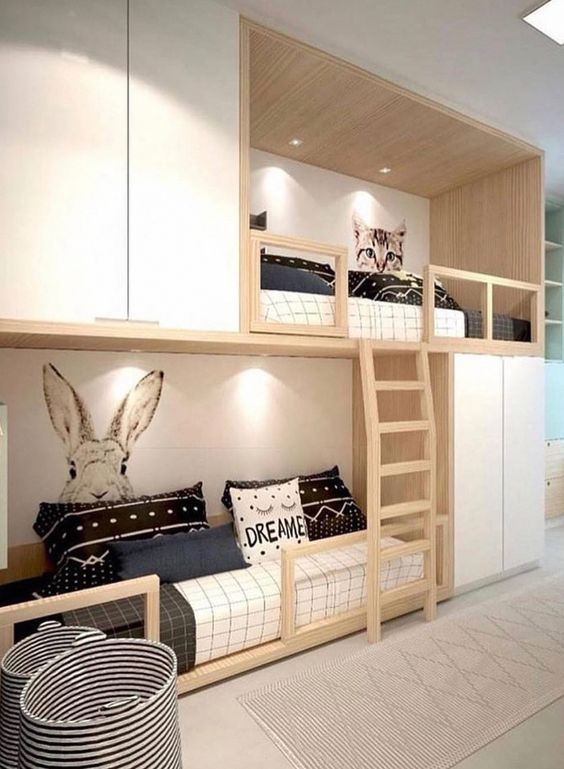 Another creative and beautiful bunk bed design for your children is the one that both fits boys and girls. Using wood as the main material makes this bunk bed feel and warm. Besides that, this bunk bed is designed with two cabinets. We can use it to store the clothes or probably some toys or stuff inside. What a pretty and functional bunk bed it is that has two beds and two cabinets! Adjusting the light in the bed makes it even more comfortable and warm! So, kids, you can read your favorite book and liven up your dream!
Buzz lighter themed bunk bed character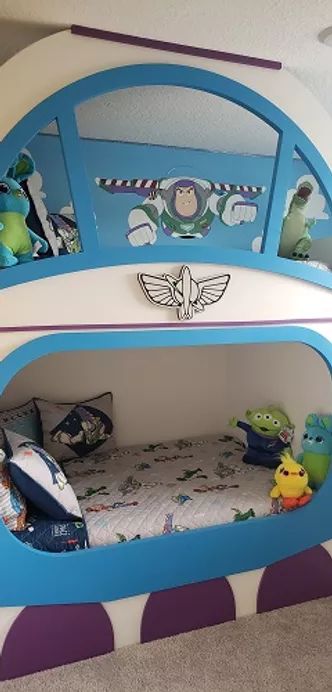 There are many ways to create playful and decorative children's bedrooms. Now, we have to install the themed character bunk bed style. This is a buzz lighter famous anime character on the toy story movie. It is suited for boys and also fits with girls too if she likes it. We can purchase the bunk bed with a customized theme style. There are many furnishers that take the order of customizing bunk bed themes. So, you can ask your child about the theme style for his/her bedding.
Conclusion
Bunk bed typically has two beds traditionally but now it has been developed that it provides more than two beds. For the function, the bunk bed itself is a good way to save space by setting the bed vertically that provides more space in the bedroom. For the kids, using this bed is so common, remembering they won't sleep alone, so they can sleep with their sister, brother, or vice versa. Lately, there are many serious trendy, and functional bunk beds in the design. We have compiled some of the best bunk bed series for children above. Most of the design looks so warm and comfortable. And we can create a playground spot in their room by installing the slide on the top bed. Or we can present a decorative themed bunk bed style for our little one, they will love to have it! We hope you enjoy the kid's bedroom decor edition and choose the best bunk bed style for your children!