Cooking is really only half of what we do in the kitchen. There's another kitchen task that often takes almost as long as cooking, and it's one that's a lot less fun for most people. We're talking, of course, about cleaning up the kitchen.
But don't let your fear of cleaning make you miss out on the rewards of cooking at home. With some preparation, and a few necessities like trash bags and dish soap, you can make kitchen cleanup a lot quicker and less exhausting. This checklist will get you started on equipping your kitchen with cleaning essentials.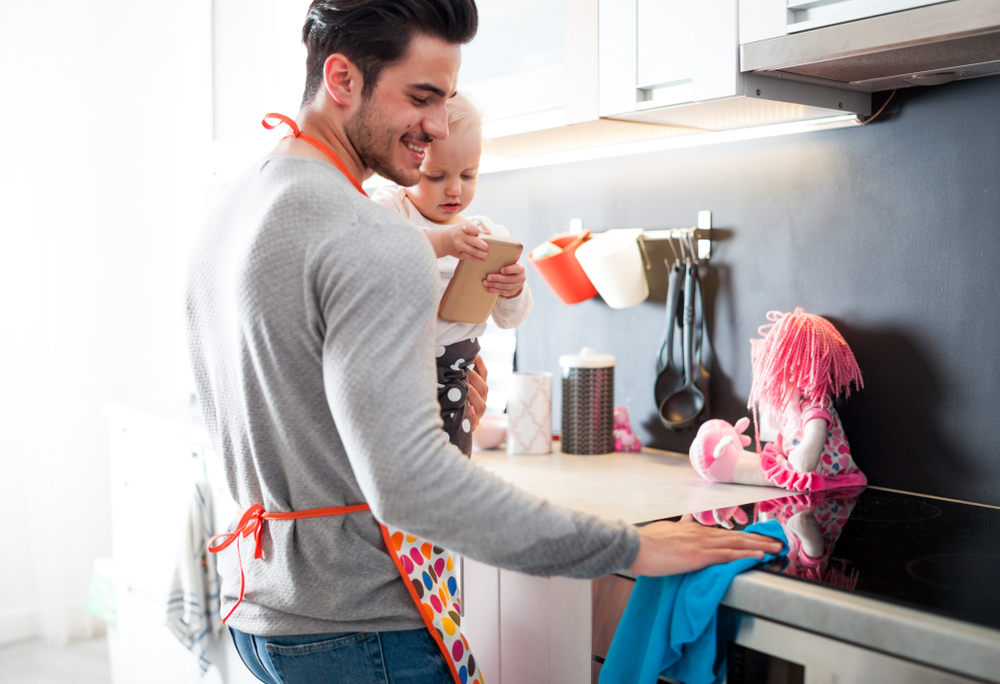 1. Sponges
The humble sponge is an inexpensive and versatile tool that can accomplish a lot of different tasks. Sponges can do everyday dish scrubbing, but they can also wipe down the sink, the counter, the backsplash or almost any other element of your kitchen. Many sponges now even come with a mild abrasive pad on the back for harder scrubbing! The one important caveat of sponges is that it's important to replace them frequently to prevent them from growing bacteria.
2. Paper or Cloth Towels
These are your go-to materials for spill cleanup. Some people prefer paper towels for their convenience, while others like cloth towels for their eco-friendliness and reusability. Still others keep both on hand for different situations. Whatever you choose, keep them somewhere that's easy to reach.
3. Trash Bags 
Keeping a supply of trash bags on hand is one of the most essential rules of kitchen cleaning because it will ensure that the mess always has somewhere to go! Note that you should always double-check your kitchen trash can size before you buy bags. In addition, if you've got one of the popular Simplehuman trash cans, remember that using Simplehuman compatible trash bags will give you a better fit and more capacity.
4. Dish Soap
Keep a bottle of liquid dish soap on hand even if you have a dishwasher. Most people have at least a few items, like wooden cookware or high-end knives, that shouldn't go in the dishwasher and you'll need dish soap to get them clean. It also makes a great all-purpose gentle household cleaner when mixed with hot water. Look for a dish soap that's specifically designed to fight kitchen grease. It'll help you tackle those after-dinner dishes with no fear.
5. Steel Wool 
Sometimes you need the heavy duty stuff, and steel wool is often the right tool for the job in those situations. This ultra-abrasive scrubbing tool is excellent for breaking up the intimidating messes you'll often find in baking or roasting pans. However, be very careful with what you clean using steel wool because it can easily ruin a non-stick pan or other delicate surfaces. It's also easy to hurt your hands with, so use some rubber dishwashing gloves (see below) when using it.
6. Plastic Scraper Tool
Most people have items in their kitchen that need gentle cleaning, from non-stick pans to porcelain bakeware. A plastic scraper tool is the way to go for breaking up hard-to-clean gunk on your non-stick cookware without doing damage. These come in all shapes and sizes, and they're quite cost-effective, so grab a few different ones. A large plastic bowl scraper is great for making sure that you get all of the dough off your baking equipment, while the smaller scrapers are ideal for hard-to-reach areas.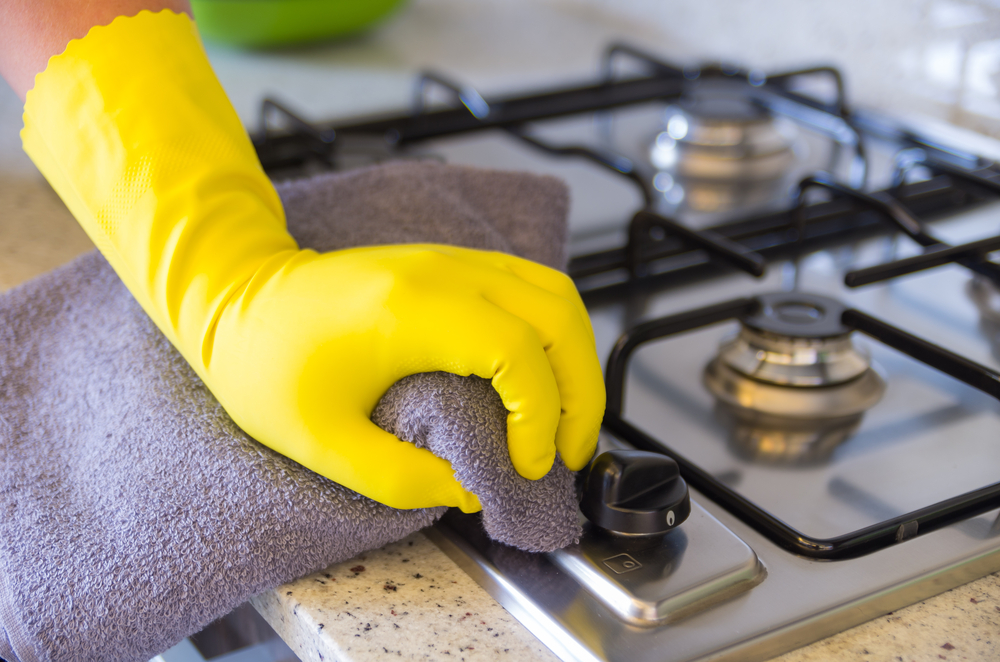 7. Kitchen Organizer Racks
Cleaning up is a lot harder without a permanent place for everything to go. That's part of why good kitchen storage additions like spice racks, pot racks, etc. are important parts of keeping your kitchen clean. They'll help you create a kitchen organizing system that works for your lifestyle and keeps some of your most important cooking tools in order. Perhaps best of all, they're one-time investments!
8. Rubber Dishwashing Gloves
 Kitchen cleanup tasks can be hard on your hands, especially when they involve very hot water, abrasive cleaners or sharp objects. We recommend keeping a pair of sturdy rubber dishwashing gloves on hand, especially when you're handling steel wool or other abrasives. Remember that these are the thicker type of latex gloves that extend past your wrists, not the thinner and shorter food prep gloves.
9. White Vinegar
White vinegar is an incredibly versatile and all-natural tool for cleaning your kitchen. Water and white vinegar in equal parts makes an excellent all-purpose cleaning solution for everyday messes, and one that's extremely cost-effective as well. It also has an amazing number of other uses, including as a dishwasher rinse aid, a fabric stain remover and a pet odor remover. Just remember to grab a spray bottle to pour your vinegar solution into so you can use it easily.
10. Microfiber Cloths
Microfiber cloths are another must-have cleaning tool for your kitchen. The tiny, soft fibers on these towels clean without leaving streaks, which makes them ideal for cleaning things like stainless steel, glassware and windows. Their extremely gentle nature also means they won't leave scratches on things like appliances or countertops.
11. Dish Drainer
Much like dish soap, a dish drainer is an important kitchen tool whether or not you have a dishwasher. Households with a dishwasher still need a place to dry non-dishwasher-safe items, and if you don't have a dishwasher, a drainer is a genuine must-have. If space is limited in your kitchen, an over-the-sink dish drainer rack can be an excellent workaround. Don't forget to also add a drying mat underneath the drainer to prevent drips from running onto your counter.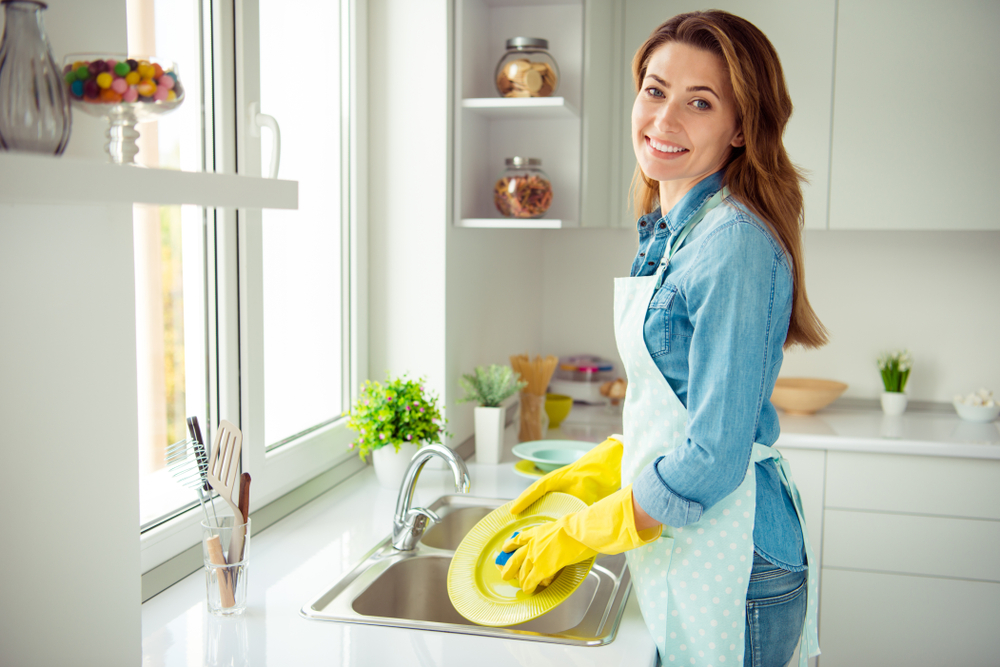 12. Cleaning Supply Caddy
Finally, success is often about how you put all of the elements together. The person who invented the cleaning supply caddy must have known that because these things are perfect for transporting all of your cleaning supplies to wherever the mess is! Parents and pet owners are especially known to be fans of the caddy since it makes it much easier to keep things clean when you're dealing with messes throughout the kitchen and the house.
A kitchen that's well equipped with cleaning supplies makes so many tasks in our daily lives easier, from cooking to cleaning. If you're struggling with a kitchen that always seems to become messy and chaotic, try making sure that you're stocked up on the essentials that we've talked about here. It's a proven strategy for a calmer, cleaner space!