As a business owner, you also want to make sure your venture survives. 20% of new business ventures fail within the first two years, and 65% within the first 10 years. A solid business plan, investing in high-quality equipment like tile tools, and staying lean with your finances can ensure the longevity of your contracting business. It can also help you avoid the difficulties that so many new businesses face. Use these tips to help ensure your contracting business is a success.
1. Create a Business Plan
Your business plan should include the contracting services you can offer and how your services can meet the demands of your local community. Find out more about what your community needs by looking up other local contracting businesses and their specialties, pricing, and  reputations. Having a thorough understanding of your local market and contracting services can help you develop a business plan. This plan helps you outline your short-term and long-term goals to help you stay afloat. Your business plan must include your marketing strategies, how many employees you expect to hire, and the initial costs you'll incur at the startup stage.
2. Take Advantage of Mentorship
A variety of federal, state, and local programs can also help you develop a business plan. The SCORE program provides in-person and online mentoring in partnership with the Small Business Administration. You can also find your local Small Business Development Center (SBDC) from the SBA. SBDCs provide a wide range of free and low-cost business consulting and training services.
3. Form a Legal Entity
To secure personal liability protection and tax benefits, it's necessary to register your business and form a legal entity. You can usually register your business name and legal entity with the state and local governments. You must also register with the federal government for a federal tax ID or Employer Identification Number (EIN). It's critical you also trademark your company name and logo with the U.S. Patent and Trademark Office to protect your services and reputation. Creating a legal entity such as an LLC (limited liability company) or corporation protects you from being held personally liable in the event of a lawsuit against your construction contractor business. LLCs require a registered agent, so you can register yourself or hire one.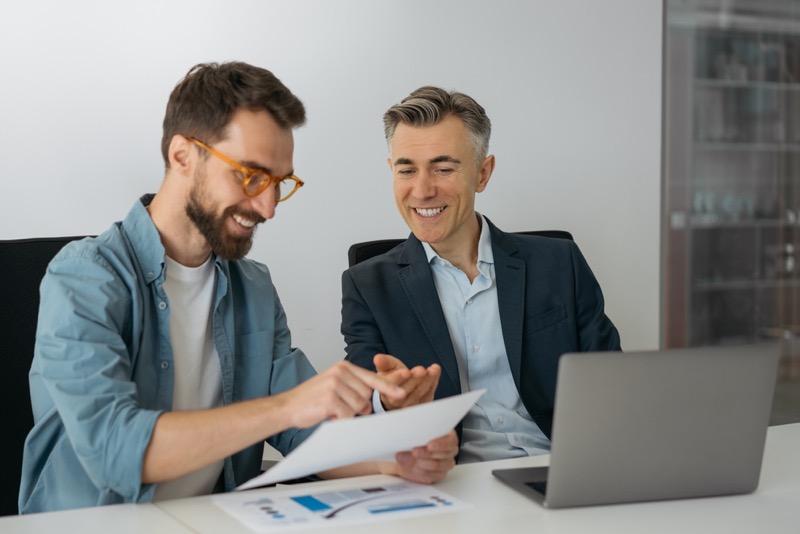 4. Open a Business Bank Account and Establish Credit
It is important to maintain separate business banking and credit accounts to protect your assets. Establishing your business credit through Net-30 credit accounts is helpful when getting credit cards and other forms of funding for your company. This is because Net-30 credit accounts get reported to major business credit bureaus, such as Experian Business and Equifax Business Credit.
5. Create a Business Budget
Monitoring your business expenses and revenue is important to understand how well you're performing financially. Make a budget that includes all the costs, such as insurance, materials, labor, and payments for equipment such as concrete tools. Identifying your overhead helps you determine how much you need to charge and how many clients you must have to maintain a steady cash flow. Keeping accurate records also simplifies your annual tax filing.
6. Invest in High-Quality Equipment
To get your business off the ground, you'll want to invest in a comprehensive collection of contracting equipment like wet tile saws, hammer drills, and laser levels. Renting equipment on a project-by-project basis can quickly increase your costs, which is why it's more economical to pay the money upfront to build your inventory of gear.
7. Get the Necessary Permits and Licenses
Federal law requires permits for various business activities, including transportation and drilling. At the state level, license and permit requirements depend heavily on your location. In some regions, zoning laws can restrict or outright prohibit specific types of businesses. Make sure your chosen location is workable before you look into permits and licenses.
It is also wise to insure yourself and your employees, given the hazardous nature of many construction tasks. Most states require you to have proper workers' compensation insurance as an employer. General liability insurance can also protect you and your employees against bodily injury and property damage. You can learn more about keeping everyone safe by reviewing the Occupational Safety and Health Administration's recommended practices for the construction industry.
8. Advertise Your Business at a Low Cost
Create a marketing strategy and calendar that include first-time customer offers and referral bonuses to increase your customer base. You can start promoting for free or at a low cost through social media and email campaigns. You can set up Google Ads as your company grows, to reach more customers. In addition, you need a company website to describe your services, feature client testimonials, and show off your work. If consumers can quickly identify your website with your company name, you have a higher chance of gaining more business.
9. Find and Hire Labor
Take on a small staff and expect to be directly involved in the contracting process daily. As the face of the operation, you are responsible for ensuring a reliable crew can complete a project correctly. Choose your employees carefully since contracting work can be dangerous and homeowners have certain expectations and requirements. You need your employees to have a strong understanding of construction tools, techniques, and materials. Depending on how you want to set up your business, you can hire your crew members as independent contractors, subcontractors, or permanent staff. If you employ independent contractors, you must know the legal and tax implications of working with them.
Maintain Your Contracting Business Long Term
Many generations of contractors have seen the rewards of starting their own contracting company, but the process can be complex without assistance. Aside from developing your business plan and putting together a marketing plan, you can work with your employees and network with other contractors to help you grow your business.
Collaborating with knowledgeable, helpful people already working in the industry can give you the information and confidence to get your contracting business off the ground. By taking the appropriate steps to start your business, you'll set yourself up for long-term success and expansion.